Editor's Note: Sign up for CNN's Wonder Theory science newsletter. Explore the universe with news on fascinating discoveries, scientific advancements and more.
A phenomenon that scientists have called "underground climate change" is deforming the ground beneath cities, a study conducted in Chicago has found.
This shifting of land under urban areas could pose a problem for buildings and infrastructure, threatening long-term performance and durability, according to the research.
Technically known as "subsurface heat islands," underground climate change is the warming of the ground under our feet, caused by heat released by buildings and subterranean transportation such as subway systems.
"The denser the city, the more intense is underground climate change," said lead study author Alessandro Rotta Loria, an assistant professor of civil and environmental engineering at Northwestern University in Evanston, Illinois. 
Soil, rocks and construction materials deform when subjected to temperature variations. For example, the ground underneath buildings can contract when heated, causing unwanted settlement, Rotta Loria said.
"Deformations caused by underground climate change are relatively small in magnitude, but they continuously develop," he said. "Over time, they can become very significant for the operational performance of civil infrastructure like building foundations, water retaining walls, tunnels and so on."
But underground climate change is not the same as what we think of as climate change in the atmosphere, which is largely driven by greenhouse gases and has far-reaching effects, said David Archer, a professor of geophysical sciences at the University of Chicago.
"Calling it climate change seems like a bit of a coattail thing," Archer, who was not involved with the study, said.
The term "underground climate change," however, was not coined for this study — it has been in use, and the phenomenon a subject of research, for some time. 
'A silent hazard'
Studied for the past 25 years, underground climate change can cause issues such as groundwater contamination or problems with underground railways by making tracks prone to buckling or causing passengers to become ill due to excessive heat. Its effects on civil infrastructure, however, had not been explored until this study, according to Rotta Loria.
The research, published this month in the journal Communications Engineering, was conducted by installing 150 temperature sensors across the Chicago Loop district, both above and below ground, and in a variety of places such as basements, tunnels and parking garages. Sensors were also placed in Grant Park along Lake Michigan to compare temperatures from an unbuilt area with no excess heat coming from construction or transportation.
Data was collected over three years, and the results showed that the ground under the Loop was up to 18 degrees Fahrenheit (10 degrees Celsius) warmer than the ground beneath the park.
"We found underground structures, such as basements, where the air temperature was very high," Rotta Loria said. "And the consequence of that is that at least a portion of the heat will diffuse towards the ground over time, and that's the origin of the phenomenon."
Researchers then used the data to build a computer model of the Chicago Loop and simulate the effect of the rising temperatures on the ground, from the 1950s until the 2050. They found that depending on the composition of the soil, the ground reacts unevenly to warming and can both expand and contract by amounts that — while imperceptible to humans — could cause problems for buildings.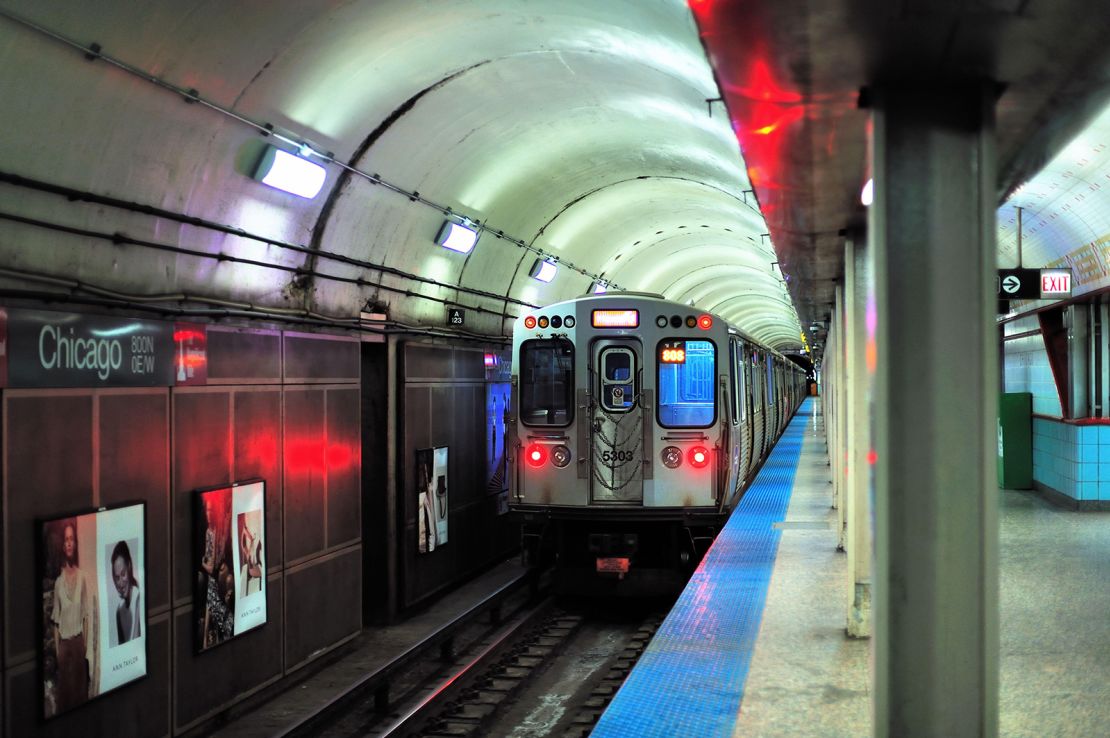 "It's important to stress that underground climate change does not threaten the safety of people and does not threaten to collapse structures and buildings," Rotta Loria said. "It does pose a potential challenge for the functionality and the durability of structures, because excessive ground deformations can lead to distortion, tilting and potentially cracking."
As a result, water could flow more easily into cracked structures, potentially causing corrosion in materials such as reinforced concrete.
"There is what I call a silent hazard," Rotta Loria said. "Buildings that are more prone to issues, because they were designed and built with outdated approaches, are also those that contribute the most to underground climate change, because they lack appropriate thermal insulation and therefore inject the most heat into the ground."
Harvesting heat
It's not all doom and gloom, however, according to Rotta Loria. "This study can make us realize that we are in front of an opportunity — we can take action, and in different ways," he said.
Future buildings will not significantly increase the phenomenon, because modern construction technologies and regulations mandate better insulation and energy efficiency. And for those structures that already exist, understanding underground heat presents opportunities, according to Rotta Loria.
"We can take action by applying thermal insulation to underground building enclosures, to minimize the amount of waste heat that goes into the ground," he said. "But if for any reason we aren't able to thermally insulate the buildings to enhance their energy efficiency, we could at least deploy geothermal technologies underneath or next to them to absorb the waste heat that is generated and use it for heating and cooling."
David Toll, a professor of engineering and codirector of the Institute of Hazard, Risk and Resilience at Durham University in the United Kingdom, said the study is important as the effects of thermal movements of the ground beneath cities have not been a focus of much research.
"My conclusion from the study would be that, for the Chicago Loop, we now know that these thermal movements that have taken place, and those predicted for the immediate future,  are not large enough to be of concern. That is a very useful finding," said Toll, who did not participate in the research.
"However, that is not to say that such temperature changes below other cities, with different ground conditions, could not be potentially problematic."