The US and Europe are struggling to provide Ukraine with the large amount of ammunition it will need for a prolonged counteroffensive against Russia, and Western officials are racing to ramp up production to avoid shortages on the battlefield that could hinder Ukraine's progress.
The dwindling supply of artillery ammunition has served as a wake-up call to NATO, US and Western officials told CNN, since the alliance did not adequately prepare for the possibility of a protracted land war in Europe following decades of relative peace.
UK Secretary of Defense Ben Wallace told CNN last week that while NATO was poised early on for a "night one, day one" offensive, "no one had really asked themselves the question, well, what if 'day one, night one' becomes 'week two, week three, week four?' How much of our exquisite capabilities have we actually got in stock? And I think that's been the broader question."
US officials emphasized to CNN that there is a set level of munitions in US stockpiles around the world, essentially an emergency reserve, that the military is not willing to part ways with. The levels of those stockpiles are classified.
But officials say the US has been nearing that red line as it has continued to supply Ukraine with 155mm ammunition, the NATO standard used for artillery rounds. The US began ramping up ammunition production last year when it became clear that the war would drag on far longer than anticipated. But the ammunition will still take "years" to mass produce to acceptable levels, National Security adviser Jake Sullivan told CNN Sunday.
The US decided to send cluster munitions to Ukraine to help alleviate a potential shortage in the meantime, providing Kyiv with a supply of American weapons that haven't been tapped into so far. But because cluster munitions can pose a long term risk to civilians, their transfer to Ukraine is only intended to be a stopgap measure until more unitary rounds can be produced, officials said.
A German government source told CNN that Berlin has taken steps to try to close existing gaps in ammunition stocks and to increase ammunition reserves, noting that the munitions for the Swiss-made Gepard tank, which has been provided to Ukraine, is now being produced in Germany. Ammunition from that new production line is expected to be delivered this summer, the source said, allowing Germany to ship its own rounds since Switzerland remains unwilling to send its supply.
Meanwhile, the UK will invest an additional £2.5 billion into stockpiles and munitions, and will also increase "investment in the resilience and readiness of the UK's munitions infrastructure, including storage facilities," according to the country's newly released Defence Command Paper Refresh.
A strain on global supply
To date, the US has provided Ukraine with over 2 million 155mm artillery rounds, according to the Pentagon. The Defense Department has set a goal of producing 70,000 artillery shells per month and is now producing just under 30,000 shells monthly, according to an Army spokesperson – up from around 15,000 per month when the war in Ukraine began in February 2022.
But Ukraine is still burning through the available supply.
"This is an artillery intensive fight," Secretary of Defense Lloyd Austin told CNN last week. "You know, we've seen large amounts of artillery be employed on both sides of the fence. And so that puts a strain on the international supply of munitions, artillery munitions."
A year and a half into the war, Ukraine's rate of artillery fire has hardly abated, even as its own stockpiles have been on a slow, steady decline. Ukrainian troops now typically fire between 2,000 and 3,000 artillery shells per day at Russian forces, a US defense official told CNN. The rate was higher before the counteroffensive began, as Ukraine conducted shaping operations to prepare to advance on Russian positions.
Some US officials had hoped the Ukrainians would be relying less on artillery at this point and more on combined arms maneuvers, a more efficient and sophisticated style of fighting that the US has been training Ukrainian forces on for months.
But Russia extensively mined the land Ukraine is trying to recapture, slowing down the counteroffensive and forcing the Ukrainians to use artillery to destroy targets from further away.
On Tuesday, Secretary Austin said that the Ukraine Defense Contact Group, which met virtually earlier that day, discussed Ukraine's "urgent need for ammunition."
"We also discussed plans to ramp up production at both the national level and the multinational level through the European Union's important initiative to produce more ammunition," Austin said.
'All the ammunition we could ever need'
John Kirchhofer, the Defense Intelligence Agency's chief of staff, said at a national security conference last week that the fighting is now "at a bit of a stalemate." Other senior US officials have not gone that far, but have acknowledged that the counteroffensive is moving more slowly than anticipated.
"This [counteroffensive] is happening more slowly than people predicted," Chairman of the Joint Chiefs of Staff Gen. Mark Milley told the National Press Club last month. "I am not surprised by this. They are advancing confidently, purposefully, making their way through very difficult minefields."
But US officials became so concerned in recent weeks about the US' ability to resupply Ukraine that President Joe Biden decided to send Kyiv highly controversial cluster munitions. The move was politically dicey and risked alienating European allies, many of whom have banned the munitions because of the risk they pose to civilians.
It was necessary, though, because of how low US stockpiles are, Sullivan told CNN Sunday.
Upon taking office, the Biden administration "found that overall stocks of 155 munitions…was relatively low," he said.
Biden ultimately ordered the Pentagon "to work rapidly to scale up the ability of the United States to produce all the ammunition we could ever need for any conflict at any time," Sullivan said. "Month on month, we are increasing our capacity to supply ammunition."
Nebraska Republican Sen. Deb Fischer, a member of Senate's Armed Services and Appropriations Committees, told CNN, "I think members of the military had to be concerned from the get-go on this."
Using the example of a Lockheed Martin production line for Javelin anti-armor missiles that could produce 2,100 missiles a year while Ukraine was using 500 of the missiles a day, Fischer said, "That's a red flag right there."
Fischer is pushing for a greater investment in arms manufacturing to meet the challenge of a belligerent Russia in Europe and a Chinese military asserting its presence in the Pacific.
"It's serious stuff. I'm not out there saying the sky is falling, but we need to be focused on this," said Fischer. "We can't lose the focus, and we need to be able to ramp up production.
'Not days or weeks or months, but years'
Army spokesperson Ellen Lovett told CNN last week that "the Army's production ramp up of 155mm artillery ammunition continues as planned. We have already nearly doubled monthly production and contracts are in place to rapidly increase production over the next year and a half."
Lovett added that the Army's plans to significantly increase production of other key systems going to Ukraine, including GMLRS, Javelin anti-tank and Stinger anti-aircraft missiles, "are also on contract and underway."
The initiative has underscored to US officials just how long it takes to significantly ramp up production, including the expansion of existing plants and the building of new ones, and how the US should have taken meaningful action in this space far earlier to prevent ammunition stockpiles from dwindling to dangerously low levels.
"We discovered that the ability to mass produce that ammunition would take not days or weeks or months, but years, to get to the level that we needed," Sullivan said. "It's interesting, the previous president used to talk frequently about how his generals told him that they were running out of bullets. When we came into office, nothing was underway to solve that problem. We are solving that problem."
Wallace, the UK defense secretary, said the UK has "just started buying production line places to manufacture 155 shells, of which some of those manufacturers will go to Ukraine."
Said a UK source to CNN, "The UK, like other allies, is constantly looking at production expansion to replenish our stockpiles as well as being able to continue supporting Ukraine."
Incentivizing the defense industry
But another problem NATO has run into writ large is incentivizing contractors to substantially ramp up production of supplies that governments have not been purchasing en masse in recent years, specifically the 155mm artillery shells, a senior NATO official told CNN last week.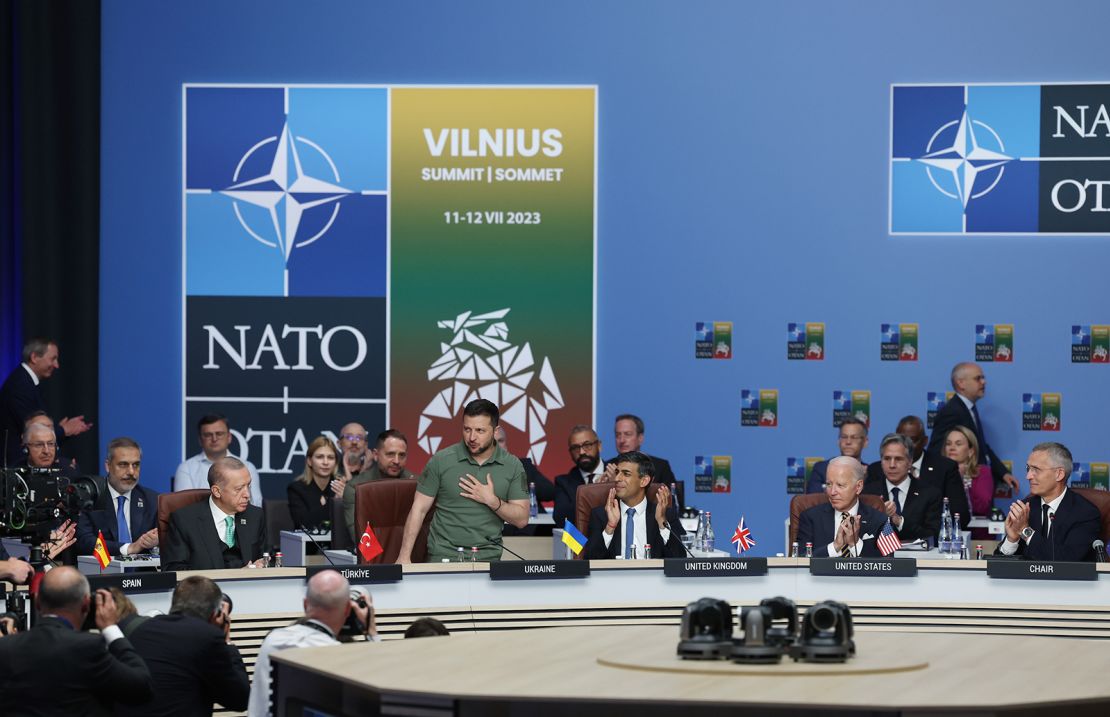 Financial commitments from the US and Europe have helped ease some of those concerns. As part of a European Union initiative deemed the Act in Support of Ammunition Production, EU leaders reached a deal last week to spend 500 million euros to subsidize European arms manufacturers. That deal allows for changes to existing framework agreements around the production of ammunition.
At the NATO summit in Vilnius last week, the French and Ukrainian defense ministers signed an agreement which includes the establishment of a framework for the joint production of spare parts and maintenance of foreign weapons and equipment.
The Pentagon has also asked Congress, as part of the 2024 defense budget, to provide enough funding to allow DoD to strike multi-year contracts with defense contractors.
"For all the services in this year's budget submission, we asked for multi-year procurement," US Air Force General Charles Q. Brown, Jr., Biden's nominee to serve as the chairman of the Joint Chiefs of Staff, said during a congressional hearing last week. "And that multi-year procurement was designed to help increase our stocks, but it also – what it does for us is help provide predictability to the Defense Industrial Base, to their supply chains, and to their workforce."
Wallace said that NATO is realizing the importance of not allowing certain crucial supply chains to fall dormant.
"All of us have had to struggle stimulating our supply chains, some of which went to sleep," he told CNN. He added that "as an alliance, we can't just take for granted" the idea that another country will step in to fill the gap, like the US did with cluster munitions.
"What is clear is that we don't have in our inventories at the moment the necessary munitions to shut down airfields and break through lines, like we might have done in the old days," Wallace said. "If you can't use cluster munitions, because we've all quite rightly signed this treaty [banning them], you need to innovate and come up with something else."
This story has been updated with comments from Secretary of Defense Lloyd Austin.