In 2022, Simone Magill arrived at the Women's Euros with Northern Ireland full of hope. Here she was, representing her tiny nation in one of world soccer's biggest tournaments.
But during the team's opening match against Norway, disaster struck. Magill went down in agony and Northern Ireland fans held their breaths. She had suffered a dreaded anterior cruciate ligament (ACL) injury.
"I knew what it was right away," Magill told CNN Sport. "It was devastating.
"There were a million thoughts going through my head when it happened. I was thinking about how long I'd be out for, how long the recovery would take, about needing surgery, and there were lots of tears."
Magill wasn't the only player to have her tournament ruined by the devastating knee injury. Fast-forward to the upcoming Women's World Cup, which starts on July 20 in Australia and New Zealand, and a host of the game's best players will also be absent because of an injury which appears to be endemic in the women's game.
England captain Leah Williamson, the Netherlands' all-time leading women's scorer Vivianne Miedema and England's Euro 2022 top scorer Beth Mead will all miss the biggest international competition in the women's game.
Cat Macario, a rising star for the US Women's National Team (USWNT), is also out, as is Germany's Giulia Gwinn, named the Best Young Player at the 2019 Women's World Cup, and Switzerland's teenage midfielder Iman Beney – ruled out a day after being called up to the national team.
During the 2022/23 season, so many female soccer players across Europe's top leagues suffered ACL injuries that an entire starting XI could be made up of those individuals. But why are so many female soccer players suffering from the same injury?
What is the ACL?
The ACL is one of the key ligaments inside the knee. It joins the thigh bone to the shin bone and keeps the knee stable. It also prevents the thigh and shin bones from moving out of place. It most often can be injured by quickly changing direction at high speed – a typical action for many athletes in soccer, football and basketball, among other sports.
Tearing an ACL is one of the most serious injuries an athlete can endure. The best option for repairing an ACL rupture is to have surgery and, after that, it takes between six and 12 months to return to full activity – often ruling soccer players out for entire seasons.
Sarah Milner, a specialist musculoskeletal sports and rehab physiotherapist, says that, if a professional athlete doesn't have surgery for an ACL tear, they "essentially won't have a career anymore."
According to a study published in the peer-reviewed British Journal of Sports Medicine, females are three to six times more likely to experience an ACL injury compared with males.
Another study published by the medical journal Arthroscopy estimates that women's soccer and basketball players are three times more likely to tear their ACL than their male counterparts.
Of the 20 nominees for the 2022 Ballon d'Or Féminin – the highest individual honor for soccer players – 25% suffered an ACL injury in the same year.
But of the 30 nominees for the 2022 men's Ballon d'Or, none had sustained an ACL injury that year.
Why are female soccer players at a higher risk than their male counterparts? A number of academics, players and soccer medical experts have identified a common theme: a lack of sufficient funding for the women's game.
Several factors cited by the experts and players CNN Sport spoke to are controllable and, while ACL injuries are always bound to occur in soccer, there is a consensus among advocates for the women's game that the rate at which they are being sustained doesn't have to be so high.
Dr Katrine Okholm Kryger is a senior lecturer in sports rehabilitation at St Mary's University in Twickenham, London. She said many observations around ACL injuries among female players are often centered around "nature and nurture." Nature, in this case, refers to the anatomy and biomechanics of women. Kryger thought too much blame had been placed on this factor.
"A common argument is that women's menstrual cycle leads to fluctuating hormones, which makes them more physically unstable when playing," Kryger said. "But research shows that there may be a slightly higher risk of injury during the ovulation period but that risk is really very minor.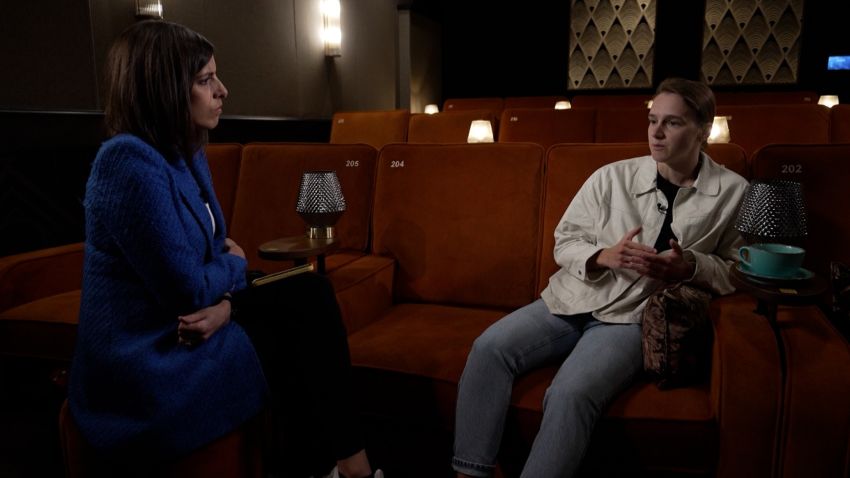 Dutch star Vivianne Miedema calls on FIFA to help curb ACL injury crisis
"Also, if you're on any hormonal contraception, that risk should be leveled out and many women players are on hormonal contraception, so it's difficult to imagine that the menstrual cycle factor is the driving cause behind ACL injuries."
Kryger also had reservations about the argument that uses the way women's bodies are built as a cause.
"Women, on average, have wider hips than men [which increases angulation at the knee and makes ACL ruptures more likely] and that's been used to claim that women aren't 'designed to play football,'" Kryger told CNN.
"I don't think anyone is 'designed' to play the game, so I really want to break down those philosophies that imply women are too 'weak' or too 'physically unstable' to play."
According to Kryger, the key factors behind the disparity in rates of ACL tears between women and men in soccer are not only controllable, but also gendered.
'It doesn't have to happen'
"Women have just never been a priority in the sport," Kryger said. "At elite clubs in the men's game, players have access to exceptional academies and training facilities from a very young age.
"They are able to start work with excellent strength and conditioning coaches even as early teenagers and, by the time they are playing as adult professionals, they've been able to build up a huge amount of physical resilience – which is key in lowering the likelihood of an ACL rupture.
"But, in the women's game, the youth academies are nowhere near as professionalized or developed in the way that the men's are. Many women's clubs, especially if they aren't the top ones in the Women's Super League [in England], for example, do not have access to the best training grounds and resources from a young age in the way that elite male players do."
Indeed, players at the top of the men's game have usually been able to commit completely to soccer even before their teenage years – youth contracts for academy players ensure that they can focus fully on the sport.
But, as Kryger argued, the professionalization of women's soccer is relatively recent compared to the men's game and there is far less funding for women's academies.
The career of Manchester United forward Rachel Williams, who damaged her ACL in 2018, serves as a perfect example of that disparity.
At 20 years old, the point at which the majority of male players are playing in a full-time professional capacity, Williams was working as a plasterer alongside appearing in the Women's Super League.
According to a BBC interview, in the early days of the WSL (formed in 2011), Williams said she only trained twice a week and made her money from plastering, rather than playing soccer.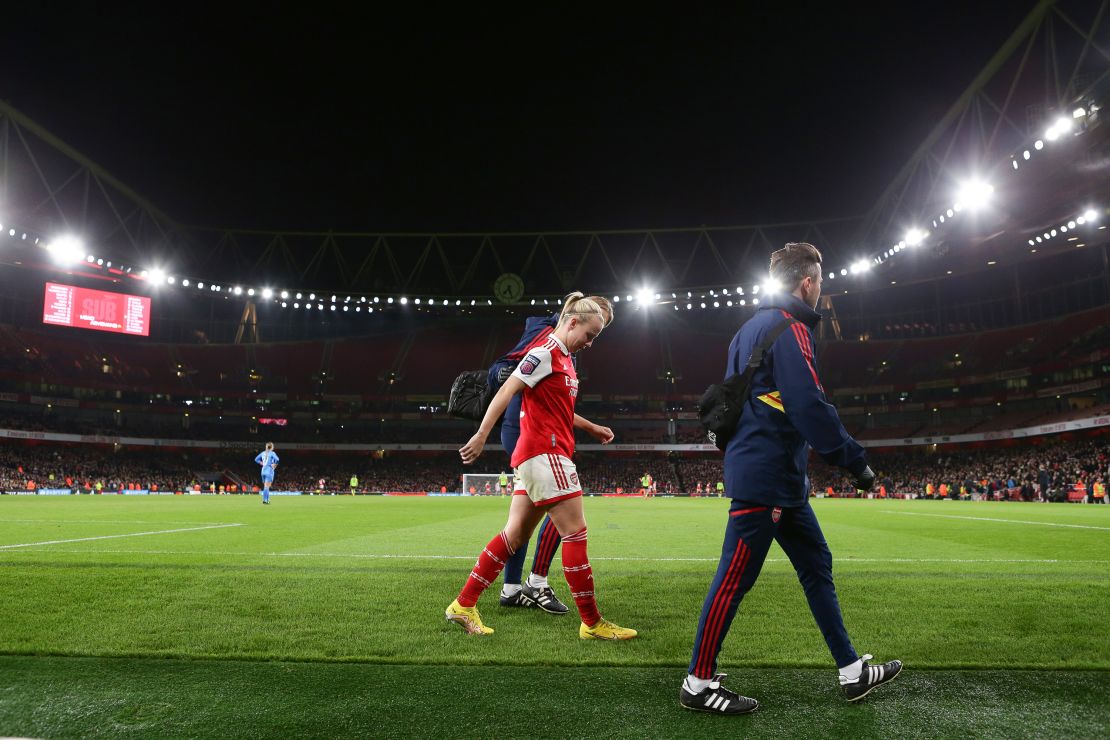 Kyrger said the lack of football shoes specifically designed for women has also contributed to ACL ruptures.
"Football boots, or cleats, are very tight-fitting – unlike running shoes. But the vast majority of them are designed to fit men's feet, rather than women's, despite the fact that women's feet are different to men's in several ways."
According to an article in the Aspetar Sports Medicine Journal, co-authored by Kryger, footwear molds used by manufacturers designing cleats are based on "Caucasian male foot shapes" – but the adult female foot is on average smaller than the male foot and women "generally have a wider forefoot relative to their foot length, a greater ankle circumference and a different ankle shape."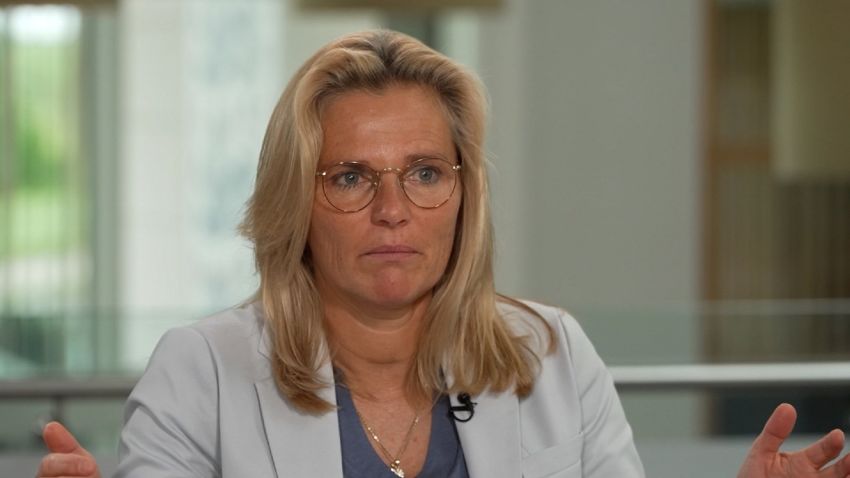 "Make the risk as low as possible,' says England women's coach Sarina Wiegman on ACL injuries
A recent report by the European Club Association revealed that as many as 82% of women's players in Europe who took part in a survey experience discomfort wearing boots.
About 350 players from 16 top teams across the continent were surveyed.
According to the findings, 34% of women players reported discomfort specifically in their heel and the majority use specialized insoles. Some have even improvised in order to find more comfort when playing by cutting holes in their boots to alleviate and avoid blisters.
Ahead of the 2023 World Cup, Nike has unveiled the Phantom Luna, the most "researched women's-led football boot design," according to the sports manufacturer. The new boot has been trialed by top women's soccer stars, including Crystal Dunn of the USWNT, and is designed to reduce rotational traction at the knee – which can help to lower the risk of sustaining an ACL injury.
"The only good thing about the factors in these injuries such as ill-fitting boots is that it's something that can be changed," Kryger said. "It doesn't have to happen. It isn't something we're stuck with – we can do something about it. Or, rather, boot manufacturers and club executives can do something about it!"
'We haven't had the time to adjust'
Asked about the spate of ACL injuries, Magill cited multiple factors, including a lack of medical resources and inadequate pitches.
"I don't think there are enough resources going into the medical departments of women's football to keep players safe and fit," she told CNN. "The general consensus among a lot of players is that we just are not afforded medical facilities that are as good as the men's. If more funding was committed to hiring more medical staff, more physios, more experts, to work at women's clubs, it would make such a difference."
The recent rapid growth of the women's game has also created new challenges, according to Magill.
"My generation has gone from being semi-pro to full-time, pro footballers in a very short period of time. All of a sudden, it's like: 'Ok, I'm a totally professional athlete now!' But we haven't had much time to adjust to that."
The impending World Cup marks the second summer in a row that women players across Europe won't have had much of a break between the end and start of the domestic seasons. Last year, the 2021 Euros – delayed one year by the Covid pandemic – took place. Next summer, Paris will host the 2024 Olympics, another prestigious tournament on the women's soccer calendar.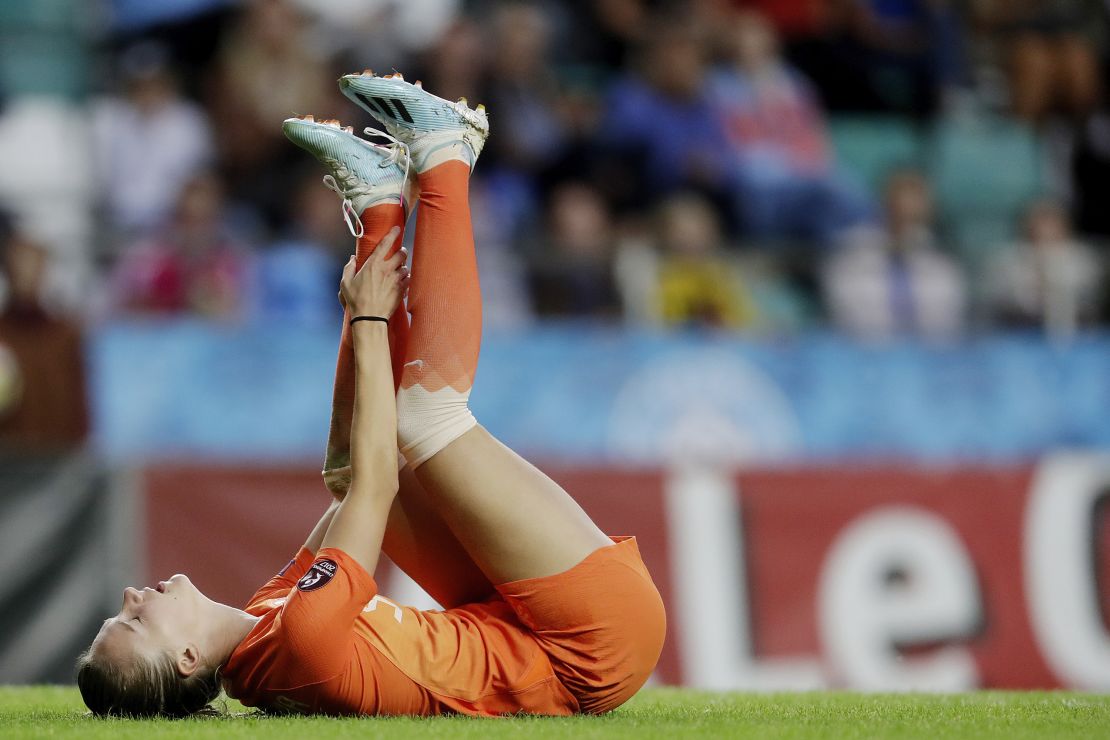 The pitches that women play on are also an issue, according to Magill.
"When I was playing as a teenager, we were often playing on 3G pitches and those surfaces are just not ideal for playing football on at all. Some of them were abysmal."
A 3G pitch is an artificial field made up from rubber crumbs and synthetic grass. The vast majority of players much prefer playing on real grass, said Magill, with many feeling that injuries are more common on artificial surfaces.
While some WSL teams sometimes play on the same pitches as their male equivalents, Kryger highlights there are teams that have to "share pitches with lower-league men's clubs, who often get to play on a Saturday, while the women's team often have to play on Sundays – once the pitch is already scuffed up and not exactly in pristine condition."
Magill said her rehabilitation had been "smooth" but reflected on other players outside of the top women's league in England whose road to recovery may not have gone so well.
"One of my best friends in Northern Ireland tore her ACL some years ago," she explained. "And I know her rehabilitation took longer than mine and she basically went through it on her own because the league at home was so much less developed back then and it still isn't like the WSL now."
'Funding should not be an issue'
Milner, the rehab physiotherapist, said that there are some clear solutions to many of the factors associated with the disproportionate rate of ACL injuries among women players.
"So much of the issue comes down to funding. There needs to be proper funding towards women's training grounds, funding towards the academies for girls and young women, so that they don't have to get a part-time job and can focus completely on football," she said.
"There needs to be more funding to facilitate better education for those who want to work on the medical side of the women's game, so that they're as informed as they possibly can be on the specific requirements of women athletes and their strength and conditioning needs."
Milner placed great emphasis on the need for strength and conditioning in the women's game to be adapted in order to suit female players – and stressed the importance of getting this right.
"How women land on their feet during games is different to men, how women run is different, how women jump for headers is different," she told CNN Sport. "And, yet, the majority of strength and conditioning coaching is based on studying men. It is so fundamental in helping to prevent ACL injuries – but the focus is not on women, despite the high rates of occurrence we're seeing."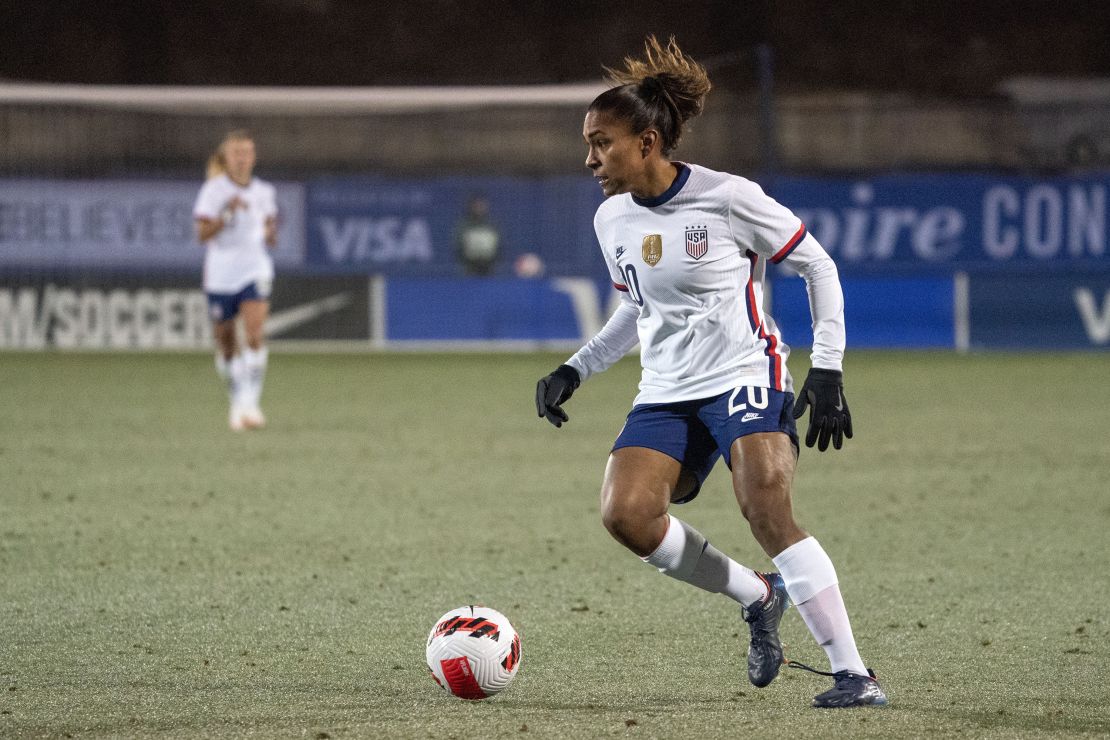 Considering the huge wealth that global soccer boasts, and the exploding popularity of the women's game, Milner said there was no excuse to not properly fund women's clubs – whether that be the club's medical facilities, academies or the quality of their training grounds and pitches.
"The demand for women's football is growing but the adequate support isn't there," Milner said.
Along with putting the onus for change on the top decision makers in soccer, Milner said that schools, at least in England, must take responsibility to ensure that physical education lessons home in on the needs of girls and women in soccer.
"The England women's team are pushing for all girls in school to have access to football," she explained, "and, for any future professional players, it's essential that attention is paid to how to best prevent injuries and that their strength and conditioning is tailored to them as girls, rather than being based only on studying boys' needs."
With necessary funding funnelled into the medical facilities and staffing at women's clubs, along with the development of boots designed specifically for female players and the improvement of women's professional academies, the disproportionate number of ACL tears amongst female players can be confronted and reduced.
In a statement to CNN, FIFA outlined its commitment to injury prevention, citing it as a "key aspect of their Medical Subdivision" and noted a 2021 call the organization made for research for the women's football medicine journal. Meanwhile, European football's governing body, UEFA, referenced the Women's Health Expert Panel it established, which has a "high priority" researching ACL injuries.
The eyes of the world is now on the women's international game again. The 2023 World Cup is expected to smash viewing records, while the tournament is set to become the most attended standalone women's sporting event – with more than one million tickets sold, surpassing the 2019 edition in France.
If any ACL injuries occur on such a global stage, they will receive more attention and, perhaps, more scrutiny than ever before. But, as Kryger and others told CNN, it doesn't have to be this way.