A series of explosions roared through a Russian ammunition storage facility in occupied Crimea on Wednesday, forcing thousands of residents of nearby areas to flee and prompting leaders there to redirect traffic away from a local highway.
Footage showed smoke and flames rolling over the site near Stary Krym in Crimea's Kirorvsky district, where blasts were heard for at six hours after the initial explosion. The head of Crimea's parliament said that it could take two days to fully extinguish the blaze, according to Russian state media.
The cause of the blasts has not yet been confirmed. The Russian-backed leader of Crimea, Sergey Aksyonov, said on Telegram that "a fire occurred at a military training ground." Askenov said residents of four surrounding villages – more than 2,000 people – were being evacuated.
The explosions are the latest in a series of recent incidents to roil Crimea, the Ukrainian peninsula illegally seized by Russia in 2014. On Monday, Ukraine claimed responsibility for an attack that damaged part of the bridge linking Crimea to Russia, a vital supply line for Moscow's invasion and a personal project for President Vladimir Putin.
Kyiv has not commented on Wednesday's explosions at the Crimea training ground. The pro-Russian Grey Zone Telegram channel claimed that a Ukrainian Storm Shadow missile struck the depot, which could not immediately be confirmed, while a rebel Ukrainian group in Crimea called Atesh celebrated the fire but said it was not responsible.
Putin's spokesman said he had been briefed on the blasts at the ammunition dump.
'One of the most horrible nights'
Russia has retaliated against the Ukrainian strike on the bridge by launching a brutal two-day aerial assault on the strategic port city of Odesa in southern Ukraine, damaging key infrastricture and injuring civilians.
The Kremlin's barrage overnight included Kalibr, Kh-22 and Oniks cruise missiles, and Iran-made Shahed-136/131 UAVs, the Ukrainian Air Force said, adding that it destroyed 14 cruise missiles and 23 drones.
CNN journalists in Odesa heard an intense bombardment early Wednesday local time.
The Russian Defense Ministry claimed it targeted military and fuel facilities in Odesa with "high-precision sea and air-based weapons."
Earlier, Ukrainian President Volodymyr Zelensky said Moscow deliberately leveled strikes at key "grain deal infrastructure," after the Kremlin on Monday pulled out of an agreement that allowed grain to be exported by sea from Ukrainian ports otherwise blockaded by Russia.
He said it was the "largest" attempt by Russia to "inflict pain on Odesa" since the invasion began in February 2022, adding that about "a million tons of food" is stored in the ports that were struck on Wednesday.
"Everyone is affected by this Russian terror," the Ukrainian leader added.
The Ukrainian Agriculture Ministry said the damage, which hit grain export infrastructure in Odesa and the nearby port of Chornomorsk, would take at least a year to fully restore.
"This is a terrorist act not only against Ukraine, but against the whole world. Its food security is once again under threat. Humanity is being held hostage by a terrorist country that is blackmailing the world with hunger," the Ukrainian Agricultural Minister Mykola Solskyi said in a Wednesday statement.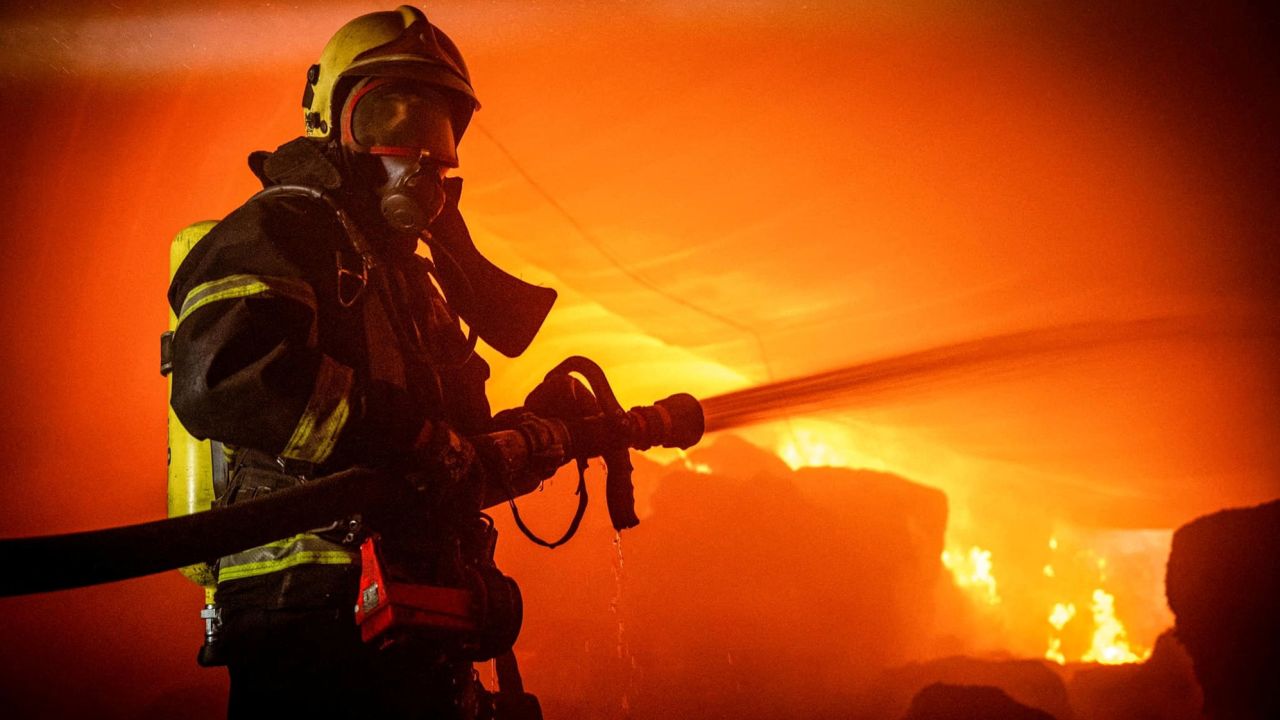 Odesa Mayor Hennadii Trukhanov called the bombardment "one of the most horrible nights" of the war.
"We do not recall such a scale of attack since the beginning of a full-scale invasion," he said on Facebook.
There were no casualties reported. But the city was shaken by explosions and several people were wounded by a downed Russian missile, including a nine-year-old boy, officials said.
Further east, two civilians were killed and seven others injured by Ukrainian shelling in parts of separatist-controlled areas of the eastern Donetsk region, according to a Russian-backed official.
Several homes, two schools and a hospital were damaged, the head of the separatist self-proclaimed Donetsk People's Republic (DPR), Denis Pushilin, said on Telegram.
Ukraine's attack on the Crimea bridge dealt a logistical and symbolic blow to Moscow's faltering military campaign. The bridge is a critical artery for supplying the peninsula with both its daily needs and supplies for the military, in addition to fuel and goods for civilians.
The $3.7 billion-dollar corridor, which is 12 miles long, is a critical artery for supplying the peninsula with both its daily needs and supplies for the Russian military, in addition to fuel and goods for civilians.
The strike was a joint operation of Ukraine's Security Service (SBU) and Ukraine's naval forces, an SBU official told CNN. The attack killed a couple and left their daughter injured.
CNN's Yulia Kesaieva, Vasco Cotovio, Josh Pennington and Katharina Krebs contributed reporting.