Officials are continuing the investigation of Gilgo Beach serial killings suspect Rex Heuermann, using ground-penetrating radar and a backhoe to search the yard of his Massapequa Park home, Suffolk County Police Commissioner Rodney Harrison told reporters Monday.
There was also a police dog on the scene when investigators were searching the site on Sunday, CNN affiliate News 12 Long Island reported.
As authorities dig up the yard at his Massapequa Park, New York, home, Heuermann remains "stoic" in jail, Suffolk County Sheriff Errol Toulon, Jr. told CNN on Monday.
"If you think about someone that two weeks ago was walking around freely, he seemed very comfortable inside of the cell," the sheriff said.
Toulon said he could not provide details about what investigators are looking for in the backyard, citing the ongoing investigation, which now spans multiple states. Authorities are also looking into properties Heuermann owns in South Carolina and Nevada.
"I don't think any of us ever anticipated going that far and looking at any missing persons or any murders that may have occurred along the Eastern Seaboard," Toulon said.
It's been over a week since Heuermann was arrested in New York City and charged with murder in the deaths of three of the "Gilgo Four" – a group of four women whose remains were found along a short stretch of Long Island's Gilgo Beach in 2010.
He has pleaded not guilty in the killings of Melissa Barthelemy, Megan Waterman and Amber Lynn Costello.
The 59-year-old architect is also the prime suspect in the disappearance and killing of the fourth woman, Maureen Brainard-Barnes, but he has yet to be charged in that case.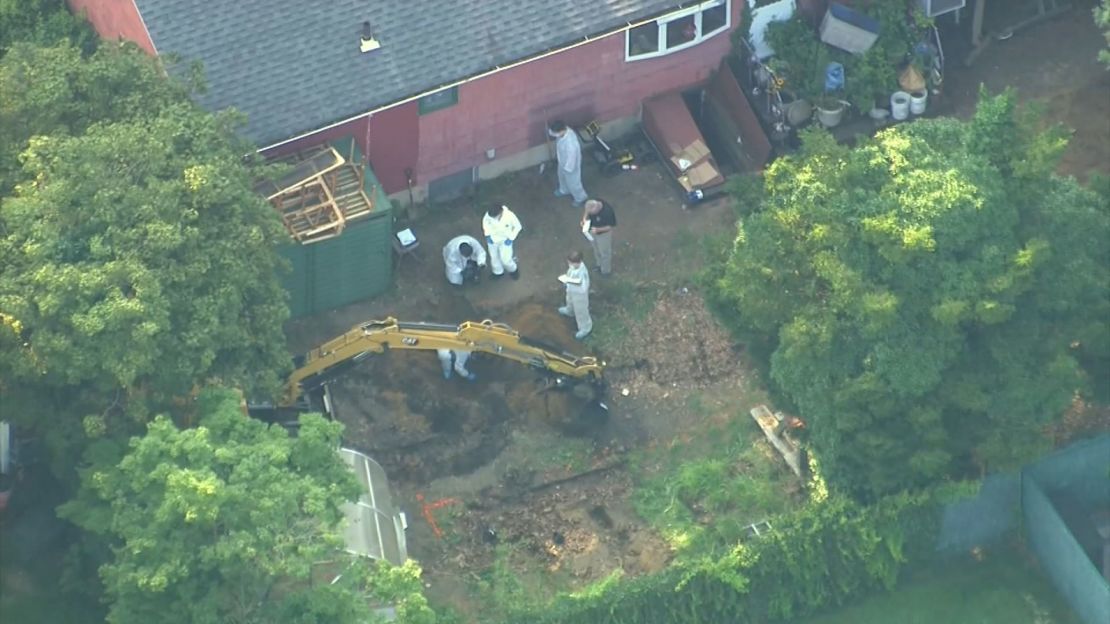 The technology authorities are using to search the backyard will "help us … identify anything in that backyard that we need to take into our possession," Harrison. Investigators will likely continue their work at the Massapequa Park site for another day or two, he said.
Since this spring, investigators probing the case have been operating on the theory that Heuermann committed the killings in his home, CNN has previously reported.
The home is just a few miles from where the women's remains were found.
A source involved in the investigation has told CNN the fact that the disappearances occurred during times that Heuermann's family was out of town suggests he may have lured victims to his Long Island home, where the suspect lived with his wife, their daughter and stepson.
Investigators believe committing the killings at home would have given Heuermann control of the environment and access to materials that were found at the crime scene, including tape and burlap bags, the source said.
Investigators found a hoard of between 200 and 300 guns stashed in a walled-off vault which was locked behind a metal door in the home, a source told CNN. Harrison confirmed there was a vault with guns at the home, but denied reports of a "soundproof room" in the house.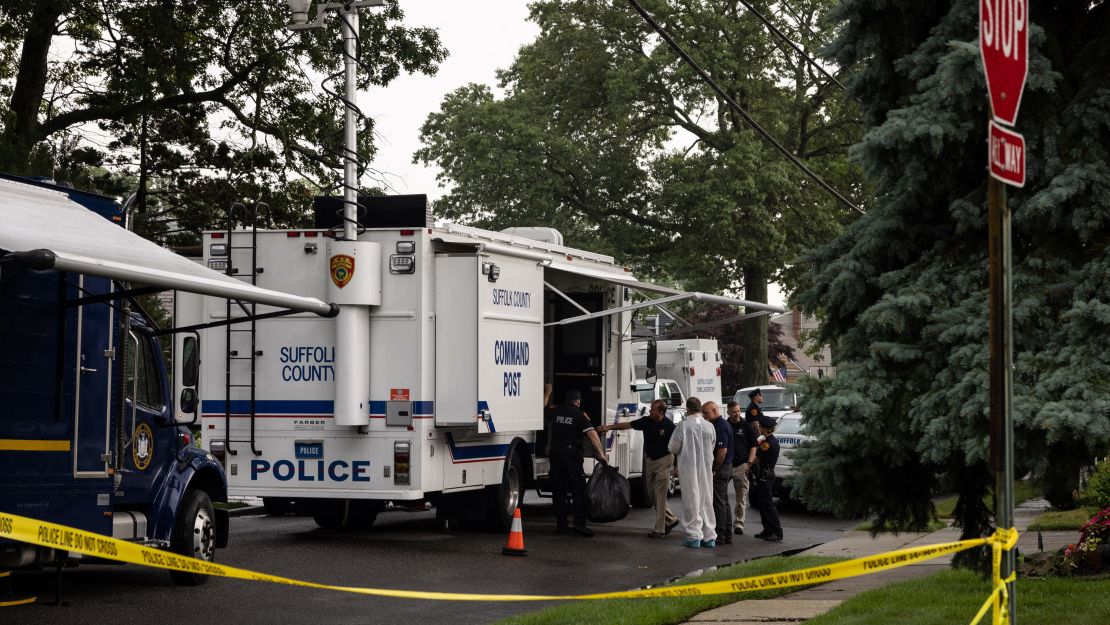 Search warrant sought possible 'trophies'
Investigations into the suspect have expanded to other parts of the country.
Police in Las Vegas are sifting through unsolved cases for any sign that Heuermann may have been involved, CNN has reported.
Though they lived on Long Island, the suspect and his wife had bought two timeshare condos in Las Vegas between 2003 and 2005, according to property records obtained by CNN. The couple sold the first property, the records show, and it is unclear whether they still own the second.
And in northern South Carolina's Chester County, where tax records show Heuermann owns four large parcels of land, the sheriff's office says it has been gathering evidence since before the suspect's arrest.
A search warrant for South Carolina property owned by the suspect sought possible "trophies," among other items, the suspect may have taken after the killings, according to the Chester News & Reporter, which has seen the warrant.
The warrant shows a long list of items under "property sought," many of which are listed as "trophies," the newspaper reported.
That list includes phones, articles of clothing, jewelry, identification, notebooks, ledgers, Bibles, personal effects and/or photographs or recordings depicting the victims, according to the paper.
Other "trophy" items were separately listed, according to the paper, including condoms, black leather belts, knives, scissors, devices used to stamp letters on leather goods, and "Bounty paper towels specifically from the Bounty Modern Print Collection."
CNN has reached out to South Carolina authorities to obtain the search warrant.
Forensic and trace evidence was also sought, the newspaper reported, including anything that could provide DNA like fingernails and hair.
The warrant also reveals authorities are looking for other items that may have been used in the killings and any items from locked rooms or storage areas on property owned by Heuermann, the paper reported.
CNN's Lauren Mascarenhas, Laura Ly, John Miller, Samantha Beech, Colin Jeffery and John Miller contributed to this report.