US intelligence officials have warned that Russia is building a drone-manufacturing facility in country with Iran's help that could have a significant impact on the war in Ukraine once it is completed.
Analysts from the Defense Intelligence Agency told a small group of reporters during a briefing on Friday that the drone-manufacturing facility now under construction is expected to provide Russia with a new drone stockpile that is "orders of magnitude larger" than what it has been able to procure from Iran to date.
When the facility is completed, likely by early next year, the new drones could have a significant impact on the conflict, the analysts warned. In April, the US released a satellite image of the planned location of the purported drone manufacturing plant, inside Russia's Alabuga Special Economic Zone about 600 miles east of Moscow. The analysts said Iran has regularly been ferrying equipment to Russia to help with the facility's construction.
They added that to date, it is believed that Iran has provided Russia with over 400 Shahed 131, 136 and Mohajer drones – a stockpile that Russia has almost completely depleted, they said.
Russia is primarily using the drones to attack critical Ukrainian infrastructure and stretch Ukraine's air defenses, a senior DIA official said. Iran has been using the Caspian Sea to move drones, bullets and mortar shells to Russia, often using vessels that are "dark," or have turned off their tracking data to disguise their movements, CNN has reported.
The US obtained and analyzed several of the drones downed in Ukraine, and officials say there is "undeniable evidence" that the drones are Iranian, despite repeated denials from Tehran that it is providing the equipment to Russia for use in Ukraine.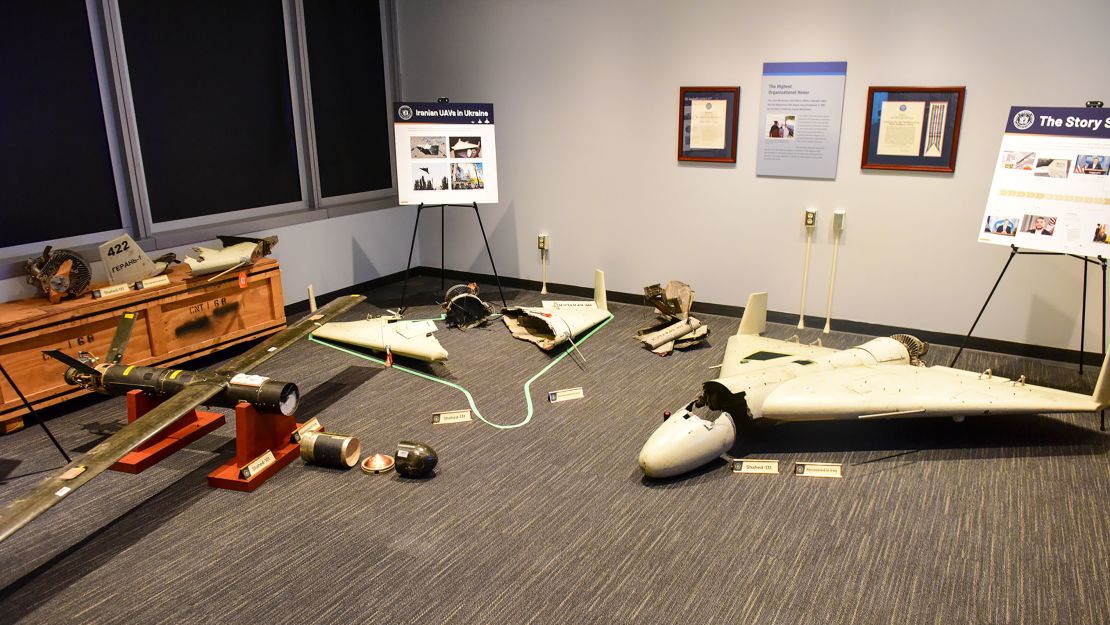 The DIA analysts showcased debris from drones recovered in Ukraine in 2022 during the briefing on Friday, comparing them side-by-side with Iranian-made drones found in Iraq last year.
One of the drones recovered in Ukraine had only its wings and engine partially intact. But judging by its shape and size, it appeared to be a Shahed-131, the same model as an Iranian-made drone found in Iraq. The analysts removed components from one and easily slid them onto the other, showing that they are virtually "indistinguishable" in their design.
Other drone components found downed in Ukraine were nearly identical to Iranian-made components found in Iraq, the only apparent difference being that the components found in Ukraine featured cyrillic lettering. A phrase written on one component roughly translated to "for grandfather" in Russian, a reference to Russia's fight against the Nazis in World War II.
The analysts said they were allowing journalists to see the drones in person because they want to give policy makers and the public "undeniable evidence" that Iranian-made drones are being used by Russia in Ukraine.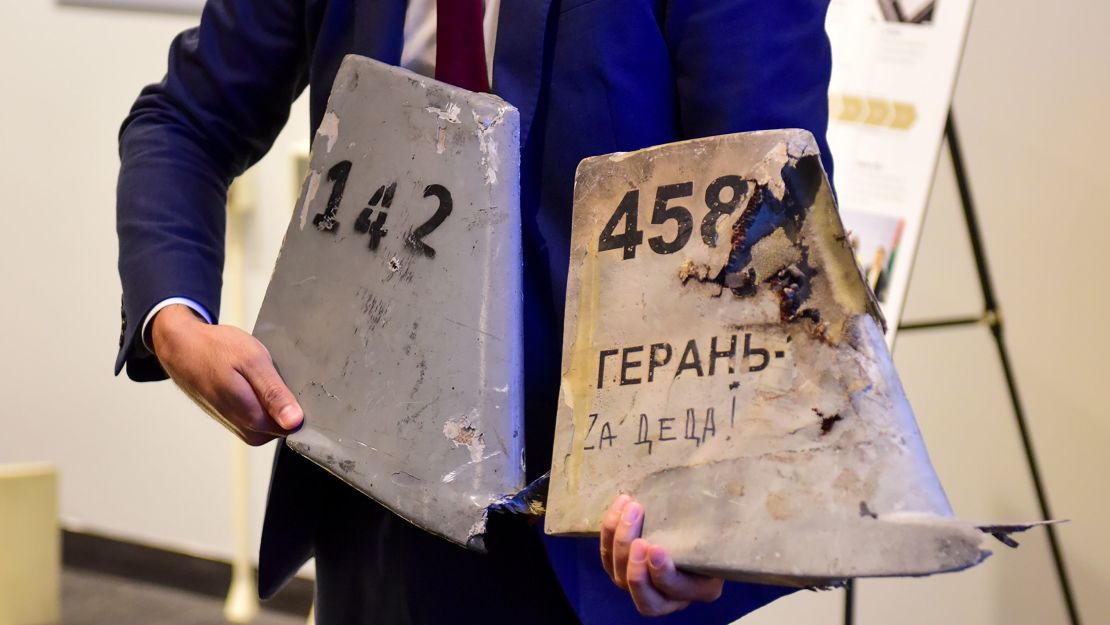 The US also wants to raise awareness so that western companies begin to better monitor their supply chains for signs that their components are being illegally diverted to help manufacture the drones. The  Biden administration launched an expansive task force last year to investigate how US and western components, including American-made microelectronics, were ending up in the Iranian-made drones being used in Russia.
Tehran, for its part, has flatly denied providing the drones for Russia during the war.
"The Islamic Republic of Iran has not and will not provide any weapon to be used in the war in Ukraine," Iranian Foreign Minister Hossein Amir-Abdollahian said in October. In November, Amir-Abdollahian acknowledged that Iran had supplied drones to Russia, but said they had been delivered to Russia months before the war began.
A senior DIA official said on Friday that analysts first saw signs of a growing Russian-Iranian military partnership in April 2022. The White House revealed in July 2022 that Iran was preparing to provide Russia with the drones.
The DIA also showcased an Iranian-made Shahed-101 drone recovered in Iraq, which is smaller and lighter than the Shahed-131 and has not previously been shown to the public, the analysts said. There is a possibility that Iran could begin providing the Shahed-101 to Russia, particularly because they are more compact and easier to ship, they added.
The US had intelligence late last year that Iran was considering providing ballistic missiles to Iran, but that plan appears to have been "put on hold" for now, one of the analysts said.
Iran benefits from providing Russia with military equipment because it can showcase its weapons to international buyers and gets money and support from Russia for its space and missile programs in return, the analysts said. But providing ballistic missiles would represent a "monumental" escalation in Iranian support for Russia's war, the analysts said, and it is not clear that Tehran is willing to take that risk at this point in the conflict.