The search of Rex Heuermann's Long Island home has ended after investigators turned up "quite a lot of evidence" in the Gilgo Beach serial killings, Suffolk County District Attorney Ray Tierney said Tuesday.
"We are for all intents and purposes done with the search," Tierney told reporters.
The district attorney said it will take "some time" for analysts to review the "massive amount of material" collected from the cluttered home, including around 279 weapons.
Investigators had been digging up the yard in Heuermann's Massapequa Park home for days, using ground-penetrating radar, a backhoe and a police dog in the search for additional evidence, Suffolk County Police Commissioner Rodney Harrison said Monday.
"There was nothing of note taken from the backyard, as far as remains," said Tierney, adding that investigators will be conducting forensic and DNA analysis on any items recovered inside the home, including hair fibers.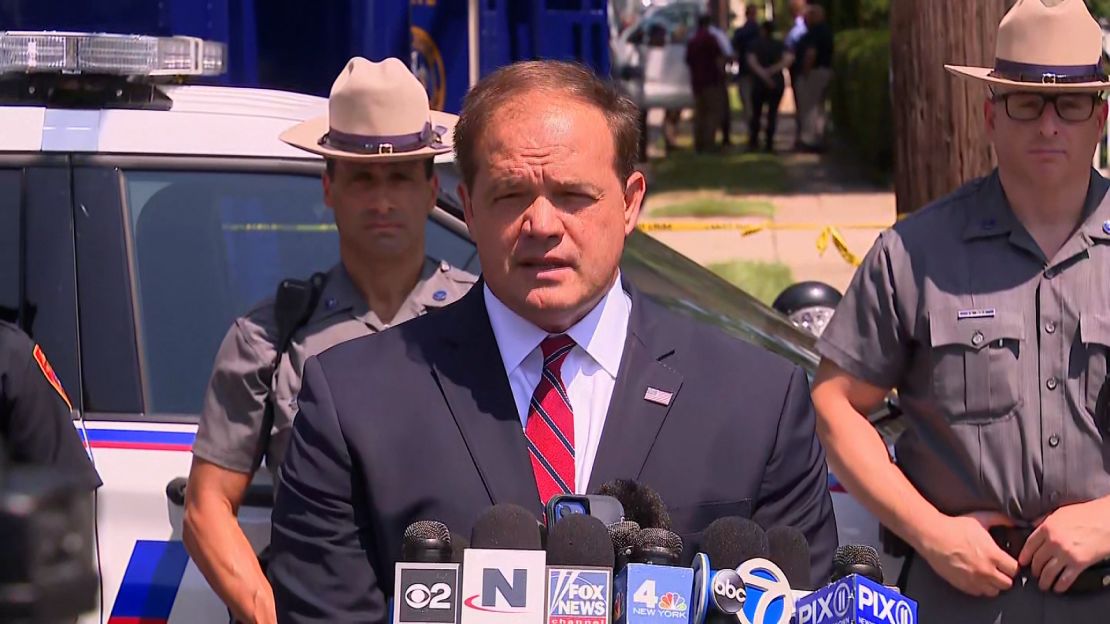 Authorities have been operating on the theory that Heuermann committed the killings in his home, which is just a few miles from where the remains of the women were found.
Heuermann was arrested July 13 in New York City, where he worked as an architectural consultant, and charged with murder in the deaths of three of the "Gilgo Four" – women whose remains were found in 2010 along a short stretch of Ocean Parkway in Gilgo Beach.
He has pleaded not guilty in the killings of Melissa Barthelemy, Megan Waterman and Amber Lynn Costello.
"I did not do this," his court appointed-attorney, Michael Brown, said Heuermann told him.
The 59-year-old architect is also the prime suspect in the disappearance and killing of the fourth woman, Maureen Brainard-Barnes, but he has not been charged in that case.
"We're working towards that," Tierney said, referring to the filing of charges in the fourth case.
The disappearances occurred during times that Heuermann's family was out of town, suggesting he may have lured victims to the home where he lived with his wife, their daughter and stepson, according to a source involved in the investigation.
Committing the killings at home would have given Heuermann control of the environment and access to materials that were found at the crime scene, including tape and burlap bags, the source told CNN.
Investigators discovered between 200 and 300 guns stashed in a walled-off vault which was locked behind a metal door in the home, a source told CNN. Harrison confirmed there was a vault with guns at the home.
The investigation has expanded to other parts of the country.
Police in Las Vegas are sifting through unsolved cases that Heuermann may have been involved in.
The suspect and his wife had bought two timeshare condos in Las Vegas between 2003 and 2005, according to property records obtained by CNN. The couple sold the first property, the records show, and it is unclear whether they still own the second.
In northern South Carolina's Chester County, where tax records show Heuermann owns four large parcels of land, the sheriff's office said it has been gathering evidence since before the suspect's arrest.
Heuermann was first identified as a potential suspect in early 2022, shortly after a multi-agency task force was formed to examine cold cases involving nearly a dozen sets of human remains found along Long Island's South Shore between 2010 and 2011, including the Gilgo Four.
"We're going to look at the other instances where the bodies were recovered in that area as well," Tierney said Tuesday.
CNN's Frank Bivona, Rob Frehse, Christina Maxouris, Lauren Mascarenhas and John Miller contributed to this report.