Frantic purchases of ammunition, the daylight assassination of a mayor, and a growing body count inside Ecuador's prisons signal that the country's roiling security crisis is going from bad to worse.
The Andean country, a relatively peaceful nation until a few years ago, is now plagued by a turf war between rival criminal organizations. Amid the brutal violence – among the worst in decades – the government in June announced the purchase of 24 million gun cartridges – a figure that far exceeds the country's population – to beef up the security services.
Violence has been most pronounced on Ecuador's Pacific coast as criminal groups battle to control and distribute narcotics, primarily cocaine. Over the weekend, Agustin Intriago, the mayor of Ecuador's sixth largest city Manta, was shot dead alongside Ariana Chancay, a young athlete he was talking with on the street.
The country has also lost control of its prisons, which are often ruled by the criminal gangs. More than 400 inmates have been slain behind bars since 2021, according to the penitentiary service, many of whom were killed during a series of macabre massacres.
On Monday, the penitentiary service revealed at least 96 guards are being held hostage by inmates inside the very same prisons they are meant to be guarding, while hundreds of inmates have launched a hunger strike to demand better conditions and to protest the violence.
The next day, Ecuador's attorney general announced that at least 18 people had died during a days-long uprising in a prison in the port city Guayaquil.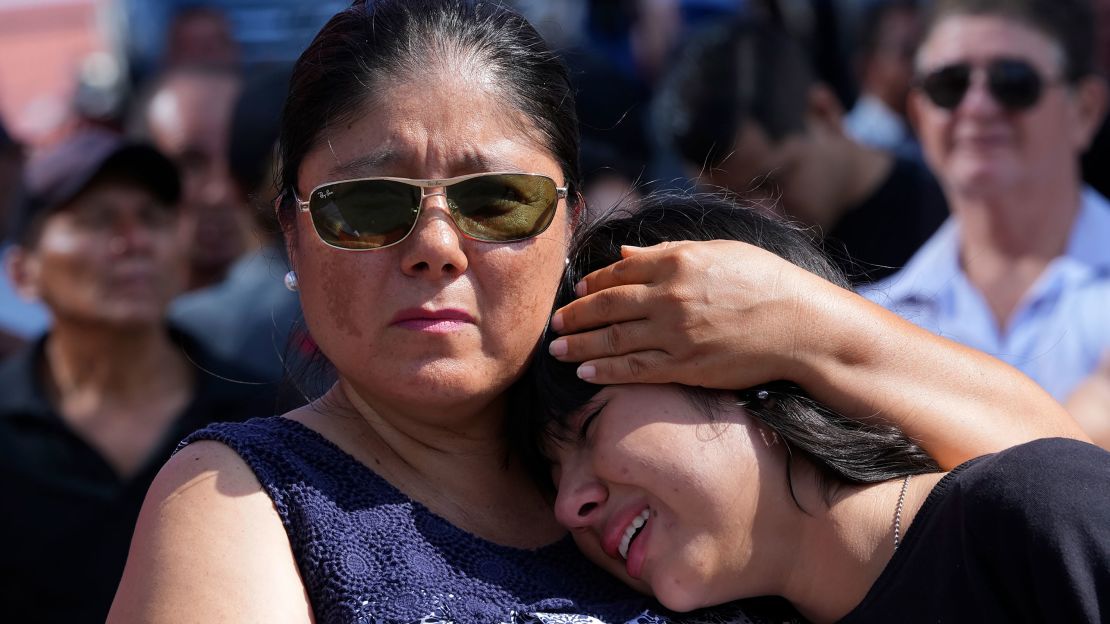 Why has Ecuador become so violent?
The prison system has long been the main theater of violence in Ecuador. Security forces have struggled to confront the gangs inside overcrowded prisons, where inmates often take control of branches of the penitentiaries and run criminal networks from behind bars, according to Ecuadorian authorities.
The country's embattled president, Guillermo Lasso, has named five different directors of the prison service in little over two years in office, but none of them has been able to reduce the violence.
Authorities thought the bloodshed could be contained behind bars but that changed in recent years. Ecuador has become an integral part in the lucrative cocaine trafficking routes from South America to North America and Europe, according to security experts.
Ecuador has no history of producing cocaine, nor its main ingredient coca, but it is sandwiched between the two largest narcotics production hotspots in the world: Peru and Colombia.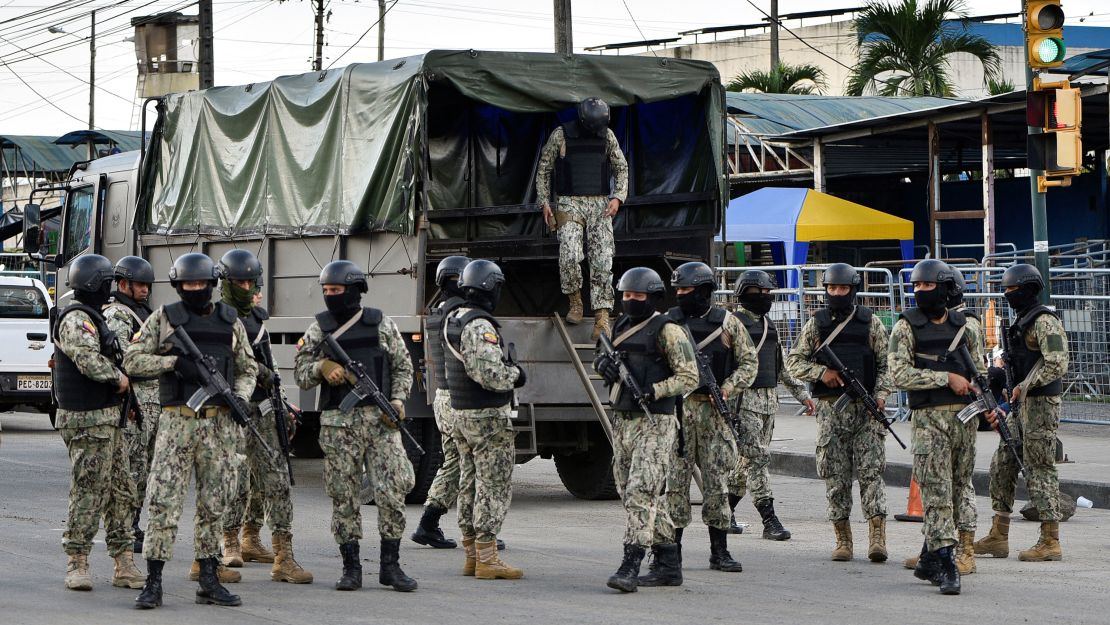 Conveniently for traffickers, Ecuador is home to several ports accustomed to handling large amount of freight exports, including crude oil, bananas, and tuna fish. Manta, for example, is the country's main tuna port, providing half a million tonnes of fish per year to international markets[4], and an endless stream of cargo and fishing boats that can be exploited for illicit trafficking.
Those ports have made Ecuador an ideal departure point for cocaine produced in Colombia, Peru or Bolivia. Analysts, including Coronel Mario Pazmiño, a former chief of intelligence in the Ecuadorian Army, told CNN that foreign syndicates like Mexican cartels, Brazilian urban gangs, and even Albanian mafia cells have co-opted local organizations in Ecuador to act as foot soldiers in the ongoing conflict.
The dollarization of Ecuador's economy in 2000 also made it an easy location for criminal groups to launder illicit gains, say analysts.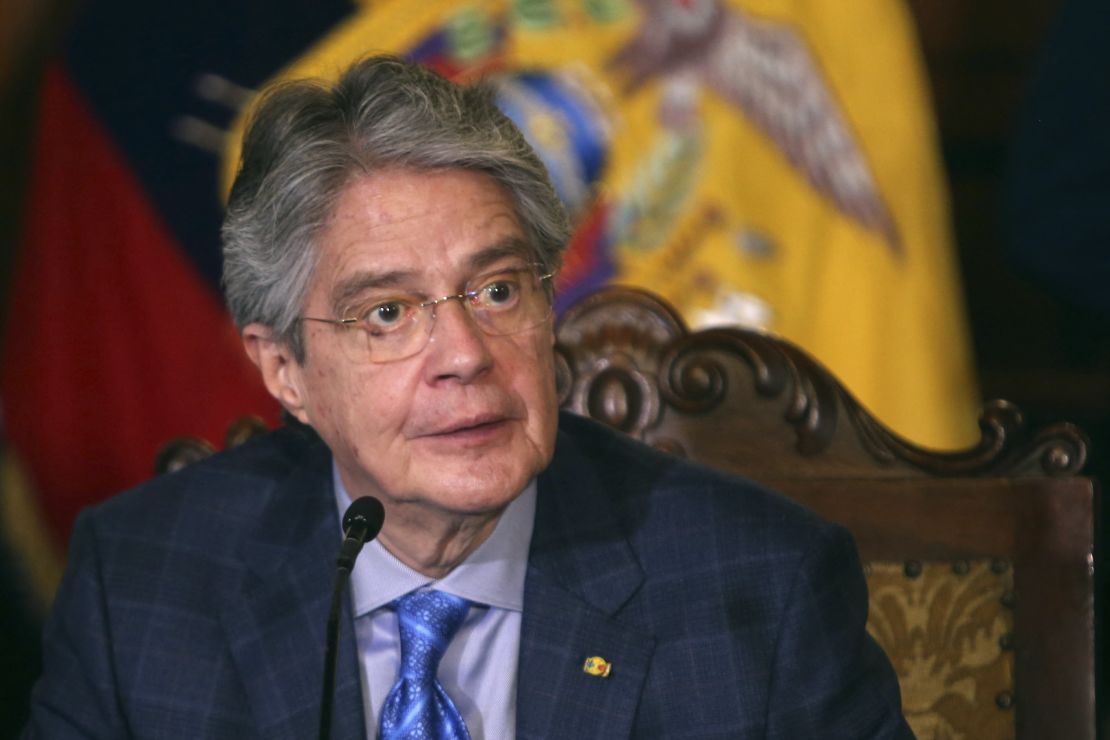 Economic insecurity has also helped drive some Ecuadorians towards crime. Like many countries across the region, Ecuador was deeply impacted by lockdowns and restrictions during the Covid-19 pandemic. Over half its workforce is in the informal economy, meaning that millions of people did not have a contract and benefit packages to rely on when the country shut down. This cleared the path for criminal recruiters, say analysts.
The crisis has also affected the security and justice system with allegations of corruption swirling around some in courts and police. Last year, the US withdrew visas from high-ranking officers of Ecuadorian state security forces, alleged to be linked to drug trafficking, and several judges and lawyers.
How has the government responded?
President Lasso has implemented several states of emergencies to tamp the bloodletting in the country. As the violence erupted once again in the past few days, Lasso called for a state of emergency in the province of Manabi, where the mayor was killed. The state of emergency also extends to areas where violence has erupted inside the prison system.
Ecuador's Public Security Council declared criminal gangs as part of terrorist organizations in April, and, on June 2, Lasso authorized security personnel to apply lethal force in anti-gang operations. "The absurdity that a cop has to wait for a criminal to shoot at him or at a fellow citizen first before responding fire is over!" Lasso said at the time.
Ecuadorian forces have been taking part in drills as it prepares to confront the violence.
Last month, CNN followed Ecuadorian special forces at a military base not far from the capital, Quito, where cadets in full body armour were seen learning how to handle semi-automatic weapons.
"Every cop must be able to face organized crime, including using a firearm when it's necessary," said General Fausto Salinas, the police chief commander, at a press conference to announce the new directions for the security forces.
But despite higher firepower, the country is a long way off from ending the crisis.
The country's government meanwhile is locked in a holding pattern, after Lasso, who was facing an impeachment vote, dissolved the opposition-led Congress in May and paved the way for a snap general election on August 20.
Lasso has ruled out running for a new mandate in the poll, which will see frontrunner Luisa Gonzalez of the left-wing 'Citizen Revolution' party, conservative Otto Sonnenholzner, and indigenous leader Yaku Perez, among others, compete for office.
If none of the candidates win decisively in the first round, a runoff will be held on October 15.
All the candidates have pledged to rein in the escalation of violence. But amid political deadlock and violence escalating by the day, peace still feels a far way off for this small country.