Editor's Note: Sign up for CNN's Wonder Theory science newsletter. Explore the universe with news on fascinating discoveries, scientific advancements and more.
Three four-hour flights high above the jungles of Campeche on Mexico's Yucatan Peninsula exposed a hidden gem on the ground below: a lost city that was likely abandoned more than 1,000 years ago.
It was all in a day's work for Juan Carlos Fernandez-Diaz, an assistant professor in civil engineering at the University of Houston, who spotted the city in March during an airborne archaeological survey of the area.
For the past decade, he's been a trailblazer in the archaeological application of LiDAR, airborne light detection and ranging equipment that can find structures obscured by dense tree canopies and other vegetation — relics that in some cases reveal traces left by a lost civilization.
Archaeologists subsequently surveyed the site, which they've named Ocomtun, for six weeks in May and June and found 50-foot-tall (15.2-meter-tall) structures resembling pyramids, pottery and engravings that they believe date back to between 600 and 900 AD — known as the Late Classic Period in the Maya Civilization.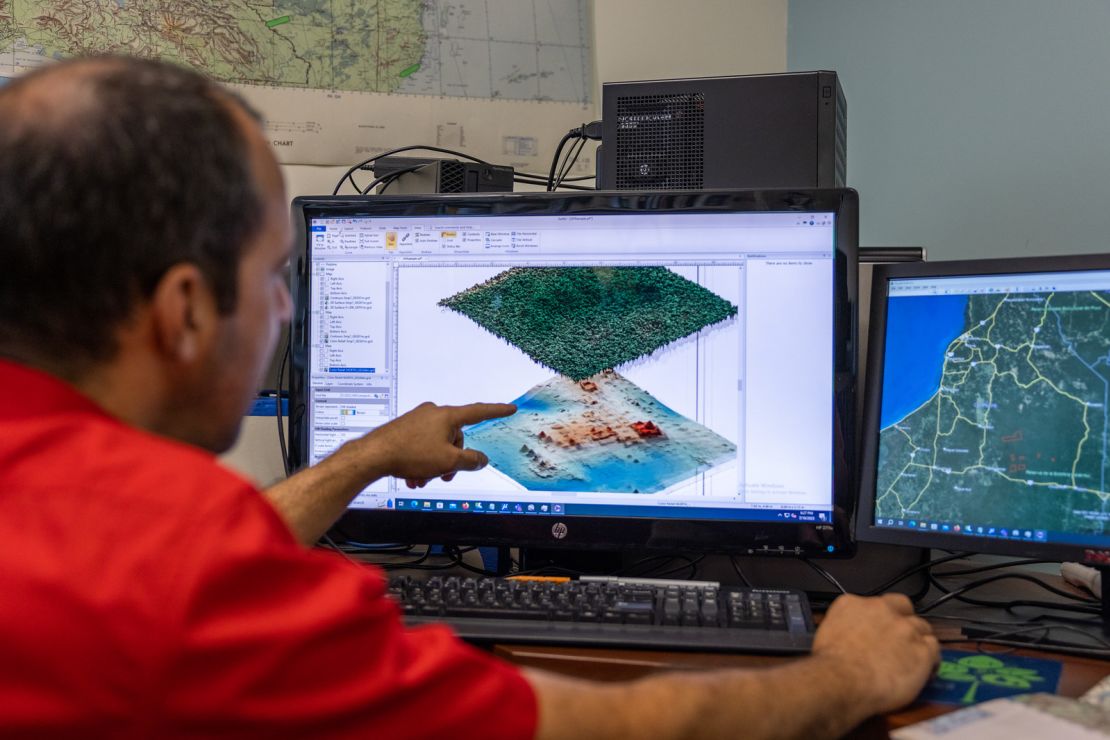 "When we see the (LiDAR) images, we can see that there's something amazing [but] the real discovery happens after a lot of investigation and exploration," said Fernandez-Diaz, who is also the co-Investigator at the National Center for Airborne Laser Mapping.
While LiDAR revealed the location of structures, archaeologist Ivan Šprajc — a researcher at the Slovenian Academy of Sciences and Arts (ZRC SAZU) — still faced an enormous hurdle when he and his team went to survey the area.
Ocomtun's 'peculiar features'
Unused tracks and roads that got them fairly close to the site, but the researchers had to hack their way through thick jungle, using machetes and chainsaws to cut down trees and slash through other vegetation to reach what Šprajc describes as a "major site."
"When we got there we saw that the buildings were truly massive," he said.
Maya civilization is best known for its pyramid temples and impressive stone structures that have been found across southern Mexico, Guatemala, Belize, Honduras and El Salvador.
Šprajc and his team found three plazas complete with large buildings and a ball game field. He said that the city resembles other Maya cities from the same period, but there are "certain peculiar features."
"For example, we have several very curious architecture complexes of structures which are arranged in almost concentric circles. So we are only guessing what this could be. Perhaps marketplaces," he said.

During the six-week survey, Šprajc and his colleagues conducted archaeological reconnaissance and dug a 2-meter by 2-meter test pit and the pottery fragments they found helped them understand the age of the site. They plan to return next year for further investigation.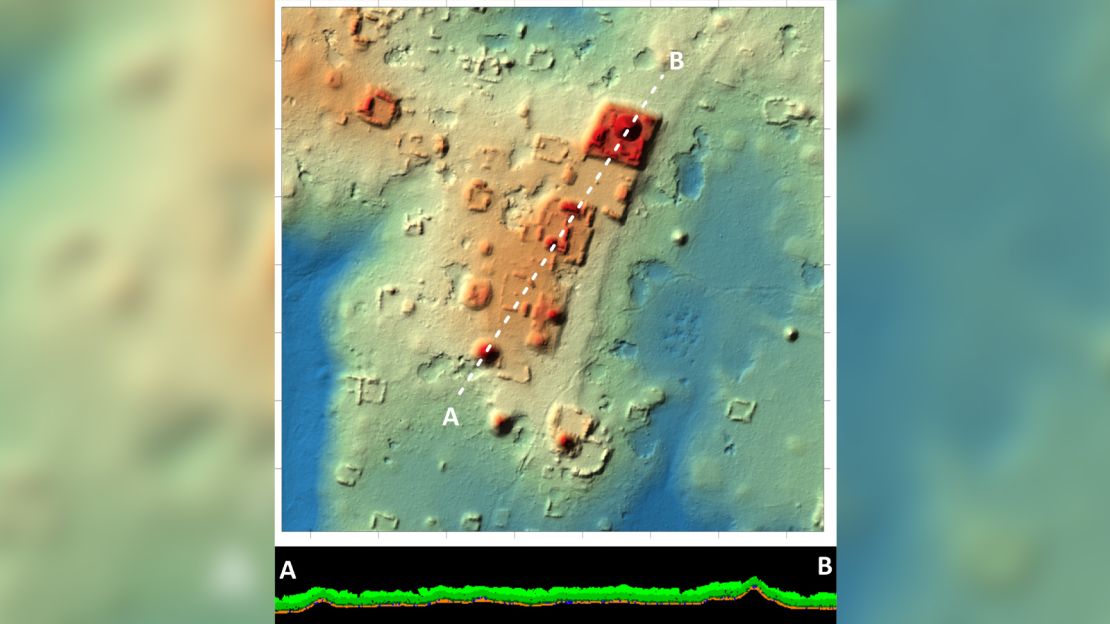 Transformative technique
Remote sensing technology, first used in archaeology at the turn of the century, has revolutionized the field, particularly for researchers working in densely forested areas that are difficult to explore on foot, such as those in central America, Šprajc said.
"We can now practically see through vegetation," he said.
From an airplane or in some cases a drone, a LiDAR sensor tracks the amount of time each laser pulse takes to return and uses that information to create a three-dimensional map of the environment below.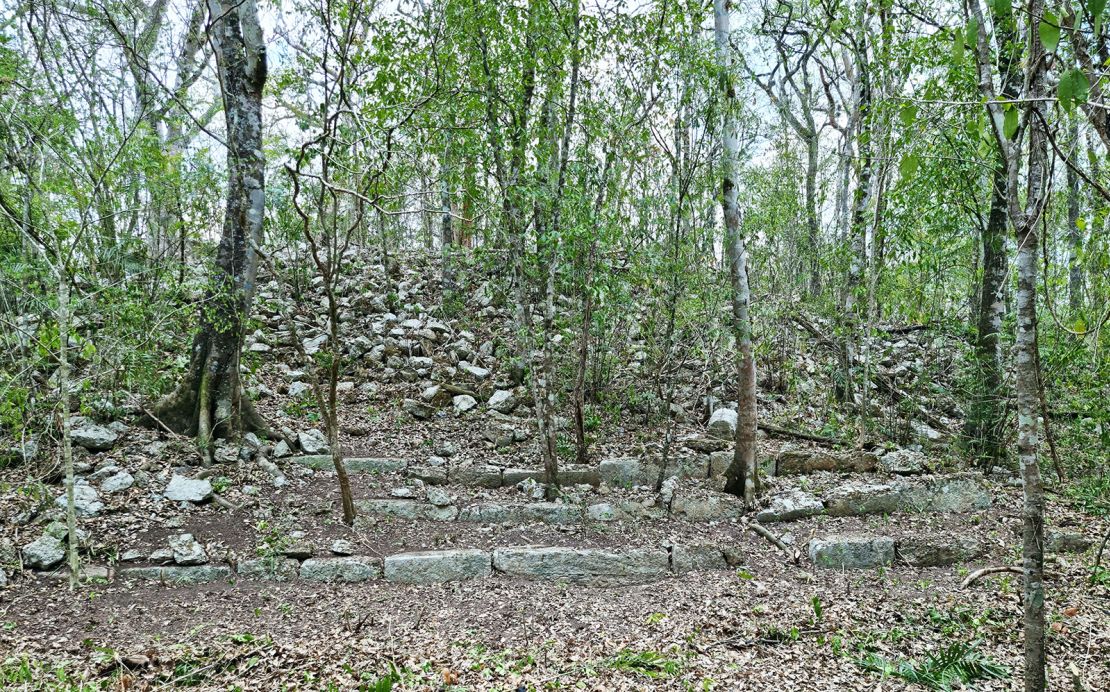 "The simplest analogy is like playing tennis, you know, you basically throw a ball to the wall and see the ball come back and basically measure the time it (takes to go) to the wall and come back. And because it's a laser, it's traveling at the speed of light," Fernandez-Diaz explained.
He's mapped more than 20,000 square kilometers (7,722 square miles) of Central American jungle and been involved in 45 archaeological projects, including the discovery of the largest and oldest Maya temple near Tabasco, Mexico, and tens of thousands of Maya structures and settlements in the Guatemalan jungle.
Understanding sites like these can shed light on the origins of cities and community life and whether large construction projects in the past required the support of powerful elites and centralized authority of some kind. In the case of the newly discovered city, though, many questions remain unanswered.
Unraveling Ocumtun
It could take years to fully excavate Ocomtun and get a deeper understanding of the site and why it was abandoned. Many once densely populated settlements, particularly in the southern and central Yucatan Peninsula, were abandoned in the space of about 200 years in the ninth and 10th centuries, he said.
Šprajc said people left these cities for a combination of reasons — soil depletion, overpopulation, depression, prolonged drought and warfare — but the researchers don't know which was the main cause or the sequence of events.  
While LiDAR saves time in the research process — in some cases one day in the air can replace a lifetime's work of an archaeologist on the ground — Šprajc says the work he pursues is still costly.
He raised funds from seven different institutions and companies to fund the field work, including four Slovenian businesses — publisher Založba Rokus Klett, transport company Adria kombi, lender Kreditna družba Ljubljana and travel agency AL Ars Longa — and two US-based organizations, Ken & Julie Jones Charitable Foundation and Milwaukee Audubon Society as well as his own institution ZRC SAZU.
Despite the thrill of discovery, Fernandez-Diaz said it's not glamorous work. There are no live images to check during the flight. Nor is there a bathroom on board the tiny plane.
"It's a bit like mowing the lawn — going one direction turning around in a parallel direction and repeating that back and forth to get the coverage we want," he said.