Five weeks ago, the world watched as China's Foreign Minister Qin Gang met US Secretary of State Antony Blinken in Beijing for high stakes talks between the two powers.
But anyone looking for reference to that important event on the website of China's Foreign Ministry will be disappointed, as that meeting – and all of Qin's activities as foreign minister – has been erased from the record following a head-spinning leadership shake-up Tuesday that saw Qin abruptly replaced by his predecessor Wang Yi.
The shock ouster, approved by a top body within China's rubber-stamp legislature, had followed weeks of questions and speculation about Qin's fate after he disappeared from public view in late June, without a clear explanation.
The latest twist in the saga – the complete erasure of Qin's swift, six-month tenure as foreign minister and his replacement by Wang, who held that post for roughly a decade before a promotion late last year – only serves to deepen the mystery.
Qin's whereabouts, the reason for his removal, and his ultimate fate as a member of China's Communist Party all remain unknown.
Unanswered questions about official decision-making are standard in China, where the political system is notoriously opaque and has only become more so under Chinese leader Xi Jinping.
Senior Chinese officials have disappeared from public view in the past only to turn up months later in announcements they've been under secret disciplinary investigation.
But the circumstances that have played out in recent weeks surrounding Qin – widely seen as a trusted aide of Xi and one of China's most recognizable officials as the face of its foreign policy and a former ambassador to the US – has brought those features of China's political system into the global spotlight.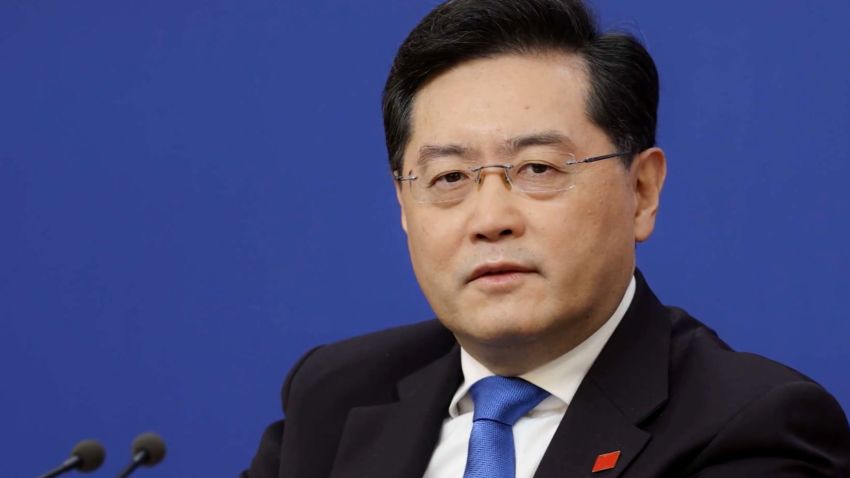 This is the last time China's foreign minister was seen in public
"The lack of transparency is already a well known issue for the Chinese bureaucracy. And decisions are fine until they are not. And when they are not, it usually creates much bigger trouble for the system," said Yun Sun, director of the China Program at the Washington-based think tank Stimson Center.
"The swift replacement does not reflect well on Xi for sure. At the minimum, people will be questioning what went wrong and made the replacement necessary. But it also suggests that the cause must be grave for (Qin) to be removed," she added.
Meanwhile, the timing of the episode, as China has been campaigning to present its leadership as an appealing alternative to that of the West, only ups the potentially damaging optics.
"Qin's removal will reinforce perceptions abroad that the Communist Party is an opaque and unreliable diplomatic partner … (and) do no favors for Beijing's international efforts to portray its governance system as worthy of praise and emulation," said Neil Thomas, a fellow for Chinese Politics at Asia Society Policy Institute's Center for China Analysis.
What this means for China, and Xi
Qin's appointment to the post of foreign minister last year over more experienced candidates was seen as a sign of deep trust bestowed on him by Xi, who stacked China's leadership with his close allies as he consolidated power last year while entering a norm-breaking third term as leader.
"It is widely believed that Xi has a very small inner circle of people that he consults, and on top of that is over confident and makes decisions based on his own instincts," said Bonnie Glaser, managing director of the German Marshall Fund's Indo-Pacific program.
"Qin is his protege, and therefore this will necessarily reflect badly on Xi. However, that doesn't mean that this episode will pose a challenge to his power," she said.
As the news of the leadership changes were flashed by Chinese state media Tuesday evening, China's vast apparatus for controlling public discussion around political and social events moved into gear.