Johannesburg, South Africa
CNN
—
To many observers, South Africa's stance on Russia's war in Ukraine is puzzling.
While the country professes to be "non-aligned," Western diplomats and policy experts point to a series of actions that they say proves otherwise.
Their list is long: South Africa abstaining from votes condemning Russia at the United Nations; hosting war games with the Russian Navy; repeatedly, and publicly, criticizing the United States; and even, allegedly loading weapons and ammunition onto a sanctioned Russian cargo ship.
This week, while many African leaders stay away, South African President Cyril Ramaphosa is attending a Russia-Africa summit in St. Petersburg along with key ministers.
The ruling African National Congress (ANC) in South Africa has historic ties to the former Soviet Union, but that ideological legacy can generally only go so far.
Usually, money talks. And the United States' and European Union's trade and aid relationship with South Africa vastly outstrips the Russian Federation's relatively meager contribution.
So, why is South Africa putting this important relationship at risk? Non-profit investigators at the AmaBhungane Centre for Investigative Journalism and anti-corruption activists are looking for answers in an unusual place: the Kalahari Desert.
A lucrative relationship
Many miles from almost nowhere, a giant wall of dirt rises over the scrub. It's the edge of an expansive manganese mine, a metal crucial for making iron and steel.
The United Manganese of Kalahari (UMK) mines, of which this is one, are highly lucrative and the company has close financial links to sanctioned Russian oligarch Viktor Vekselberg, a key ally of Russian President Vladimir Putin.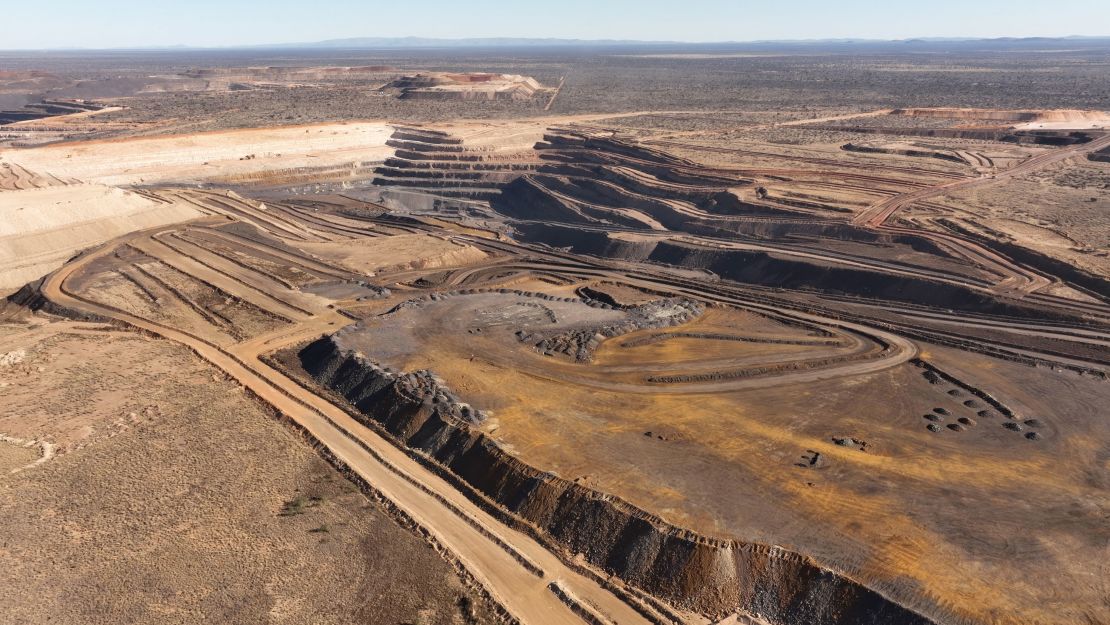 Another major player in the mines – Chancellor House Holdings (CHH) – is a holding company linked to the ANC. For years, Chancellor House hid its connection to the party, but after extensive investigative reporting by the Mail & Guardian newspaper and other media outlets in South Africa, the holding company confirmed the links in 2021, when political parties were required to start making the large donations they receive public.
Its managing director, Mogopodi Mokoena, told CNN in a statement that Chancellor House is not a funding front for the ANC, but was set up to "help historically disadvantaged South African persons or entities."
Mokoena is also board chairman of the UMK mining group.
In recent years, the ruling party has been embarrassed by its financial challenges, at times struggling to pay its staff at its iconic headquarters in downtown Johannesburg.
Based on publicly available records, it's the single biggest donor to the party in recent years. If you add in contributions from Chancellor House, the donations reach at least $2.9 million since 2021.
In a statement provided to CNN, UMK said its donations were all above board.
"Like many international democracies, including the US, the South African legal framework allows private individuals and organizations to make transparent donations to political parties. UMK's donations comply in all respects with national laws," the statement read.
'Playing a dangerous game'
But in a country where the line between the ANC and the government is, at best, fuzzy, many here are concerned that South Africa's foreign policy towards Russia could be impacted by the connection.
"I think there is an increasing concern that we are more alive to than ever before. That there could be foreign money from a Russian origin that comes to South Africa, but flows into different political coffers," said Karam Singh, the executive director of Corruption Watch, an influential anti-corruption non-profit group.
"I think that could absolutely have an impact on how South Africa takes a position on certain policies."
The ANC did not agree to an interview with CNN, despite multiple attempts over several weeks, or provide a statement in response to the specific allegations put to it.
But the donations and linkages between Chancellor House and the ANC, Vekselberg, and UMK have troubled opposition leaders and Russia-watchers.
"I think South Africa is playing a dangerous game here and indeed sometimes politicians are putting the political party, the ANC, before the needs of the citizens because it just doesn't make sense to be so closely associated with Russia when the stakes are so high and there's so much at risk," said Steven Gruzd, a Russia and Africa analyst at the South African Institute of International Affairs.
The US had long treated South Africa with kid gloves, he said, mindful of not risking an important relationship.
Not so in recent months. In May, the US Ambassador to South Africa, Reuben Brigety II, publicly excoriated both the government and the ANC for their stance on Russia.
In a briefing to local media, he made the accusation that intelligence showed the South African government had sent arms to Russia last December on a sanctioned Russian cargo vessel.
Officials have denied that anything was loaded up, but the claim is now subject to a sealed South African government inquiry.
But Brigety also took issue with the ANC's persistent criticism of the US and its attitude towards Russia's invasion of Ukraine.
"This is an issue of the political orientation of the ruling party of a country and what it means as the party that is responsible for deploying senior government officials into the government of South Africa," he said.
Mokoena, Chancellor House's managing director, told CNN that the company has no say in ANC politics and that ANC policies are up to the party; he also denied that there was any conflict of interest. He added that the company's donations to the ANC were transparent and unconditional.
Meanwhile, the presence of Ramaphosa and other African leaders at the St. Petersburg summit this week underscores Russia's importance to the continent and Western powers' failure to isolate Putin.
The South African government has maintained that its policy of "non-alignment" is just that, and that it is the best thing for the country and for the long-term prospects of negotiations between Russia and Ukraine.
It chafes at the criticism from Western powers, but the recent announcement that Putin will not be attending in person an important summit of BRICS nations in Johannesburg next month appears to have given the country an off-ramp.
If the Russian president had decided to come, he would have tested South Africa's commitment to the International Criminal Court (ICC), given that the ICC has a warrant for Putin's arrest on war crimes charges.
Longstanding ties
The links between South Africa and Vekselberg are not new. Archive images show he was present back in 2006 at a business forum in Cape Town, signing agreement documents with Putin looking over his shoulder.
The oligarch runs the Renova Group, a sprawling entity with interests in a wide array of infrastructure and mining projects.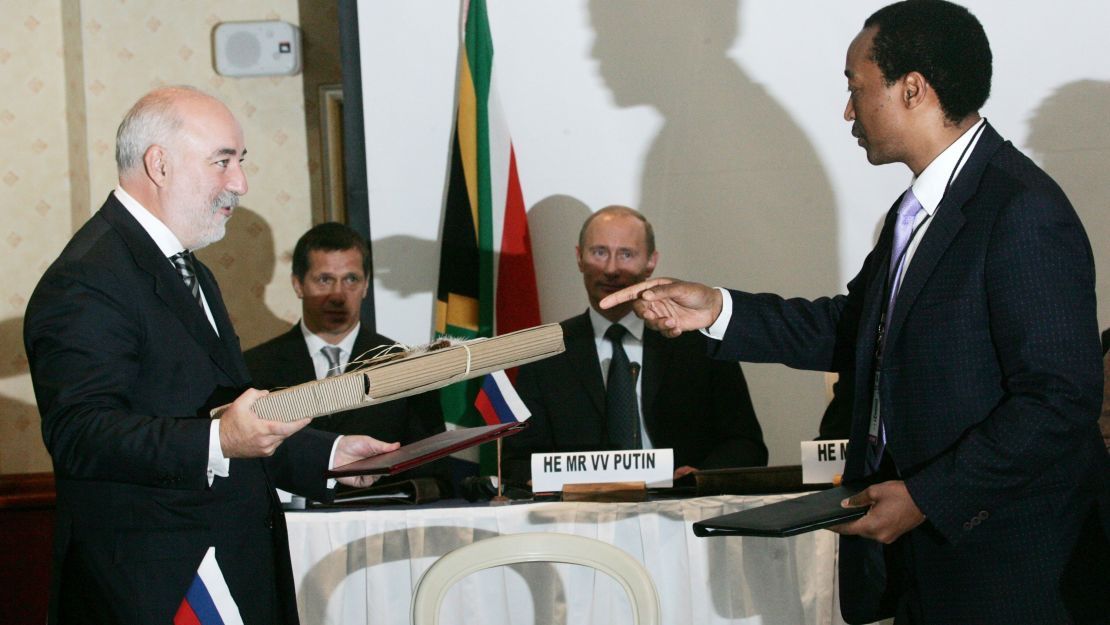 The US Treasury sanctioned Vekselberg in 2018 and again in 2022, for supporting Russia's invasion of Ukraine.
After the full-scale invasion of Ukraine began, Spanish authorities and the FBI impounded his $90 million yacht, Tango, on the Spanish island of Mallorca.
But despite Western sanctions, Vekselberg still holds a significant stake in UMK, according to business records held in Cyprus.
CNN asked the Renova Group about Vekselberg's involvement and possible influence in South African politics.
"The assumption of any Renova influence is unfounded. There is absolutely no influence on the ANC and no conflict of interest whatsoever," a Renova spokesperson responded in a statement, adding that it is an indirect minority shareholder of UMK.
Non-US companies can often avoid sanctions by reducing the stake of a sanctioned individual in a business to less than 50% and by moving their assets into a trust structure.
Vekselberg and UMK appear to have done both, likely reducing the potential for repercussions from the US government.
"Long-standing investors are fully entitled to their commercial interests in a private company," said UMK, in its statement to CNN. "Mr. Vekselberg is not a direct shareholder in UMK and does not exercise any management or shareholder control over UMK."
The claims may not be enough to assuage the concerns of skeptical South Africans, or their dogged media, over the possible consequences of the country's policy towards Russia.
"It risks investment, it risks trade, it risks jobs, it risks economic growth, it risks the currency, it risks isolation from the West. I think there are there is a lot at stake here," said Gruzd.