The brunt of extreme heat that has been choking the Northeast and mid-Atlantic regions this week is expected to end late Saturday, but many in the southern US are set to endure suffocating temperatures for a few more days as heat-related deaths rise.
More than 100 million people in more than 20 states – from California to Massachusetts – are under heat alerts, according to the National Weather Service. However, most of the alerts are expected to expire Saturday night. During the day, though, temperatures will not let up.
"Many places are set to break their temperature records for daytime highs as well as warm nighttime lows through Saturday morning," the National Weather Service said, adding that some areas in the Northeast and mid-Atlantic can expect their highest temperatures so far this year.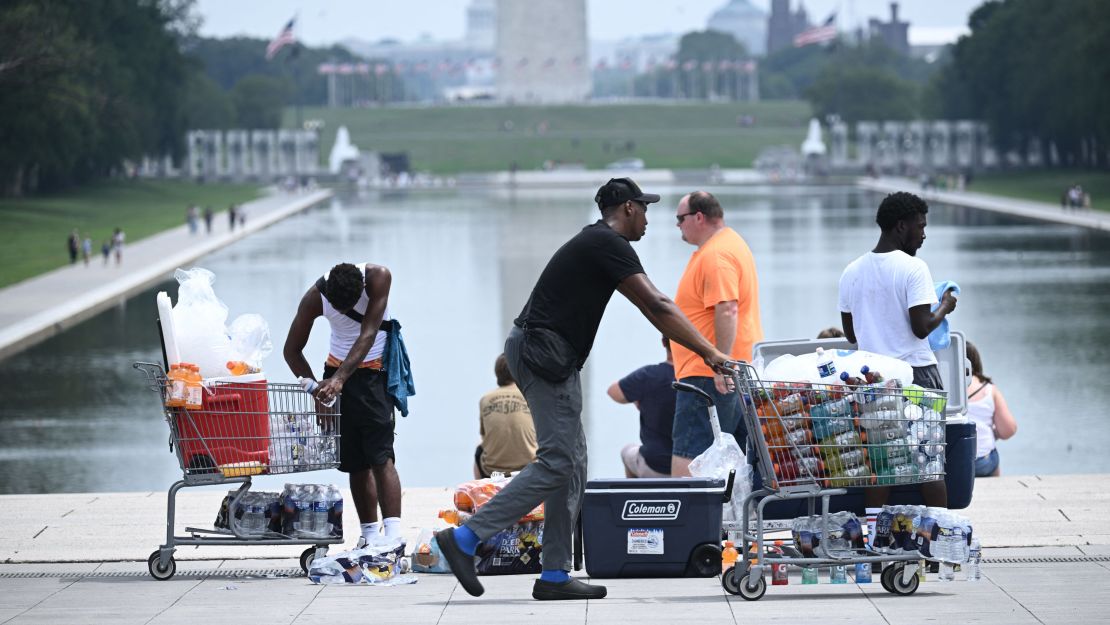 The dangerously high temperatures have proven deadly in Arizona, Illinois and Texas as the expansive heat wave spread across much of the country, with humidity also playing a role in exacerbating the physical impacts on humans, animals and plants.
Experts agree that human-induced climate change is a main factor leading to record high temperatures, and scientists say July will be the planet's hottest month on record.
Heat indexes – a measure of what the temperature feels like on the skin when accounting for relative humidity – are expected to hover around 100 and 110 degrees Saturday over parts of the Midwest, mid-Atlantic and Northeast.
But relief is on the way for some: On Sunday, a cold front will progress through the mid-Atlantic, ultimately ending the heat wave for much of the East Coast.
Meanwhile, the Southwest is expected to remain in a heat wave for several days before some ease sets in. Phoenix may end its dayslong streak of highs above 110 degrees on Sunday, while Las Vegas is expected to see highs exceeding 100 degrees into early next week. Another heat wave is expected to build early next week across the South and Gulf Coast.
Here's how the heat has been impacting communities across the country:
• Heat-related deaths rise in US: In Illinois, a 53-year-old woman died Thursday in her Peoria apartment, which didn't have air conditioning because power had been disconnected there, the Peoria County coroner's office said. She died from "an exacerbation of her chronic medical conditions due to the excessive heat in the apartment," the coroner's office said. In Texas, a 66-year-old woman died early Tuesday from the extreme heat after being taken to a hospital from her apartment in North Richland Hills, police said.
• Arizona county prepares for overflow of deaths: Arizona's Maricopa County has added 10 refrigerated containers to handle a possible overflow of heat-related deaths. The containers haven't been needed yet, but the medical examiner's office is over its normal capacity, a county spokesperson told CNN affiliate KTVK/KPHO. The county, home to the state's most populous city, Phoenix, had already reported 25 heat-associated deaths so far this year as of Monday. Dozens of other deaths were under investigation for a potential link to heat.
• Heat alerts: Washington, DC, and parts of Maryland and Virginia along with St. Louis and Kansas City, Missouri, are under an excessive heat warning Saturday. Philadelphia, New York City, and Newark, New Jersey, are under heat advisories.
The extreme heat has taken a toll on animals in Tennessee this week. Authorities rescued 21 dogs from a garage and a concrete shed-like structure on the premises of a Lawrenceburg home that's "unfit for human or animal lodging," the Lawrence County sheriff said. Temperatures in the area were in the 90s, and the dogs had no food or water. The dogs were removed from the property and received treatment.
In Arizona this week, some cactuses died at a Phoenix botanical garden from soaring temperatures, and officials in the state also were reporting emergency room visits for extreme heat burns after people fall to the ground.
CNN's Eli Masket, Chris Boyette, Robert Shackelford and Rebekah Riess contributed to this report.