Devon Archer told the House Oversight Committee on Monday that his former business partner, Hunter Biden, was selling the "illusion" of access to his father, according to a source familiar with the closed-door interview, the latest development in the Republican-led congressional investigations into the president's son.
The source also reiterated that Archer provided no evidence connecting President Joe Biden to any of his son's foreign business dealings.
After the interview concluded, a second source told CNN that Archer did affirm to the committee that Hunter Biden was selling the "illusion" of access to his father, but later clarified that the president's son was actually selling the illusion of access to Washington, DC, and knowledge of how it worked.
Republicans and Democrats have both sought to highlight portions of Archer's hourslong testimony in a way that fits their competing political agendas.
Matthew L. Schwartz, managing partner of Boies Schiller Flexner LLP and counsel to Archer, acknowledged that both sides "are claiming victory following Mr. Archer's voluntary interview today."
"But all Devon Archer did was exactly what we said he would: show up and answer the questions put to him honestly and completely," Schwartz said in a statement. "Mr. Archer shared the truth with the Committee, and we will leave to them and others to decide what to do with it."
Rep. Dan Goldman, a Democrat on the panel who sat through the portion of Archer's interview where he was questioned by Republicans, also said there was a lack of evidence connecting the president to his son's foreign dealings. Goldman said Archer told the panel that Hunter Biden did put his father on speaker phone in the presence of business partners, but that business was never discussed.
Archer's testimony came as House Republicans appear to be shifting their focus away from trying to impeach members of President Joe Biden's Cabinet and instead prioritizing efforts to impeach the president himself by linking him to his son's controversial business dealings, with House investigations related to Hunter Biden now expected to take center stage.
Goldman told reporters during a break in the hearing that Archer later said that Hunter Biden putting his father on speaker phone with business associates was "part of the daily conversations" between father and son, adding, "The witness was very consistent that none of those conversations ever had to do with any business dealings or transactions."
Goldman said that it is "kind of a preposterous premise to think that a father should not say hello to the people that a son is at dinner with and that is literally all the evidence is."
Goldman contended that President Biden's phone conversations were not conflicts of interest because it "was not done in furtherance of" Hunter Biden's business interests.
"We need to move on and this investigation is a complete waste of time," Goldman argued, if House Republicans cannot produce documentary evidence linking the president to his son's business dealings.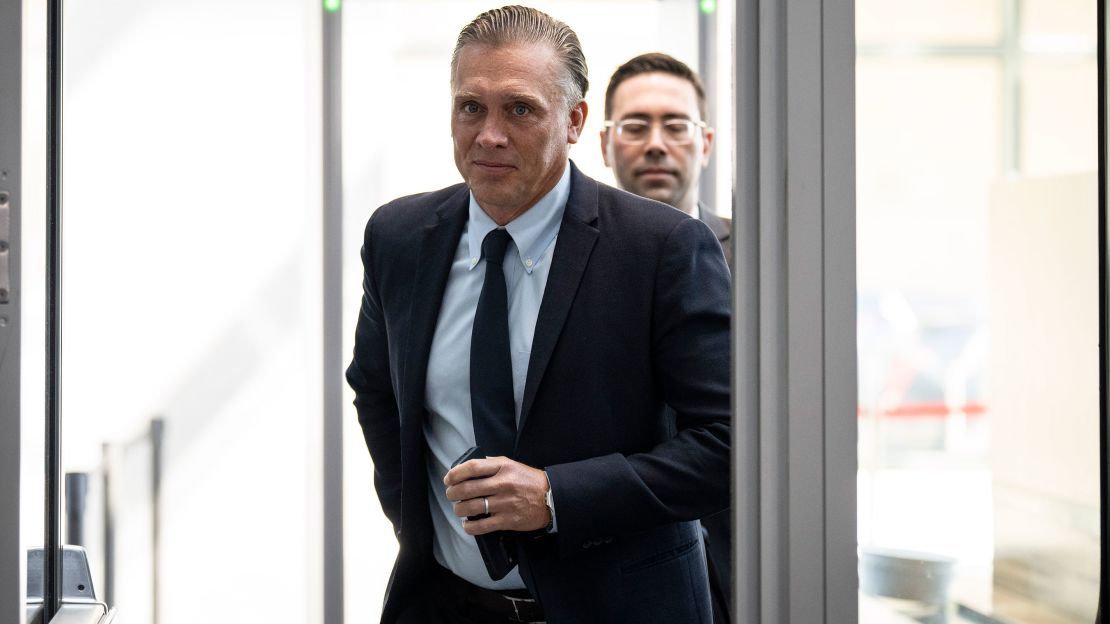 GOP Rep. James Comer, chairman of the House Oversight Committee, said that Archer's testimony reaffirms questions about Joe Biden's knowledge of his son's foreign business dealings and show the president was not being truthful in his previous denials.
"When Joe Biden was Vice President of the United States, he joined Hunter Biden's dinners with his foreign business associates in person or by speakerphone over 20 times," Comer said in a statement, referring to testimony that Democrats have also acknowledged Archer gave.
Comer then accused Joe Biden of lying about his family's business dealings and his own involvement – pledging that his panel will continue to investigate.
The White House also highlighted how Archer testified "that he never heard of President Biden discussing business with his son or his son's associates, or doing anything wrong."
"House Republicans keep promising bombshell evidence to support their ridiculous attacks against the President, but time after time, they keep failing to produce any," White House spokesperson Ian Sams said in a statement.
Speaking to CNN in recent weeks, House Speaker Kevin McCarthy signaled that Republicans have yet to verify the most salacious allegations against Joe Biden, namely that as vice president he engaged in a bribery scheme with a foreign national in order to benefit his son's career, an allegation the White House furiously denies.
McCarthy has said that launching an impeachment inquiry would unleash the full power of the House to turn over critical information, mirroring an argument advanced by House Democrats when they impeached then-President Donald Trump in 2019.
McCarthy – who sources said has also been consulting with former House GOP Speaker Newt Gingrich on the issue – has warmed up to an idea of going after the president rather than members of his Cabinet. In recent weeks, he delivered his most explicit threat yet to Biden, saying House Republicans' investigations into the Biden family's business deals appear to be rising to the level of an impeachment inquiry.
Over the weekend, the Justice Department submitted a new request asking a judge to schedule a date for Archer to surrender to prison and begin serving out his one-year sentence resulting from a conviction in an unrelated fraud case, according to court filings. The move prompted immediate speculation among some Republicans that the Biden administration was attempting to prevent Archer from answering questions about Hunter Biden before the GOP-led committee, though in a court filing, the government explicitly requested that Archer's sentence begin after he completes his congressional testimony.
In a statement, Archer's attorney said his client does not believe the DOJ request is connected in any way to the upcoming closed-door interview, despite continuing to fight demands related to scheduling a surrender date. "We are aware of speculation that the Department of Justice's weekend request to have Mr. Archer report to prison is an attempt by the Biden administration to intimidate him in advance of his meeting with the House Oversight Committee on Monday," Schwartz said in a statement Sunday.
"To be clear, Mr. Archer does not agree with that speculation. In any case, Mr. Archer will do what he has planned to do all along, which is to show up on Monday and to honestly answer the questions that are put to him by the Congressional investigators," Schwartz added.
While Comer would only go as far as to call the timing of DOJ's letter "odd" in an interview with Fox News on Sunday, the letter prompted more bombastic reactions from other House Republicans.
This story and headline have been updated with additional details.
CNN's Andrew Millman contributed to this report.