Hundreds of European nationals are being evacuated from Niger in the wake of a military coup that has plunged the West African nation into a political crisis and rattled the region.
Two Airbus A330 planes dispatched by France arrived at the airport in capital Niamey on Tuesday afternoon. At least 262 people, including 12 infants, have already left the country on board one plane, French foreign minister Catherine Colonna said.
At the airport, a CNN journalist saw French adults and children queuing with their suitcases outside the entrance of the Diori Hamani International Airport, as the French army organized operations.
Supporters of Niger's military meanwhile gathered outside the French Embassy in Niamey on Tuesday to demonstrate against Paris's alleged post-colonial influence. France has been sharply critical of the power grab in Niger, which only gained independence from the former colonial power in 1960.
French officials have had to combat apparent misinformation about their role in the current crisis, denying claims that Paris planned to intervene militarily and strongly rebutting rumors that French embassy security used live fire to disperse protesters over the weekend.
Several other European nations are simultaneously working to evacuate their own citizens or collaborate in the French effort. Germany and Spain are both working to remove citizens from the country, and the United Kingdom has said that it is in contact with the few British nationals registered in Niger and is collaborating with France.
Italy meanwhile has organized a separate flight to evacuate its citizens – fewer than 90 civilians across the country and just over 300 military personnel, according to an Italian foreign ministry spokesperson.
The United States so far has kept its embassy operating "on a normal schedule," with State Department Spokesperson Matthew Miller saying Tuesday that there were no current indications "of threats to US citizens or facilities."
US troops in Niger however have been restricted to the American military base in Agadez, Niger, as the Biden administration works to restore democratically-elected President Mohamed Bazoum to power.
Burkina Faso and Mali warn against military intervention
On Monday, Burkina Faso and Mali said in a joint statement that any military intervention against Niger would be considered war on them, after other West African leaders imposed financial and travel penalties against the coup plotters.
"All military intervention against Niger will be considered equivalent to a declaration of war against Burkina Faso and Mali," the two countries said in a joint statement on Monday.
The dramatic ouster of President Mohamed Bazoum on Wednesday provoked split reaction from countries in the Sahel region, where the threat of militant extremism in recent years has destabilized local governments and led to volatility.
The Economic Community of West African States (ECOWAS) on Sunday issued a stark warning against the military junta and gave it one week to release and reinstate Bazoum, warning they did not rule out the "use of force" if their demands were not met.
The economic bloc imposed a travel ban and asset freeze for the military officials involved in the coup attempt, as well as for their family members and the civilians who accept to participate in any institutions or government established by the officials.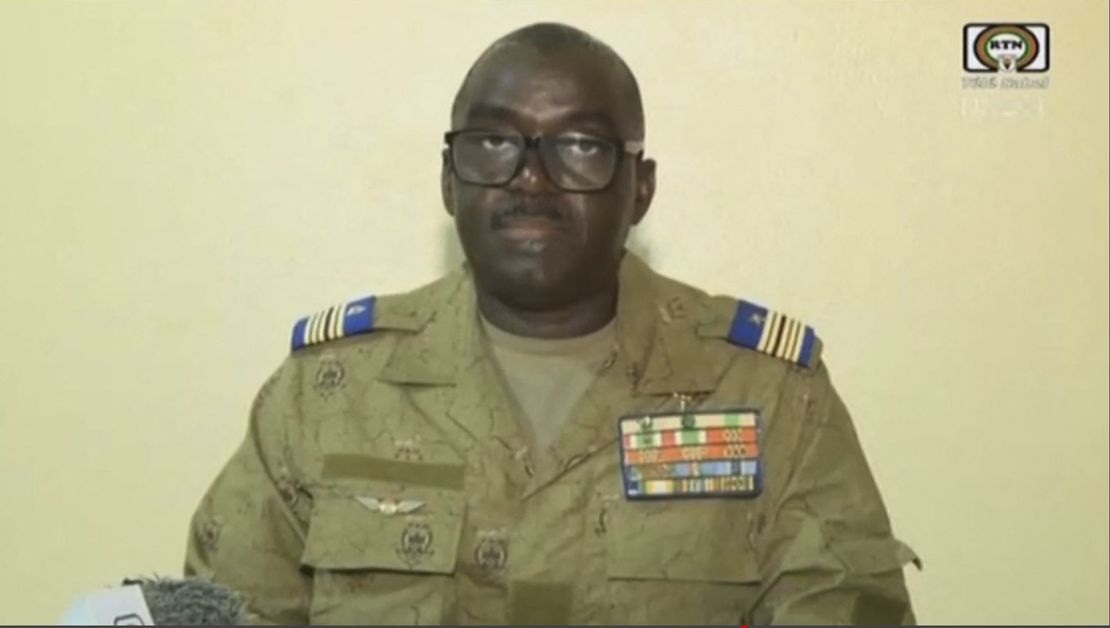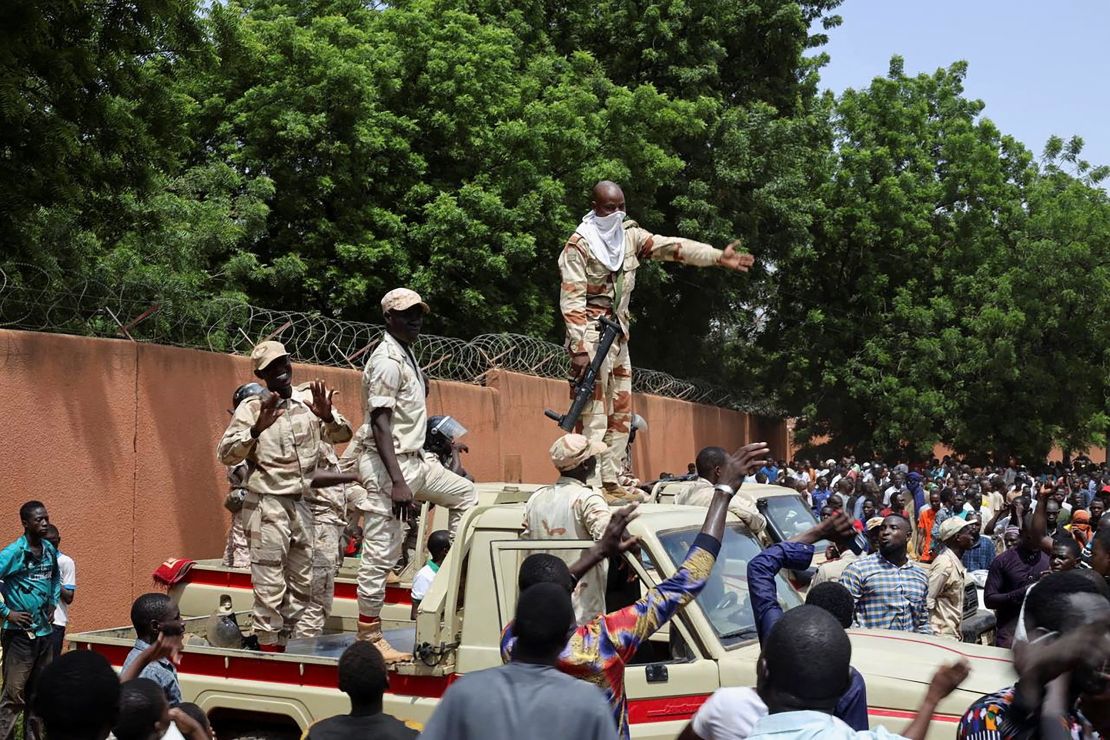 France and the European Union also cut off financial aid to Niger following the coup.
Burkina Faso and Mali expressed their solidarity with Nigerien authorites and said they would not participate in any measures against Niger by ECOWAS, calling the sanctions "illegal, illegitimate and inhuman."
Guinea also expressed its solidarity with Niger on Monday, saying it would not participate in measures against Niger.
A Guinean presidency statement praised the Nigerien public and said "illegitimate and inhumane" sanctions would lead to the disruption of ECOWAS. It went on to warn that a military intervention would result in a human disaster "that could reach far beyond Niger's borders."
What led to the coup?
Niger was one of the few remaining democracies in Africa's Sahel region, where disputes over how to quell Islamist insurgencies gave rise to numerous power grabs including in Mali and Burkina Faso.
The number of violent events involving militant Islamist groups in the Sahel has doubled to 2,912 since 2021, according to a report by the Pentagon think tank Africa Center for Strategic Studies.
Deaths relating to such attacks have nearly tripled to 9,818 in the same period, the report published on Monday added.
There were more than 1,100 attacks on civilians by militants in the region 2023, resulting in more than 2,080 fatalities.
Bazoum's election in 2021 marked a relatively peaceful transfer of power, capping years of military coups following Niger's independence from France in 1960.
But there were signs that Niger's military leadership believed they had a lack of government support to fight militants and that a coup could change that campaign, Cameron Hudson, a senior associate at the Center for the Strategic and International Studies, told CNN.
Niger is also balancing support for refugees with a worsening economic crisis, according to the World Bank, which said that nearly 42% of people were living in extreme poverty in 2021.
The country hosts about 251,760 refugees mainly from Nigeria and Mali, where thousands of people have fled due to the security crisis in the region, the UN's refugee agency said.
Niger has "endemic problems, poverty, and terrorism, so there are many factors contributing to instability in the country," Hudson added.
Who is involved?
Last week men in military uniforms claimed to have taken power in Niger after Bazoum was seized by members of the presidential guard, before national institutions were shut down and protesters from both sides took to the streets.
A man named as Colonel-Major Amadou Abdramane announced the stunning takeover, saying: "We have decided to put an end to the regime that you know."
The rebellion alarmed Western leaders including the US and France, which are both key stakeholders in Niger's crackdown on local Islamist insurgencies.
There are about 1,000 US troops stationed in Niger to bolster counter-terrorism operations, two US officials told CNN. The French Armed Forces said 1,500 French troops are deployed in the country.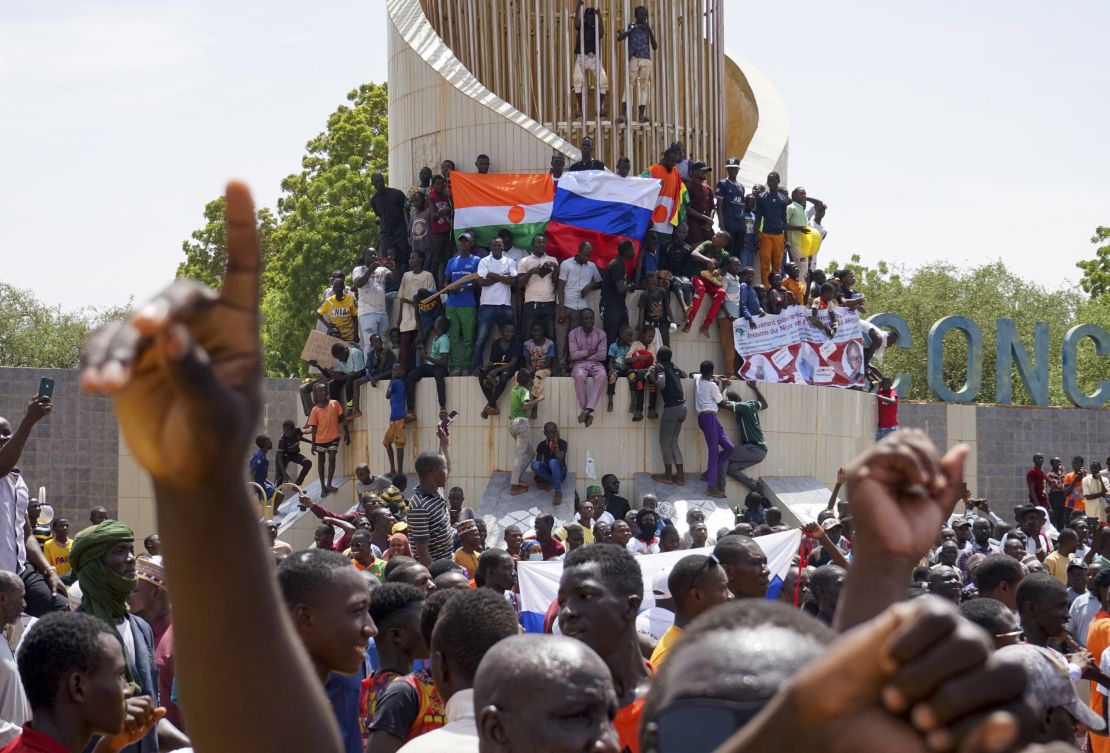 US officials have stressed their focus on restoring democratic rule in Niger, while the Elysee Palace has continued to endorse Bazoum and criticize the actors of the coup.
In the wake of the deposition, some Nigeriens expressed their anger over the legacy of French colonialism and its continued influence in the West African country.
Demonstrators descended on the French Embassy in Niger on Sunday, telling CNN that France acts as an imperial power by depleting it of natural resources and directing how its leaders steer the economy.
Moscow has capitalized on that anti-colonial movement to stretch its influence across the continent, fostering pro-Russia support in Niger.
The Russian private military company Wagner has seized on the growing number of militias in Mali, with US officials warning that the group could extend similar contracts to the military junta in Niger.
The report by the Africa Center for Strategic Studies said the rise in extremist violence coincides with Wagner's activity in the Sahel, which has "been credibly accused of widespread human rights violations."
CNN's Xiaofei Xu, Sharon Braithwaite, Martin Goillandeau, Dalal Mawad, Sarah Dean, Claudia Otto, Niamh Kennedy, Brent Swails, Claudia Rebaza and Pierre Bairin contributed reporting.