The US State Department on Wednesday ordered the evacuation of non-emergency personnel and family members from Niger following last week's military takeover.
"On July 26, President Mohamed Bazoum was placed under house arrest amidst efforts to overthrow the democratically elected government of Niger. Subsequent events have severely limited flight options," the State Department said in an updated travel advisory.
"Given this development, on August 2, 2023, the Department ordered the departure of non-emergency U.S. government employees and eligible family members from Embassy Niamey," it said. "The U.S. Embassy in Niamey has temporarily reduced its personnel, suspended routine services, and is only able to provide emergency assistance to U.S. citizens in Niger."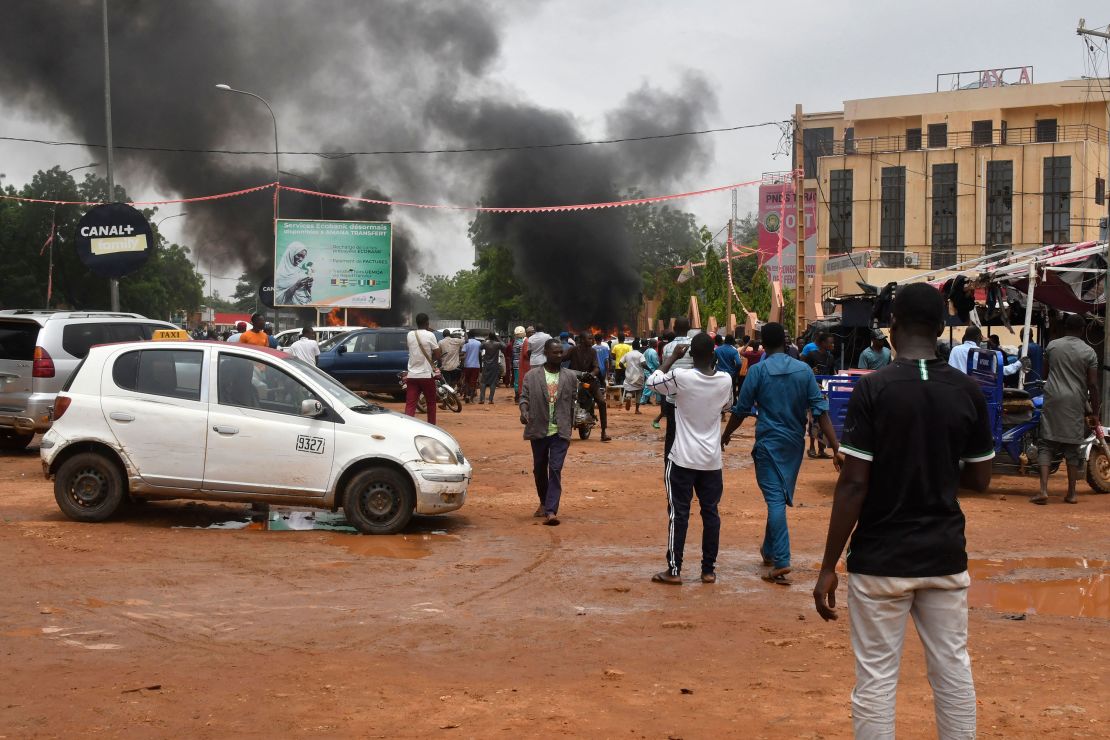 The travel advisory warns Americans not to travel to Niger, setting the advisory level at its highest possible: Level 4.
"With the ongoing efforts to overturn constitutional order, there may be increased demonstrations that can lead to civil unrest and government instability," it notes.
An ordered departure does not mean that the US is shuttering its embassy or evacuating all of its diplomats, and the roughly 1,100 US troops in Niger are not expected to leave the country at this point, two US officials told CNN Wednesday. Officials have said that the capital city of Niamey remains relatively calm.
"The State Department continually adjusts its posture at embassies and consulates throughout the world in line with its mission, the local security environment, and the health situation," department spokesperson Matt Miller said in a statement Wednesday.
Still, the ordered departure reflects the uncertainty of the situation in the West African country, which officials have stressed remains incredibly fluid.
Niger had become a point of stability in the Sahel region of Africa, which faces a significant fight against terrorists and Islamist extremists, and is a key partner to the US, serving as a base for hundreds of US troops to assist with counterterrorism missions. Niger's neighbors including Mali and Burkina Faso have experienced coups of their own in recent years.
The US has not yet formally decided if the situation constitutes a coup – a designation that would require the US to cut foreign and military assistance to the Nigerien government. There is no timeframe in which the US is required to make a coup designation.
For now, there are intensive diplomatic efforts underway to restore democratically elected Bazoum to power.
"We're working really, really hard to see if we can turn this around," a senior State Department official said Monday. "Since the situation is not yet set in concrete, we think we should try and take that opportunity."
"The United States remains committed to our relationship with the people of Niger and to Nigerien democracy. We remain diplomatically engaged at the highest levels," Miller said in his statement Wednesday, noting the recent Senate confirmation of a new US ambassador to Niger, career diplomat Kathleen FitzGibbon.
"We look forward to her swift arrival in Niamey," Miller said.
Earlier on Wednesday, Miller said that there were no indications of specific threats to US personnel or facilities.
Miller could not speak to the number of US citizens in Niger. The State Department does not require American citizens to register when they travel abroad.
On Tuesday, however, the US Embassy in Niger asked Americans who are in the country and wish to leave to register with the US State Department.
The State Department created a similar form in the midst of deadly violence in Sudan, when scores of Americans were in need of assistance to depart the country.
US allies France and Italy have begun flights to evacuate their citizens from Niger, and a State Department spokesperson said the US had "facilitated the departure of private US citizens on partner country flights out of Niger."
"We thank the Italian and French governments for their assistance to US citizens. We will continue to work closely with our international partners to assist US citizens seeking to depart Niger," they said.
This story has been updated with additional details.
CNN's Oren Liebermann contributed to this report.