Millions of children are heading to school in August during the worst heat wave in recorded human history.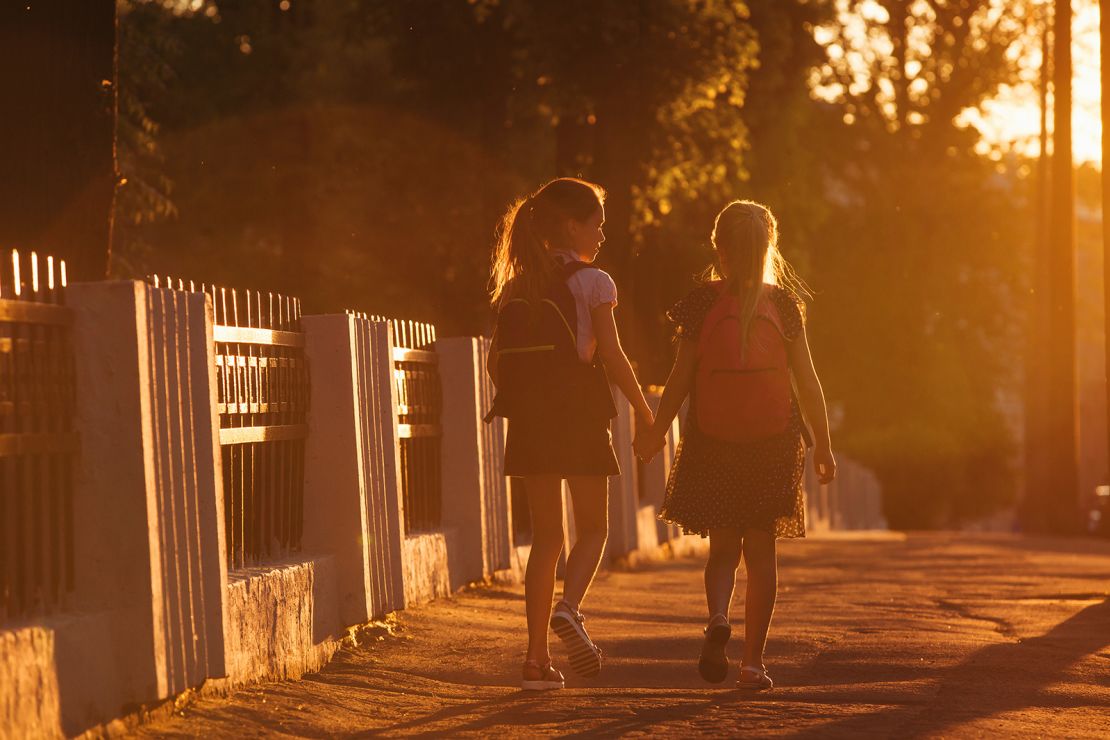 Children in Atlanta and San Bernardino, California, kicked off their school year this week in temperatures well above 90 degrees Fahrenheit (32 degrees Celsius).
"We start to get into really dangerous territory when the heat index is greater than 90 degrees, because that's a significant health threat for heatstroke and heat illness," said pediatrician Dr. Lisa Patel, a clinical associate professor of pediatrics at Stanford Medicine Children's Health in California.
Many children in Phoenix and other cities in Maricopa County, Arizona, have started school despite recent temperatures up to 110 F (43 C) — so hot that people have gotten serious, even life-threatening burns from simply falling on the ground, as previously reported by CNN.
And children in New Orleans and Baton Rouge, Louisiana, are also heading to class next week with forecasted highs around 100 F (37.8 C) and a heat index of 110 — which is what the heat feels like on the body.
"Keep in mind, this summer might be the coolest one for the rest of our lives as global warming intensifies," said Patel, who also serves as executive director of the Medical Society Consortium on Climate and Health.
"Yet children are among those at highest risk of heat exhaustion and heatstroke," she added.
What should parents and guardians do? Despite excessive heat, school is a necessity for a child's emotional, mental, social and educational achievement, a lesson well learned during the pandemic, experts say.
Worried families can best prepare their children to attend school in a heat wave by being aware of their school's facilities and needs.
Don't assume your child has access to cooling air
Over 40% of schools in the United States have no or inoperable HVAC, or central air conditioning systems, said Patel, lead author of a recent report on the state of climate resilience in California schools. Even those that do have functioning HVAC may suffer brownouts, or a short-term drop in voltage, as overtaxed, antiquated systems fail.
"From the 2021 'State of Our Schools Report,' there is a $85 billion gap in our country where school facilities are and where they need to be," according to Mike Pickens, executive director of the National Council on School Facilities.
"One of those deficiencies is the HVAC equipment has exceeded the cycle of its life expectancy," Pickens said in an email. There are 8.1 billion square feet of school space in our country, so the HVAC and environmental issues are an enormous concern."
Schools without central air conditioning in warmer climates often have alternate methods such as fans or window units to cool school rooms, at least to some extent, Patel said.
However, the use of fans in temperatures of 90 F (32 C) and higher can be dangerous instead of helpful, said Dr. Prabu Selvam, emergency medical officer at Americares, a health-focused relief and development nonprofit which has developed heat-related tip sheets for the public.
"If you have an electric fan blowing that 90 degree hot air at you, it can actually make you warm faster," said Selvam, an emergency room doctor at Frederick Health Hospital in Frederick, Maryland.
Parents and guardians should also be aware that alternative cooling methods may not exist if their child's school is in an area of the country not accustomed to hot weather, Patel said. This may leave teachers with no way to cool their classrooms.
"I live in San Francisco Unified and only five of the buildings across our entire district have HVAC systems — in fact the school my daughter attends has no way to cool the school," Patel said.
Parents and caregivers should investigate the cooling conditions at their child's school and advocate for change if needed, Patel said.
Teach your child the warning signs
Even if your child's school is cool, many youngsters attend recess or participate in after-school activities that may be outdoors. Teaching children the warning signs of impending heat exhaustion can help them know when to alert an adult about their symptoms, Patel said.
"Feeling faint, being very tired, having a headache, fever, intense thirst, nausea or vomiting, not urinating for many hours and muscle aches or spasms are all signs that the child is heading into danger," she said.
A child exhibiting any signs of heat illness should be taken into air conditioning or shade immediately and be sprayed or given compresses of lukewarm or cool water, experts say. Emergency treatment may be necessary.
Focus on prevention
While much of the child's day is spent in the school under the care of a teacher, there are actions families can take to help prevent heat illness.
Fresh water: Providing your child ready access to fresh water is a must, so send a thermos of cold water with your child each day, Selvam said. If classroom policies don't allow children to easily refill their water bottle, consider sending two bottles of water with your child.
Replace lost minerals with food: It's not just fluids. Parents and guardians should be sure their child has access to nourishing snacks like dried apricots, nuts and sunflower or pumpkin seeds that may help replace electrolytes lost during dehydration, such as phosphate, magnesium, potassium, chloride, calcium and sodium.
"Commercial electrolytes aren't really necessary. You can take care of you and your child's health by continuing to eat a balanced diet with fruits and vegetables," Selvam said.
Spinach, broccoli, lentils, whole grains, leafy greens, avocados, mushrooms, zucchini, bananas and citrus fruits are all super sources of several of these minerals as well.
Dress your child appropriately. Light-colored clothing reflects sunlight and loose-fitting clothing allows air to move around the body, experts say.
"Dress your child in as little clothing as possible that is still appropriate," Selvam said. "Avoiding unnecessary layers and accessories would be helpful."
Pick breathable fabrics like cotton, or choose clothes made of a moisture-wicking fabric, such as those often worn by athletes.
Provide cool mists or presoaked cloths. Wetting the back of the neck, forehead and pulse points on the wrists can help cool the body as the moisture evaporates. If the school allows, parents and guardians can send premoistened washcloths, a cooling neck wrap or a misting device to school with their child.
However, that may not work in areas of high humidity and heat, like the South and parts of Texas, where the air is already saturated with moisture.
"When the environment is humid, the ability for us to sweat diminishes because the sweat really has nowhere to go," Selvam said. "And if we lose that ability to allow heat to escape from our body, that really puts us in danger."
Put your child in AC for a few hours each day. The body needs time to recover from extreme heat, which may be difficult in parts of the country where nighttime heat is staying above 90 F (32 C), Selvam said.
"If a child does not have air conditioning at school and at home, they need to be taken to a public location, like a library or a cooling center or a mall, to get some hours in with air conditioning," he said.
How much time the child needs to spend in cooled environment will depend on temperature and humidity levels, the child's preexisting medical conditions, activity levels, their degree of hydration, and more, Selvam said.
"Consider modifying the home and sleep environment as well. If you have a basement, sleep there or on the lower level of your home because heat rises. Minimizing the use of a stove or oven too close to bedtime because that can increase the indoor temperature in your home."
Children with chronic conditions need extra help
Children with diabetes, asthma or other respiratory conditions may need extra precautions, Patel said.
"Kids with diabetes tend to get dehydrated more quickly, and higher temperatures can also change their insulin needs," she said, "so those kids should be testing their blood sugars more often."
Insulin needs to remain refrigerated, which means parents and guardians should ask their school nurse about a backup plan to keep the medications cool during a brownout.
"Asthmatics are also at higher risk during heat waves and albuterol needs to be kept within a certain temperature range. So do epinephrine auto-injector pens for those children with life-threatening allergies," Patel said.
"If you're in a school that doesn't have air conditioning, or you're worried that those medications are not being safely stored, I would question the integrity of those medications and replace them when the heat wave is over."
Correction: A previous version of this story misstated the hospital at which Dr. Selvam works.