An installation paying tribute to Sinéad O'Connor has appeared on an Irish hillside in Bray, the town where her funeral will be held on Tuesday.
The tribute to the singer, who died last month at age 56, features white letters, reading "ÉIRE SINÉAD," with a heart emoji between the two words. With letters measuring 30 feet tall, it represents a dramatic sight on the grassy clifftops, with the sea behind.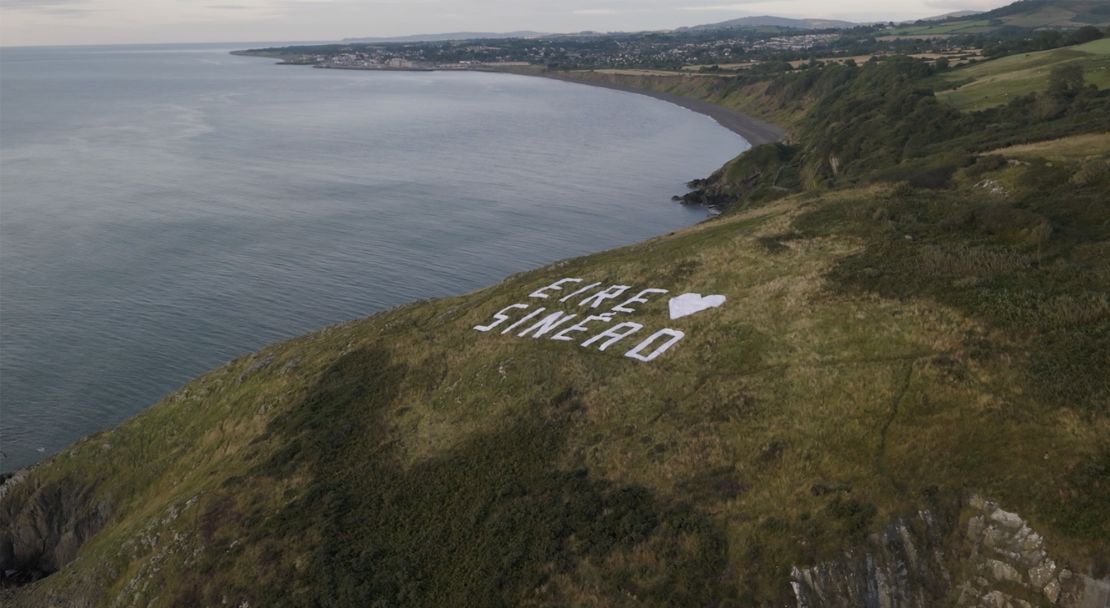 Éire is the Irish name for Ireland, which has mourned O'Connor's death and remembered her pure and crisp voice, paired with exceptional songwriting abilities that evoked her views on politics, spirituality, history and philosophy.
The tribute, unveiled Sunday, was conceived by Dublin-based creative agency The Tenth Man, in conjunction with signwriting and mural specialists Mack Signs. It is located directly above a World War II "ÉIRE" navigational landmark that was rediscovered in 2018 after a wildfire.
"We just wanted to take the opportunity to mark the moment with a bold statement that symbolizes what she meant to this little country of ours," Richard Seabrooke, executive creative director of The Tenth Man, told CNN in a statement.
"So much has been said about Sinéad since her recent passing, I'm not sure what is left to say."
On Tuesday, O'Connor's funeral procession will pass through Bray, a seaside town just south of Dublin, where she lived for 15 years, according to a family statement shared by Ireland's public broadcaster, RTE.
O'Connor "loved living in Bray and the people in it," the statement added.
After a procession allowing the public to pay their respects, O'Connor will be buried in private, the statement said, before adding that the family would like to acknowledge acknowledge the "outpouring of love for her from the people of Co Wicklow and beyond."
O'Connor shot to fame in 1990 with her rendition of the Prince song "Nothing Compares 2 U," which reached number 1 in the United States, received multiple Grammy nominations and produced an iconic music video featuring O'Connor with close-cropped hair and a dark turtleneck.