The estranged second oldest son of Thailand's King Maha Vajiralongkorn has made an unexpected visit to the country, his first in almost three decades, in a return that surprised many in the kingdom.
Vacharaesorn Vivacharawongse, 42, who has been living and working in the United States, visited a daycare center for underprivileged children in Bangkok on Tuesday.
"I am delighted to return to Thailand, I have been warmly welcomed. I have been away for a long time, 27 years," Vacharaesorn told reporters at the Foundation for Slum Child Care.
Vacharaesorn is the second of four sons of King Vajiralongkorn, 71, and his second wife, Yuvadhida Polpraserth, who he married in 1994 and later divorced.
Vacharaesorn, his mother and siblings were estranged after the separation and he does not hold a formal royal title.
The Royal Palace has not released any official information or public comment on his visit.
Vacharaesorn's trip to his homeland comes at a difficult time for the royal family after the King's oldest child, 44-year-old Princess Bajrakitiyabha, was hospitalized in an unconscious state in December after collapsing due to a heart problem.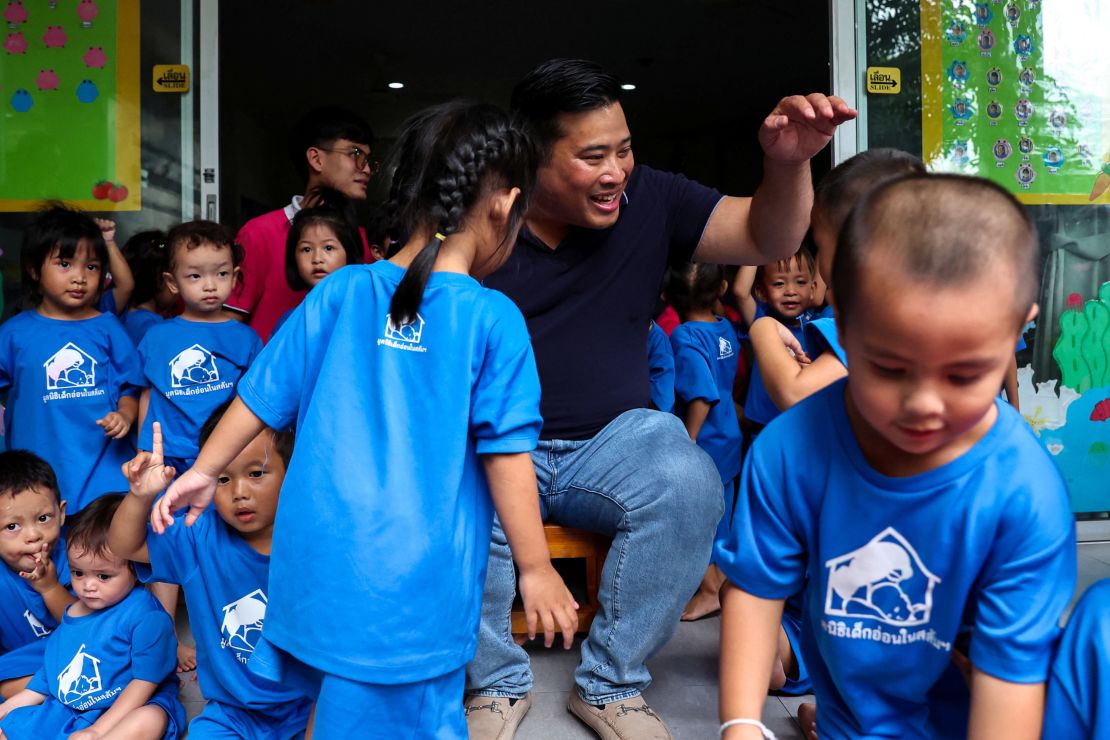 In January, the palace said in a statement that Bajrakitiyabha suffered a severe heart arrhythmia due to inflammation caused by a mycoplasma infection and doctors have been using a support system to keep her heart, lung and kidneys functioning.
There is no clear heir apparent to the King.
Vajiralongkorn, who was born in 1952, ascended to the throne in 2016 after the death of his father, King Bhumibol Adulyadej, who had reigned for seven decades.
The King has been married four times – to Soamsawali Kitiyakara in 1977, Yuvadhida 17 years later, Srirasmi Suwadee in 2001 and Queen Suthida, a former general and deputy commander of the King's Royal Guard Command who he married days before his coronation in 2019.
He has seven children from his marriages – two daughters and five sons – only one of whom is officially recognized as a prince.
Vacharaesorn's sister Princess Sirivannavari was later welcomed back to Thailand following their estrangement and is a fashion designer and equestrian.
She has frequently been seen in public with the King and Queen, and during mass anti-government protests in 2020 told CNN that Thailand is a peaceful country, saying "we love the Thai people, no matter what."
The return of the King's son has been met with surprise in Thailand.
A photo of Vacharaesorn in a tuk-tuk in Bangkok, which he shared on his Facebook page, was viewed more than 40,000 times and video appearing to show him arriving at Bangkok's main Suvarnabhumi Airport was widely shared on social media.