Climate change-fueled extreme heat will significantly increase the risk of heat-related illness for the millions of people who visit Grand Canyon National Park each year, a new National Park Service study found.
Researchers used visitation, heat-related illness, temperature and humidity data at the Grand Canyon over a six-year period from 2004 to 2009 to determine a heat-illness risk baseline, and then used climate models to predict how that risk would change in the future under two scenarios: a moderate and high increase of planet-warming pollution.
They found the rate of heat illness per 100,000 visitors increased across both scenarios. It would increase by up to 137% by 2100 under the highest emission scenario, they found, resulting in up to 254 heat-related illnesses in the park each year during the six-month peak visitation season.
"Even under the best-case scenarios there's a lot of future risk coming," Danielle Buttke, a National Park Service epidemiologist and one of the study's authors, told CNN. "This is truly a human health risk – every degree of warming matters, every amount of emitted carbon matters and every action we can take to lessen our personal impact and advocate for climate action is going to save human lives."
The study highlights the growing health risk of the more frequent, volatile, intense and exceptionally long-lasting heat waves. National parks have already warmed twice as fast as the rest of the US because of human-caused climate change, a 2018 study found.
"Climate change is the greatest public health threat of the century," Buttke told CNN. Heat "really does impact every aspect of our lives in some shape or form and that's why climate change is less about changes to the environment than it is about changes to our daily lives and well-being."
Heat illness includes heat cramps, heat exhaustion, heat stroke and more, and can lead to hospitalization and even death. Heat is suspected to have killed 16 people at Grand Canyon National Park since 2007 – more than any other national park – according to preliminary heat mortality data provided to CNN.
Suspected heat deaths are on the rise nationally and at national parks amid multiple exceptionally long-lasting, record-shattering heat waves.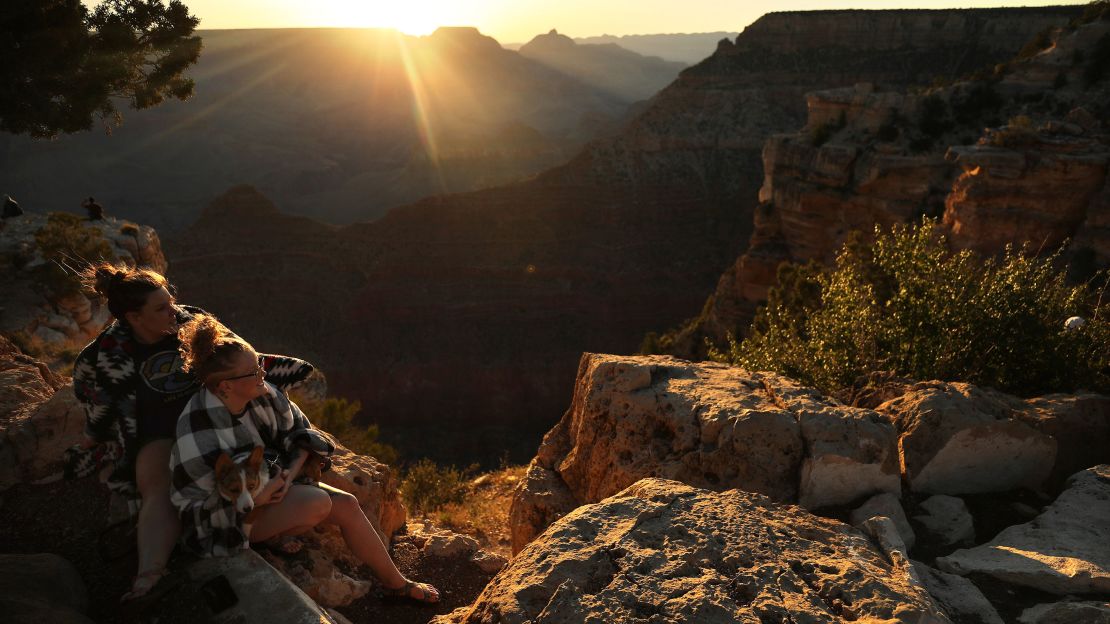 Buttke said the study's heat illness projections could be underestimated because current warming and emissions "closely track" to the worst-case scenario and visitation could go up and put more people at risk. The heat illness data used in the study only took into account people treated in the park and not those who didn't seek treatment or sought it elsewhere.
"It's possible these are underestimates because we're already at the upper level of what our model projects," Buttke told CNN. "What we've seen in the news in recent weeks and months with this summer is that we're already experiencing much faster and higher impacts than a lot of the models have predicted, so it's very possible our study is underestimating future risk."
Notably, the study found the risk of heat-related illness was most pronounced during the cooler months during the peak season from April to September, something Buttke said highlights the risk of not being able to anticipate and prepare for the unpredictable nature of extreme heat in a warming world.
"I think that's really the take home: The absolute temperature was less important than how expected that temperature was," Buttke said. "It's really about whether or not people expected high temperatures during that time."
Even though heat illness increased during these cooler months, Buttke said it showed that behavioral adaptations, like wearing proper clothing, drinking plenty of water and avoiding the outdoors during the peak heat of the day, could have a substantial impact on reducing these heat-related illnesses and that the park service could use this insight to improve communication ahead of "unexpected" heat waves.
The volatility and danger of heat is something parks and people will have to prepare for as long as emissions and warming continue on its current pace.
"It tells us so much of the impact of climate change is the variability and the unexpected nature," Buttke said. "We evolved under a climate that was very predictable and climate change is taking us into a new climate that is very unpredictable and that's where the greatest risk exists."