Record-high ocean temperatures are setting the stage for an active Atlantic hurricane season with explosive tropical development, but just one thing is missing: storms. There have been no tropical storms in the Atlantic basin in nearly a month, and none so far this year have come close to the United States.
But the busiest stretch of hurricane season kicks off in less than a week. And with ocean heat running high, experts are urging people to get their safety plans in place and prepare for tropical trouble that could start within the next couple of weeks.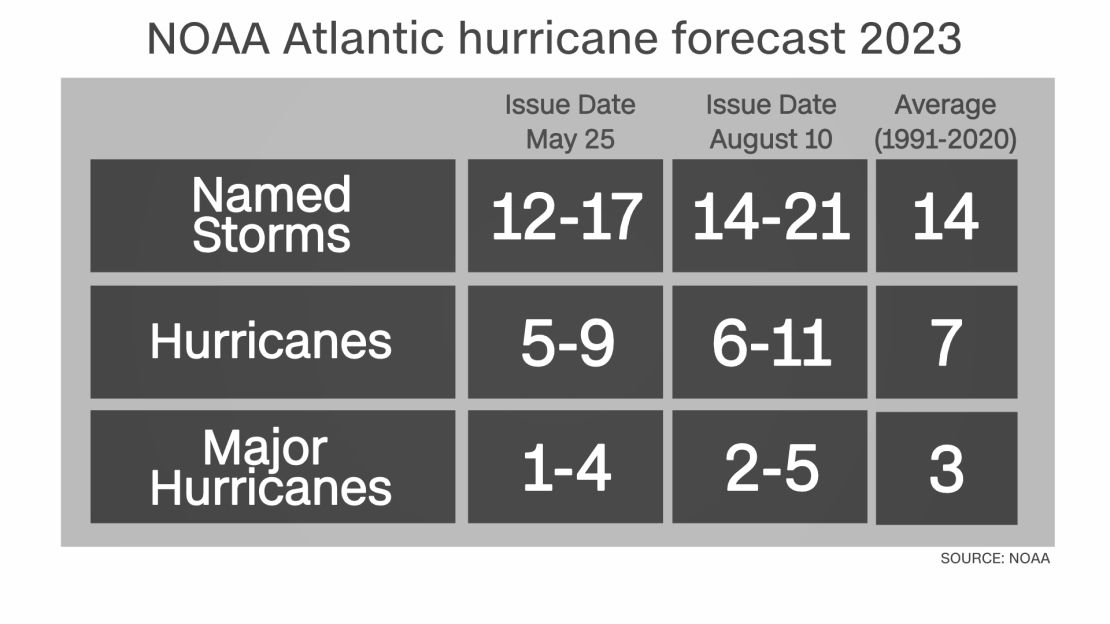 A growing expert consensus is now forecasting an uptick in hurricane activity. An updated outlook from the National Oceanic and Atmospheric Administration on Thursday called for an above-average hurricane season – an increase from the near-normal forecast it released in May.
"We have increased the chance for above normal activity to 60% from 30%," Matthew Rosencrans, lead hurricane season forecaster with NOAA's Climate Prediction Center, said in a news release. "The chances of a below normal season are now at only 15%."
Rosencrans told CNN there was "moderate confidence" conditions will become more conducive for tropical development within a week or two. And forecasters are honing in on the development potential in the open Atlantic during this time and into September, a forecast that lines up with typical climatology.
NOAA forecasters join other experts in the field that have recently increased their hurricane risk outlooks, including researchers at Colorado State University.
The forecasts are leaning on several climatological factors, but also on exceptionally warm oceans, which provide storms the fuel needed to explode in strength and even undergo rapid intensification. NOAA said sea surface temperatures were warmer than anticipated, and a major factor in increasing the odds of an active season.
"Considering those factors, the updated outlook calls for more activity, so we urge everyone to prepare now for the continuing season," Rosencrans said.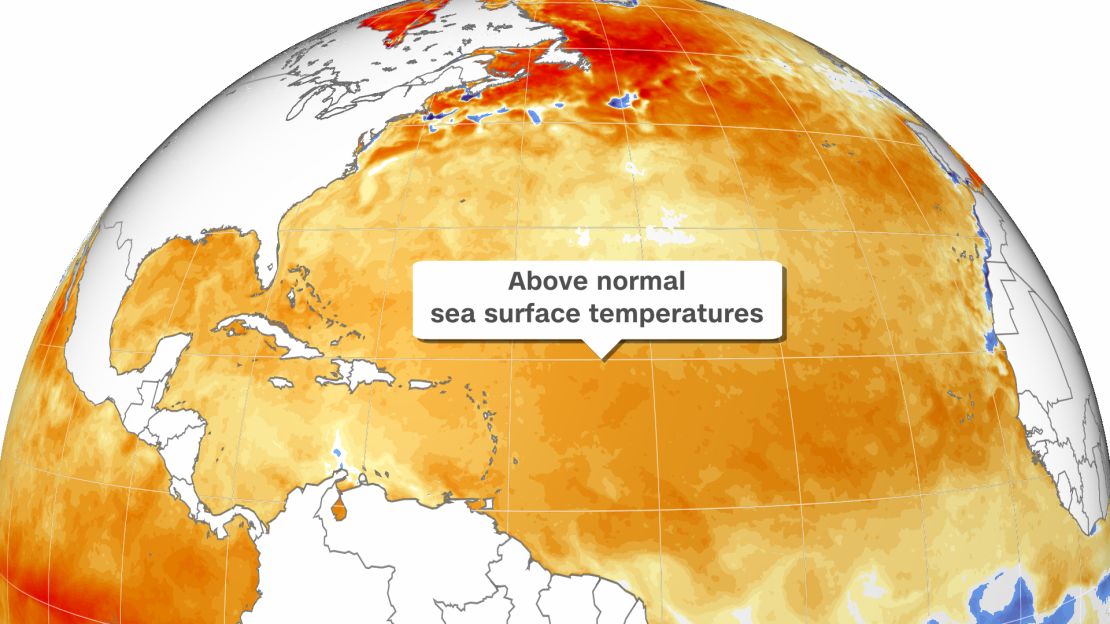 Global ocean temperatures are at their highest levels on record. This is especially the case in the Atlantic, where sea surface temperatures are much above average in areas where hurricanes typically form. Notably, sea surface temperatures in parts of the Gulf of Mexico are in the middle 80s to low 90s Fahrenheit – well above the 80 degrees needed to sustain tropical storm development. Water temperatures have even recently climbed above 100 degrees in shallower water closer to the Florida coast.
Even with the abundance of very warm water, no tropical development has occurred in the Atlantic since Hurricane Don dissipated in late July.
Despite the lack of US impacts so far, there have been five named storms, putting this season slightly above the climatological normal for tropical activity.
And there have been recent signs that the tropical Atlantic could soon spring to life. Several thunderstorm areas have come close to developing, only to be torn apart by two things: wind shear, which is the change in strength in winds in different levels of the atmosphere, and dry air, which can cut off a storm's lifeblood – its thunderstorm activity.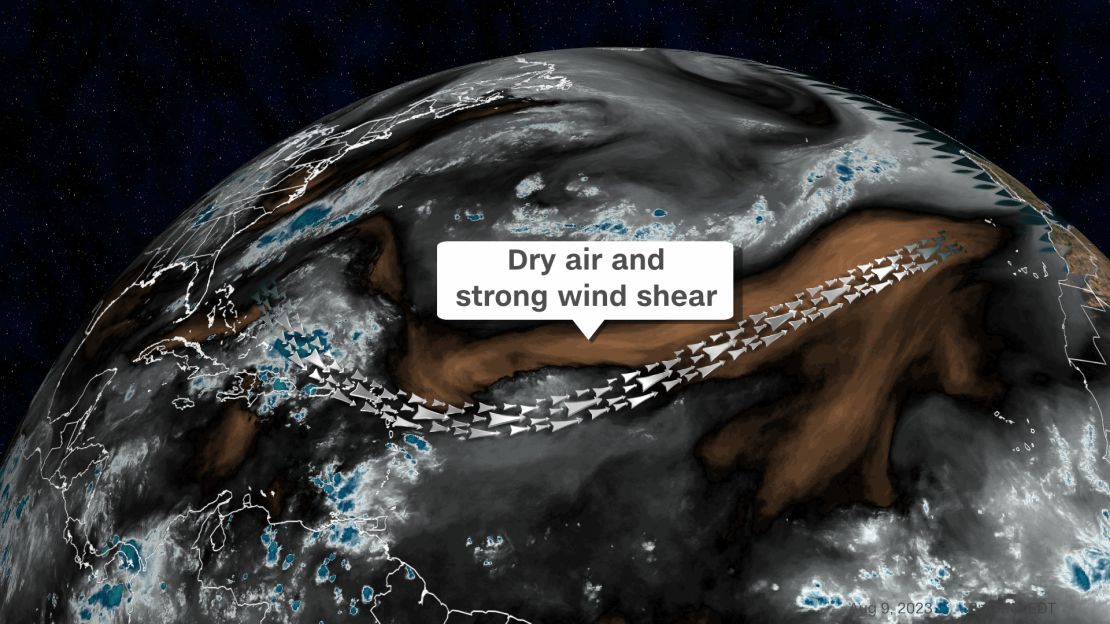 Wind shear and dry air have largely won out over warm ocean water over the past few weeks, suppressing hurricane activity. This is not altogether unusual as wind shear is typically strong at the start of hurricane season and gradually begins to ease through July and into August.
But just how much of a reduction in wind shear and dry air occurs headed into the typical peak of hurricane season is in question. Notably, El Niño is present and growing in the Pacific Ocean – an ocean and weather pattern that typically promotes an increase in wind shear and makes Atlantic hurricane seasons less active.
Rosencrans said El Niño's influence had yet to arrive in the Atlantic, but could do so in September. He said there were already signs of wind shear lessening over an area in the Atlantic where storms typically form and that lower than normal wind shear was expected for the season and factored into expectations for an increase in activity.
When wind shear lessens and dry air exits, hurricane season will be off to the races with extreme ocean temperatures ready to fuel stronger storms.
Take last year for instance: Two storms – Alex and Colin – had already impacted the US by this time last year, but Colin's dissipation was quickly followed by a lengthy inactive stretch where no additional storms formed in July or August. But once September arrived, along with it came a quick uptick in activity that culminated in devastating Hurricane Ian slamming the US to end the month.
Tropical activity spikes across the Atlantic from mid-August to mid-October due to a relative minimum in wind shear and a relative maximum in sea surface temperatures. This period alone accounts for an astounding 96% of all major hurricane days in a season, according to NOAA.
Even if tropical activity doesn't pick up considerably in the next few weeks, any storm that does manage to form over very warm water with no wind shear to inhibit it has the potential to explode in strength and turn dangerous fast. And with hot water in place near highly populated areas of the Gulf and Atlantic coasts, disaster can quickly strike if a tropical system is able to tap into that abundant energy.