The issue of abortion had, for years, been key to generating enthusiasm among conservatives. It's one of the reasons a lot of very conservative voters stuck by Donald Trump in the 2016 general election, even after he struggled with the group in that year's Republican primary.
But since the overturning of Roe v. Wade a year ago, it's clear the shoe is on the other foot. Abortion is an issue that energizes Democrats and affects the outcome of elections, including potentially the 2024 presidential race.
A lot has been made over Ohio voters turning down a ballot measure Tuesday that was largely seen as a proxy fight over a proposed constitutional amendment to guarantee abortion rights that will be on the state's ballot in November. You can read more about that here, but the bottom line is that the "no" side – which was seen as the abortion rights side – won by 14 points in a state Trump won twice by 8 points.
The Ohio result wasn't particularly surprising given that three red states that backed Trump by even bigger margins – Kansas, Kentucky and Montana – have also voted for the abortion rights side on ballot measures since the reversal of Roe.
But while these outcomes are notable, it's entirely possible that voters can separate how they feel on abortion and how they vote for candidates for office. Not every issue has an outsize electoral impact.
Abortion doesn't look like one of those issues, though. It most likely does drive votes. Take a look at last month's CNN/SSRS poll. Nearly a third of voters (31%) said they'd only consider voting for a candidate who shared their position on abortion. Of those, 54% were Democrats or Democratic-leaning independents, while 37% were Republicans or Republican-leaning independents.
Likewise, 65% of the voters who indicated they would only vote for a candidate who shared their view on abortion disapproved of the reversal of Roe, while just 34% approved of it.
For context, 46% of all poll respondents were Republican or Republican-leaning independent voters, and 45% were Democratic or Democratic-leaning independent voters.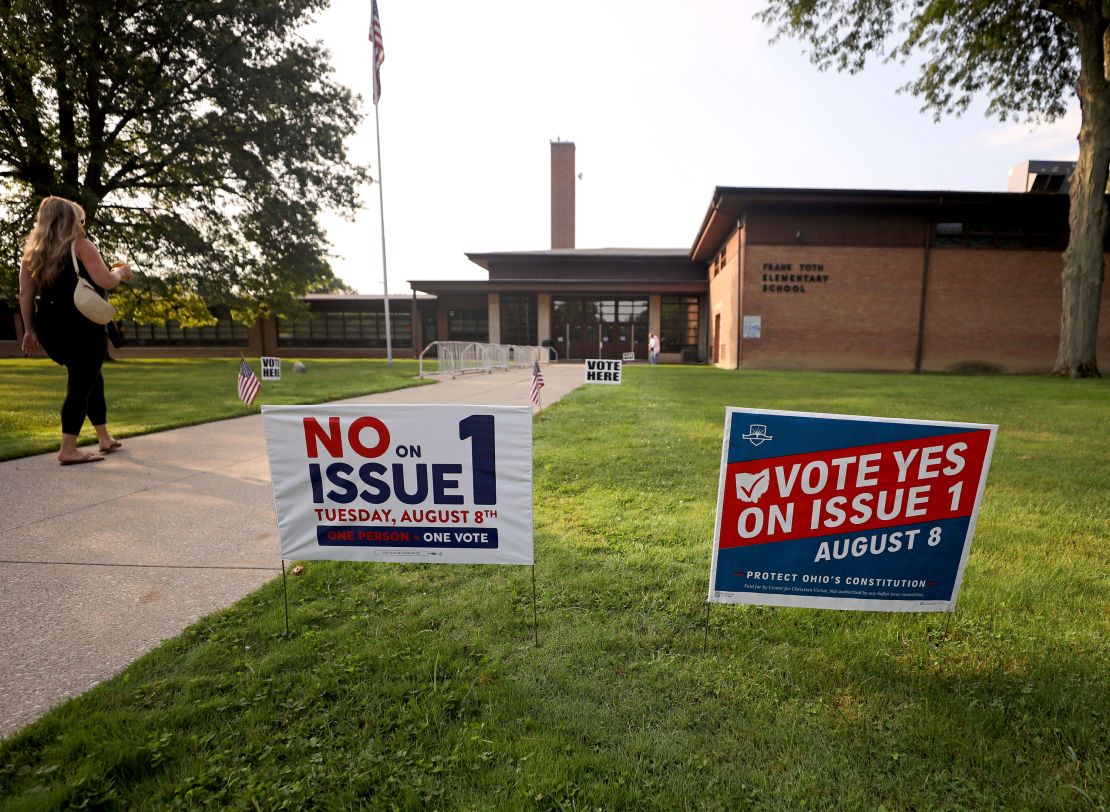 Compare this data with what we saw from a PRRI survey during the 2020 election.
Republicans (32%) were nearly twice as likely as Democrats (17%) to say they'd only vote for a candidate who shared their position on abortion. Similarly, 29% of Americans who wanted abortion to be illegal would cast a ballot only for those who shared their position on abortion versus 15% of those who wanted abortion to be legal.
In other words, abortion has gone from an issue more likely to attract votes for Republican and anti-abortion candidates to one more likely to benefit Democrats and candidates who support abortion rights.
Electoral impact
This isn't something we only see in the polls. It's been reflected in actual election results.
We know, for example, that the 2022 midterm election was one of the best on record for the party controlling the White House. Democrats picked up ground in the Senate and governors' mansions and kept their losses to a minimum in the House. This happened even as President Joe Biden's approval rating was well south of 50%.
A likely key driver of this extremely unusual result was abortion. I say this not merely because Democrats got a polling bump following the overturning of Roe (which they did). I say it because election results also started changing following the Supreme Court's decision.
After Biden became president but before Roe was reversed, Democrats lagged behind in special elections compared with how well Biden had done in 2020. In US House and state legislative races, Democrats, on average, did 5 points worse than Biden's margins.
Since Roe was overturned, Democrats have done 6 points better than Biden's 2020 margins. That also holds true for special elections held solely in 2023.
It is not entirely clear how well special election results predict presidential performance. Special elections are often low-turnout affairs, which presidential races are most certainly not.
What is clear, though, is how different special elections this year have been compared with those in 2019. Back then, Democrats were doing only slightly better in special elections than the baseline set by their 2016 presidential nominee, Hillary Clinton. This contrasted sharply with their performance in special elections ahead of the 2018 midterms, when they did significantly better than the 2016 baseline.
The special election trends in both cases forecast what occurred in the general elections that followed: a blowout Democratic win in 2018 and a close Biden win in 2020.
What happens in 2024 is, of course, anyone's guess. Biden and Trump remain very close in the polls of a potential rematch.
But if Biden does end up securing a second term, his support for abortion rights will have something to do with it.