At least 21 people are dead and six others missing after a flash flood and landslide following torrential rains in the outskirts of northwestern China's Xi'an city, local authorities said Sunday.
The natural disaster, which took place in a mountainside village on Friday, also caused blackouts affecting 900 households and damaged roads, bridges and communications infrastructure, according to the the Xi'an City Emergency Management Bureau.
Parts of China have seen record high temperatures and deadly flooding in recent weeks, with experts linking extreme weather around the world to climate change.
Nearly 1,000 rescue workers were deployed to Xi'an's Weiziping village following the landslide and flash flood, with 186 people evacuated and relief efforts ongoing as of Sunday evening, authorities said. Two houses were also destroyed.
A restaurant owner in the village told state-run media outlet Cover News that a massive flow of mud and debris cascaded down the hillside in the late afternoon on Friday, sweeping away two buildings.
"Both houses were gone, and the people went missing too," he was quoted as saying.
The village, located in a scenic river valley in the Qinling mountains, has multiple family-run restaurants offering farm meals to tourists, according to state-run news agency Xinhua.
Restaurants were run out of the two destroyed homes, Cover News reported.
"Xi'an is hot in the summer, and people come to the mountains to escape the heat. Our village doesn't have much income, the main (way to earn money) is to run farm restaurants in the summer," a second villager told Cover News.
The disaster comes on the heels of major flooding on the other side of the country in northeastern China, which was battered by record rains from regional typhoons starting late last month.
Flooding killed at least 29 people in Hebei province and 33 in the capital Beijing, according to local authorities.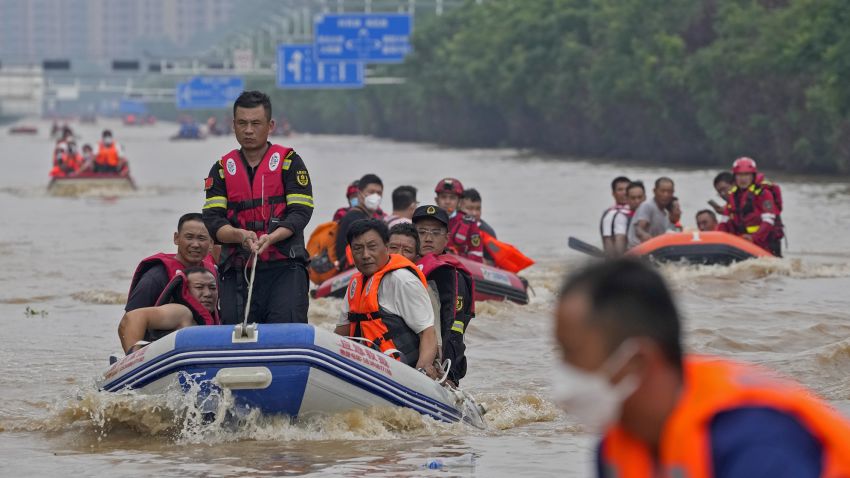 CNN's signal cut in China during flooding report
Another 14 people were reported dead in the city of Shulan in Jilin province, as the rains moved northward, inundating farmlands in the country's grain-producing area.
More than 1.5 million people were evacuated from their homes in Hebei, according to state media, including those who needed to leave designated "flood storage areas," which were inundated as flood control authorities released pent-up waters.
Flooding damaged or destroyed nearly 200,000 homes, with overall damage from the disaster expected to cost more than $13 billion, provincial authorities said last week.
Authorities said they aimed to have those displaced returned to their homes by next month.
Separately, three people died and two others were injured in Hunan province on Sunday after strong winds caused the collapse of a home in Leyu village, Hengnan county. Seven people were taking shelter from heavy rains at the house when it collapsed, according to China National Radio.
CNN's Nectar Gan contributed reporting.