Yet another record has fallen in this summer's extreme-weather epicenter of Phoenix, but this one is doing more than fueling the heat – it's a sign of a much more widespread issue developing in the Southwest.
Phoenix is experiencing its driest start to summer after recording no measurable rainfall Monday, a new record for the latest start to the region's monsoon in the city.
The troubling new milestone is emblematic of a much larger problem in the Southwest, which relies on the monsoon for much of its rain. Monsoons – which occur in several continents – are seasonal shifts in wind direction that transports moisture into the region. The North American monsoon provides parts of the Southwest 40 to 75% of its annual rainfall, but many cities across the region are pacing 50 to 80% behind average rainfall amounts since June 15, when the monsoon typically begins.
This lack of rainfall during a critical time of the year has for weeks enhanced the region's exceptional heat and expanding drought.
Parts of Phoenix did see rain on two days in July, but because it didn't fall at the city's official reporting station, it didn't count toward city records. Only 30 to 40% of the Phoenix metro area experienced the rain, said Alex Young, a meteorologist for the National Weather Service in Phoenix. That rainfall was light, according to NWS data, only amounting to between 0.1 to 0.2 inches across the two days. These rainfall totals account for at most 10 to 25% of what typically falls during July, and occurred across only a fraction of the city's footprint.
And Phoenix's rainfall woes have been growing well before the normal start to the monsoon, NWS data shows.
Nothing more than a trace of rain has been recorded at the city's official reporting station since March 22. Monday marked 145 consecutive days without measurable precipitation, further cementing Phoenix's second-longest dry streak on record. The longest dry stretch on record for Phoenix stands at 160 days and occurred more than 60 years ago from December 29, 1971, to June 6, 1972.
Phoenix isn't the only city missing out on most of its monsoon rainfall. Flagstaff, Arizona, has recorded about 30% of its typical rainfall since monsoon season began and Albuquerque, New Mexico, has only seen around 20%.
Minimal rainfall has led to abnormal dryness and drought across at least 95% of New Mexico and 85% of Arizona, the US Drought Monitor reported last week.
How long Phoenix's dry spell will last depends on a brewing stormy setup later this week across portions of the Southwest, including eastern and central Arizona. There's a chance Phoenix will receive rainfall at some point Friday or Saturday, meaning the 160-day record might not be broken.
How dry weather drives dangerous heat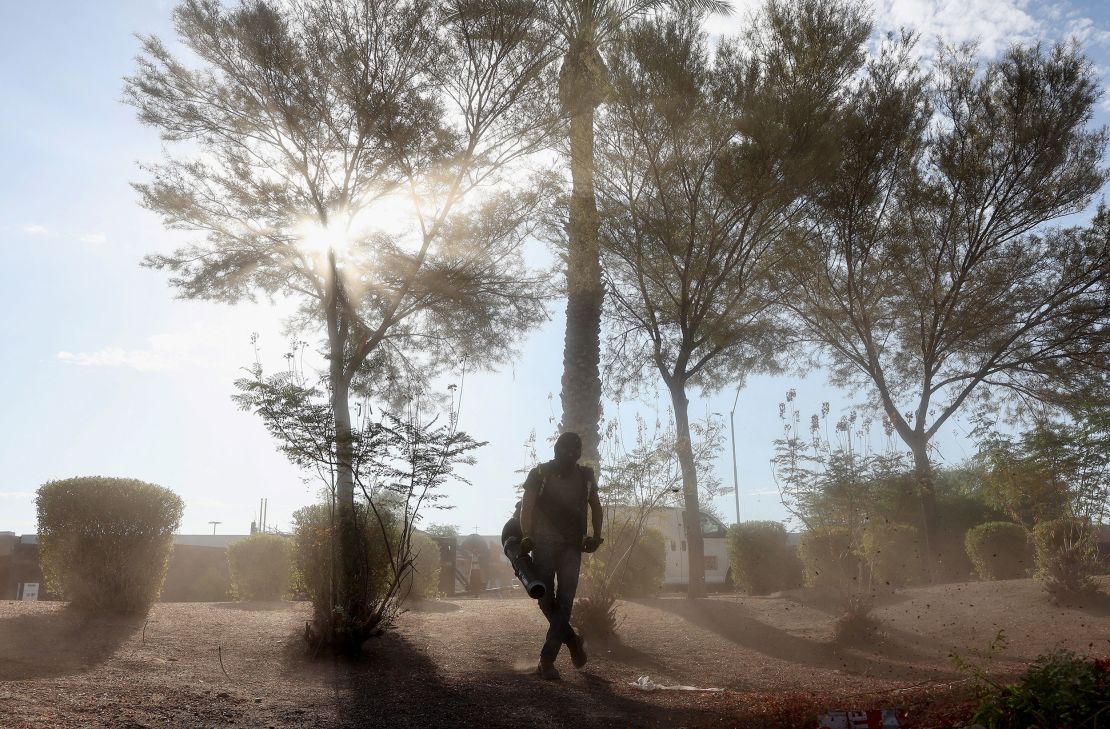 The lack of rainfall is driving this summer's heat even higher.
Sun shining on dry ground typically results in higher temperatures because none of the sun's energy is used to evaporate moisture and more of it can be converted into heat. Cloud cover can also have a significant influence as it affects how much sun reaches the ground.
Throw in several intense heat domes and a plethora of records have fallen in Phoenix this summer. Phoenix had not only its hottest month on record in July, but also the hottest month ever recorded for any US city.
The city endured a record-breaking 31 consecutive days from June 30 to July 30 where high temperatures reached or exceeded 110 degrees. Phoenix has had 43 days so far this year where temperatures met or surpassed 110 degrees, just 10 days behind 2022's all-time record of 53 days.
And the heat hasn't stopped stop once the sun goes down. Phoenix has had 28 days of low temperatures at or above 90 degrees this year, which ties the record set in 2020.
Low temperatures in the hottest part of the summer tend to hover in the low to middle 80s, but one day in July set an all-time record when temperatures failed to fall below 97 degrees.
When heat doesn't abate at night, it can quickly become dangerous – especially for those without reliable access to air conditioning. On average, nights are warming faster than days in most of the US as a consequence of the climate crisis.
At least 147 deaths have been attributed to extreme heat in 2023, with a majority of the reported deaths occurring in Arizona. As of early August, more than 100 people had died due to heat in Arizona alone.