Authorities in Pakistan's Punjab province have arrested more than 100 people after crowds descended on churches and set them on fire on Wednesday, raising concerns over the discrimination faced by religious minorities in the country.
At least 17 churches have been vandalized since Wednesday, according to the National Commission for Human Rights (NCHR), a Pakistani government body. The attacks took place after a Christian man was accused of committing blasphemy and desecrating the Quran.
"According to NCHR inquiry, 17 Churches in #Jaranwala have been targeted. 12 registered churches and 5 smaller, unregistered churches," NCHR posted on X, previously known as Twitter, on Thursday.
Pakistani Christian communities are regularly targeted under the country's strict blasphemy laws, which activists say have historically been manipulated to persecute minorities and isolate them from public life.
A mob of more than 5,000 people had rallied in groups around the town of Jaranwala to storm the churches but police prevented the attack, a spokesperson for the Punjab government said in a statement on Thursday.
A large contingent of police was deployed around the town, including at worship sites, to maintain peace, the spokesperson said, adding that an investigation into the vandalism incident had been launched.
'Illegal and unconstitutional'
The violence on Wednesday triggered widespread condemnation among senior officials in Islamabad, with Pakistan's caretaker Prime Minister Anwaar-ul-Haq Kakar calling the attacks "illegal and unconstitutional."
The prime minister "strongly condemned the reprehensible incident that took place in Faisalabad yesterday where churches were targeted," Ministry of Foreign Affairs spokesperson Mumtaz Zahra Baloch said on Thursday.
"These acts are illegal and unconstitutional. As a country of law and constitution, Pakistan cannot accept such intolerant and violent acts," Baloch added.
"Individuals belonging to religious minorities are equal citizens of the state. As a multicultural and multifaith country, Pakistan is fully determined to protect and promote their constitutionally guaranteed rights and freedoms and to foster social harmony, tolerance and mutual respect."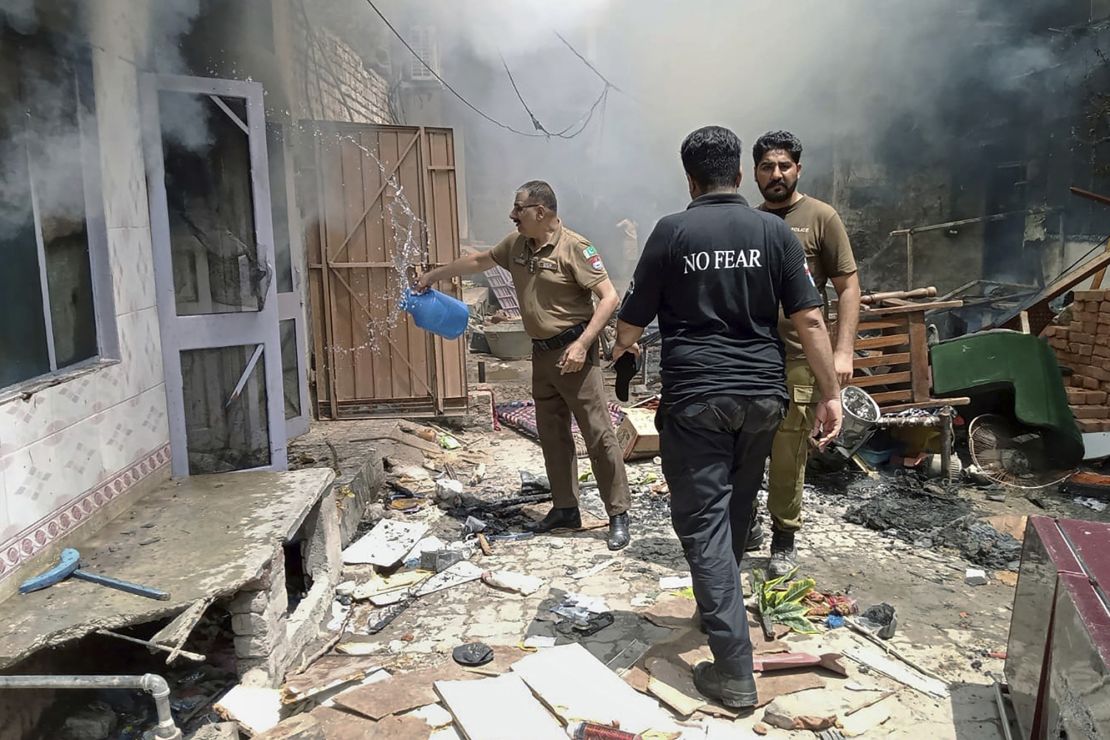 Riina Kionka, the EU ambassador to Pakistan, said the reports were "disturbing."
"The degree to which a society's minorities feel safe, in Pakistan, in the European Union, around the world, is a measure of respect for the rule of law, for tolerance of diversity, a core EU value," she posted on X on Wednesday.
Pakistan is among the countries where blasphemy is a crime punishable by the death sentence.
In 2013, more than 100 homes of Christians were set ablaze by outraged Muslims in Lahore's Badami Bagh community, after police arrested a 20-year-old man accused of speaking against the Prophet Mohammed.
Three years earlier, a mother of five from Punjab was convicted of blasphemy and sentenced to hang, after she was accused of defiling the name of the Prophet Mohammed. Asia Bibi was freed from death row in 2018, after she won her appeal against the conviction and death sentence.