A mistrial was declared Thursday in the case of a White father and son charged with attempted murder of a Black FedEx driver who said he was chased and shot at while delivering packages in Brookhaven, Mississippi, last year.
Circuit Judge David Strong's decision followed the defense attorneys' motion asking for a mistrial, citing a video not being turned over to the prosecution or defense by the Brookhaven Police Department, according to Carlos Moore, attorney for D'Monterrio Gibson, the driver.
The defendants, Gregory and Brandon Case, face charges of attempted murder, conspiracy to commit first-degree murder and shooting into a motor vehicle, according to court documents.
CNN has reached out to the Brookhaven Police Department for comment.
"A mistrial represents not just an administrative setback but also a delay in justice for Mr. Gibson and his family," Moore said in an official statement. Moore said it was "concerning that BPD withheld a potentially crucial piece of evidence" and he agreed withholding that evidence "necessitated a mistrial."
"We remain committed to seeking justice for D'Monterrio Gibson and ensuring that the legal process is fair, transparent, and accountable," Moore said.
Gibson told CNN's Jim Acosta that the mistrial is "definitely disappointing and frustrating" but he is confident they will get a new trial. He added that they plan to file separate civil lawsuits in the case.
Moore told CNN he believes police intentionally withheld the video, which led to the mistrial. He said the video captured a police interview with Gibson after the incident.
"I believe this was dilatory, a delay tactic, because they have always been on the side of the Cases, it seems," Moore said.
CNN has reached out to attorneys for Gregory and Brandon Case for comment. Gregory is Brandon's father.
CNN also has reached out to District Attorney Dee Bates for comment.
Gibson told CNN he was delivering packages to a home around 7 p.m. on January 24, 2022, when he saw a white pickup truck coming from the house behind it.
The truck started approaching Gibson and blowing the horn at him, Gibson said.
The van Gibson was driving was a Hertz rental van that had two large Hertz stickers on the back, Gibson said. His attorney Moore told CNN at the time that Gibson was wearing a FedEx jacket, shirt and pants but the vehicle had no FedEx markings.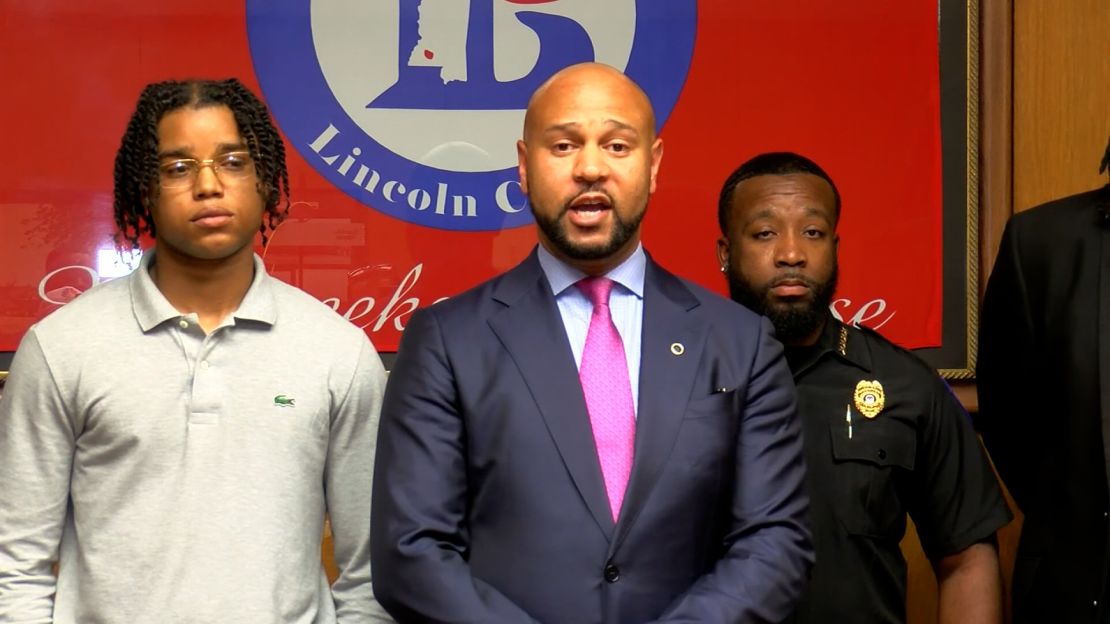 Gibson, 24 at the time, said he thought he was in the truck's way and so he tried to leave, but the truck swerved around him and tried to cut him off.
"At that point my instincts kick in, and I swerve around him as he (is) trying to cut me off to avoid getting stuck in the neighborhood," he said.
Gibson said he drove down the street about two or three houses when a man in the middle of the road pointed a gun at his vehicle and was mouthing and waving at Gibson to stop. Gibson said he shook his head "no" to indicate he wasn't going to stop and then hid behind his steering wheel while he swerved around him.
That's when Gibson heard "at least five shots and heard the bullets hitting the van," according to an incident report filed a day later by Brookhaven police after officers met with Gibson and his boss.
As he was leaving the neighborhood, Gibson said, one of his managers called and he told the manager someone was shooting at him. She told him to get back to the station as fast as he could. The truck, now with both men inside, chased Gibson out of Brookhaven and to the interstate, Gibson said.
According to affidavits, Gregory Case was driving the truck chasing Gibson and Brandon Case was the man in the street pointing the gun at Gibson.
Brandon Case initially was charged with feloniously attempting to cause bodily injury with a firearm and a deadly weapon by shooting at an occupied vehicle with Gibson inside, according to an affidavit.
Gregory Case initially was charged with unlawfully and feloniously conspiring with Brandon Case to commit aggravated assault by attempting to cause bodily injury to Gibson, according to a second affidavit.
Both men were indicted on upgraded charges, court records show.
Gibson said the incident has had lasting impacts on his life.
"I deal with like certain things such as anxiety, depression, insomnia – just thinking about the incident more than I should. It just affects me mentally, negatively, more than anything," he said.
CNN's Jamiel Lynch contributed to this report.