Ukraine has ramped up missile strikes on Russian-occupied Crimea in recent weeks in an effort to disrupt Russian logistics and resupply efforts as fighting rages in southern Ukraine – but it's a strategy that some US officials in Washington are viewing with skepticism.
For some military and Biden administration officials, Ukrainian attacks on Crimea are at best a distraction, and at worst, a valuable waste of resources in a strategy that many analysts now believe has left Ukraine stretched too thin between multiple axes of attack.
"It's knocked the Russians off balance a bit, but it is not doing anything decisive," a senior defense official told CNN. "And it would probably be better for everyone for them to just focus on the counteroffensive."
Ukraine has in recent weeks used long-range missiles to strike two bridges linking Crimea to Russian-occupied territory in southern Ukraine, and on Saturday, targeted the only bridge connecting Crimea to mainland Russia. With roughly a third of the peninsula now within the range of US-provided HIMARS artillery, according to one senior Western intelligence official, Ukraine has also stepped up strikes on Russian ammunition dumps and other logistics and resupply infrastructure there.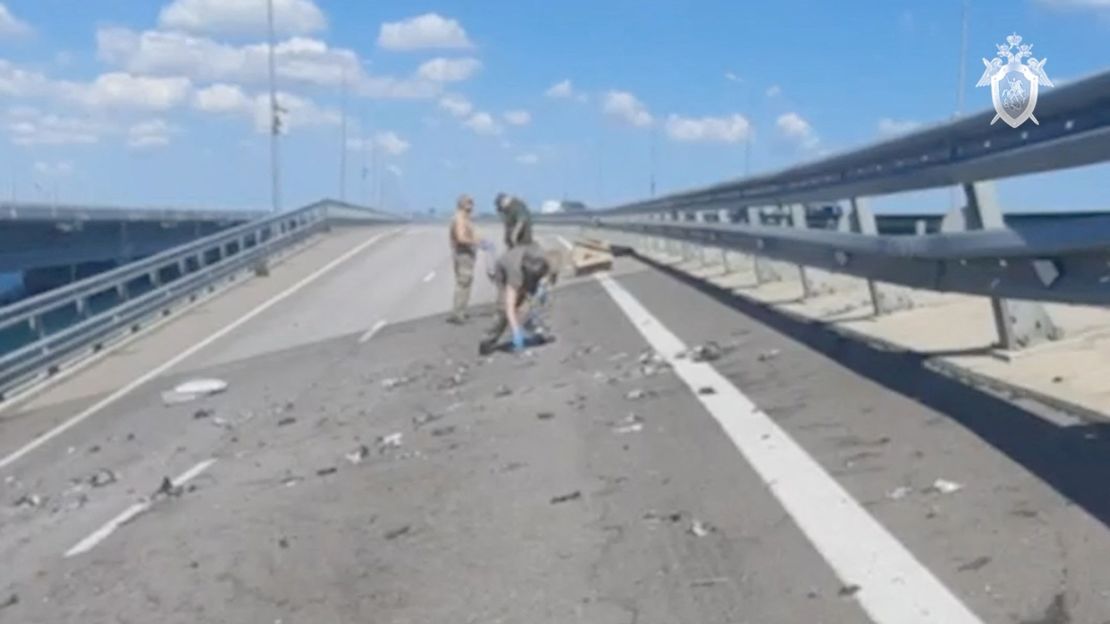 "There's more and more pressure on Crimea, and especially so in recent weeks," that official told CNN. "I mean, they get pounded."
Crimea holds a deep symbolic importance to Russian President Vladimir Putin, who ordered his forces to invade and illegally annexed the peninsula in 2014. And it is also a strategically vital logistics hub for Russia's war effort; its location on the Black Sea has made it sought-after territory for centuries.
For Ukraine, the attacks are an integral part of their counteroffensive strategy, intended to try to isolate Crimea and make it more difficult for Russia to sustain its military operations on the Ukrainian mainland, a Ukrainian source familiar with the strategy told CNN.
In general, Ukrainian strikes in the south have slowed and complicated Russia's resupply and logistics maneuvers, the Western intelligence official said. And another US official said that if the Ukrainians are ultimately able to breach Russia's extensive network of defensive lines and move forward, then targeting ammunition depots and resupply lines in Crime will be beneficial to the counteroffensive writ large.
But because the emphasis on Crimea is relatively new, multiple US and Western officials said that it was difficult to judge yet how much of an impact the attacks are having on Russia's ability to withstand the Ukrainian counteroffensive.
Ukraine has conducted "some pretty good attacks on logistics and command and control" in Crimea, one US military official said, but "I don't think those effects have fully come to bear."
But so far, some US officials and outside analysts say, the attacks do not appear to be having much of an impact. In 10 weeks of fighting, Ukraine has failed to break through Russian defensive lines – something some critics believe is because Ukraine failed to prioritize any one effort and instead spread their resources too thin across multiple fronts.
For now, the United States is not actively advising Ukraine against striking Crimea, according to the senior defense official. But the longer the counteroffensive drags on without significant gains, analysts say, the greater its chances of failure.
"The reality is this offensive does not have some eternal runway to go on through the fall," said one source familiar with internal Pentagon discussions on the matter.
A stalled offensive
US and Ukrainian officials openly acknowledge that the Ukrainian counteroffensive has not proceeded as quickly as had been expected and war-gamed in the months leading up to the push.
Ukraine has sought to roll back Russian gains in three different directions, with active fighting along front lines in the northeast, near the town of Bakhmut, and in the south, where Ukraine has sought to sever the so-called land bridge connecting Russia to Crimea by driving forward to the southerly Sea of Azov.
Some US and western officials insist that the Russian defensive lines are limited to a single line of forces, suggesting that if Ukraine is able break through, Russia will be vulnerable from the rear. But after 10 weeks of fighting, the front lines remain fixed. And eventually, the brutal math of warfare – the plain number of bullets and bodies that an army has to throw into the fight – may not be on Ukraine's side.
"It puts into question how much Ukraine will have available in combat strength to exploit any breakthrough," said Michael Kofman, a senior fellow in the Russia and Eurasia Program at the Carnegie Endowment for International Peace. "Russian forces proved far less brittle than hoped over the past several months."
Miles of minefields laid by Russia have kept Ukraine at bay and for weeks now, and the two sides have been engaged in a grinding fight within a narrow, unchanging band along the frontlines.
Ukraine has for now largely abandoned more complex maneuvering that the US had trained its military to use in favor of smaller-unit engagements and heavy use of artillery, which US officials are privately concerned about, CNN has reported.
The US and Europe are struggling to provide Ukraine with the large amount of ammunition it will need for a prolonged counteroffensive, and Western officials are racing to ramp up production to avoid shortages on the battlefield that could hinder Ukraine's progress.
Some Western officials have defended the Ukrainian strategy on the battlefield, arguing that Ukraine is responding to the reality it faces on the ground.
Ukraine, "like the Russians, are engaged in an act of war and they are adapting to what they see and experience on the battlefield," said the senior Western intelligence official. "What they've learned that is, smaller unit and tactics are more likely to be successful, to try to cause those holes in those frontlines complemented by longer range precision strike from artillery, and even cruise missiles to soften that line."
"You can understand why they've done what they've done," the US military official said. "I don't know if the US army only had artillery and no air, if we wouldn't be fighting somewhat similarly."
These officials and others are careful to say that the story is not yet written on the outcome of the counteroffensive. The senior Western intelligence official said that they were "cautiously optimistic … for the potential for the Ukrainians to have a breakthrough because as the Russians commit more and fix more in place, it gives the Ukrainians an easier target to identify and go after."
But within the US military, optimism is dimming that Ukraine will have a major breakthrough any time soon.
"I'm not too optimistic that we'll be at the Sea of Azov by Christmas," said the US military official.