Yevgeny Prigozhin, the chief of Russian mercenary group Wagner who staged a short-lived mutiny against Russia's military leadership in June, was on board a plane that crashed northwest of Moscow on Wednesday, the Russian Federal Air Transport Agency said.
"An investigation has been launched into the crash of the Embraer aircraft, which occurred tonight in the Tver region," the Federal Air Transport Agency said in a statement, according to the official state news agency TASS. "According to the list of passengers, among them is the name and surname of Yevgeny Prigozhin."
There were seven passengers and three crew members on board the private Embraer jet when it crashed near the village of Kuzhenkino, in the Tver region, on Wednesday, according to the Russian Ministry of Emergency Services. All on board were killed, according to preliminary information, the ministry said, adding that they "are conducting search operations."
Among those on the plane were Dmitriy Utkin, a trusted lieutenant of Prigozhin's since Wagner was formed, and Prigozhin's senior aide Valeriy Chekalov, according to list of passengers shared by the Russian aviation agency.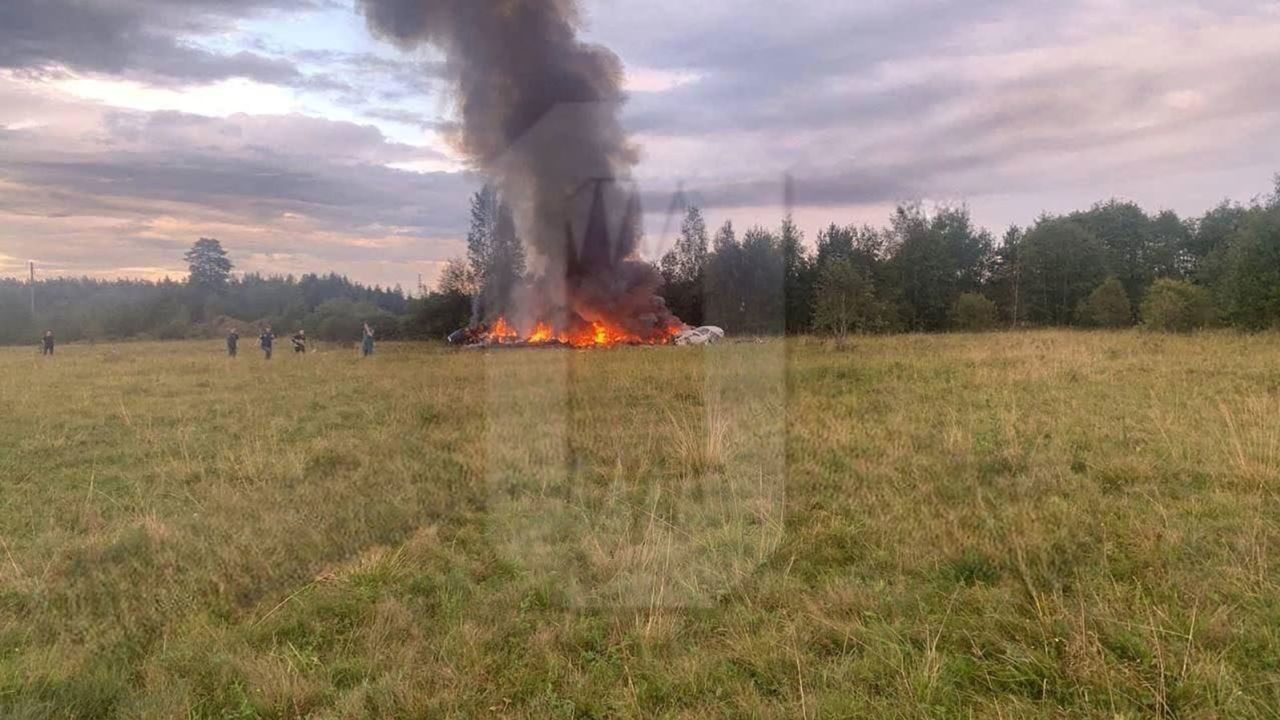 The bodies of eight people have been found at the crash site, state media outlet Russia 24 reported. Earlier, TASS reported the plane "burned up" on impact after being in the air for about half an hour.
Russian investigators have initiated a criminal case following the crash. The Russian Investigative Committee said that a team was on the way to the scene to "establish the causes of the crash."
The crash comes months after Prigozhin launched a brief rebellion that posed an unprecedented challenge to Russian President Vladimir Putin's authority before it was suddenly called off in a deal that required the Wagner chief and his fighters to relocate to Belarus.
Wagner forces were heavily involved in capturing the eastern Ukrainian cities of Soledar and Bakhmut following Russia's full-scale invasion of Ukraine last year. Prigozhin then spent months criticizing Russian military leadership and the support it was giving his troops before he called for the armed rebellion.
A senior Ukrainian official told CNN on Wednesday that the plane that crashed north of Moscow "is a manifestation of Putin's Russia."
"This is why we are fighting, we don't want to be a part of Putin's world," the senior official, who is close to Ukrainian President Volodymyr Zelensky, said.
US President Joe Biden suggested Putin may have been behind the crash. "You may recall, I was asked about this," Biden told CNN. "I said I would be careful what I rode in. I don't know for a fact what happened, but I'm not surprised."
As news of the crash broke, Putin was taking part in an event hundreds of miles away from the site, in the Kursk region, to mark the anniversary of the Soviet Union's victory over Nazi Germany there.
Video shows plane falling out of sky
Video published by Russian state media outlet RIA Novosti showed a plane falling out of the sky with one wing missing. CNN is unable to confirm the authenticity of the video, but RIA Novosti claimed it was the moment that an Embraer jet fell from the sky over the Tver region.
A separate video, also released by RIA Novosti, purports to show plane engine debris at the crash site. Visible on the still-burning engine debris are the last four digits of a registration number: 2795. Prigozhin's plane is registered as RA-02795.
Flight data shows the Prigozhin-linked plane reached an altitude of some 28,000 feet before publicly available flight tracking data suddenly stopped transmitting, soon after 6 p.m. local time, southwest of the city of Tver.
Tracking site FlightRadar24 told CNN it is still analyzing data that is "likely incomplete," due to the way flight data near Moscow is collected.
CNN has previously reported on the plane, which has been linked to Prigozhin's companies and the Wagner Group.
The plane is believed to have previously ferried Prigozhin from Rostov-on-Don – which became the headquarters for his short-lived mutiny in June – to Moscow, St. Petersburg and Belarus.
The Embraer Legacy 600 is a corporate jet based on the ERJ 145 regional airliner used by airlines in the United States.
'Russia has an open windows policy'
Top Biden administration officials have repeatedly and publicly warned that Prigozhin could be killed by the Kremlin in the aftermath of the halted rebellion.
"If I were he I'd be careful what I ate. I'd keep my eye on my menu," President Biden said in July.
CIA Director Bill Burns and Secretary of State Antony Blinken echoed Biden's sentiments, with Burns noting that Putin has a long history of payback.
"In my experience, Putin is the ultimate apostle of payback. So I would be surprised if Prigozhin escapes further retribution for this. So in that sense, the president's right. If I were Prigozhin, I wouldn't fire my food taster," Burns said later in July.
"If I were Mr. Prigozhin, I would remain very concerned. NATO has an open-door policy; Russia has an open-windows policy," Blinken also said in July.
For years Prigozhin was an elus