In a defiant speech to the UN Security Council, North Korea insisted its efforts to launch a spy satellite into space are transparent and within "its legitimate right as a sovereign state."
Pyongyang's ambassador to the UN Kim Song defended his country during a rare address to the UN on Friday, denying that the country had been seeking to acquire intercontinental ballistic missile (ICBM) technology through its satellite launch.
It had never "recognized UNSC resolutions infringing on the rights of a sovereign state," Kim said.
Pyongyang's second attempt to launch a spy satellite into orbit took place on Thursday, and failed due to a malfunction in the third-stage of the rocket.
Its first attempt failed in May when the Chollima-1 satellite vehicle rocket crashed into the sea soon after liftoff.
The rocket broke into multiple parts before falling into the Yellow Sea, the East China Sea and the Pacific Ocean and prompted neighboring Japan to issue an emergency evacuation call for residents of the southern Okinawa region.
The US National Security Council had condemned the launch as a "brazen violation" of multiple UN Security Council resolutions, saying it "involved technologies directly related to the DPRK intercontinental ballistic missile program."
South Korea's military said the latest satellite's design was too rudimentary to function properly as a spying device, even if it had been launched successfully.
North Korea will try another launch in October, the state-run Korean Central News Agency (KCNA) reported.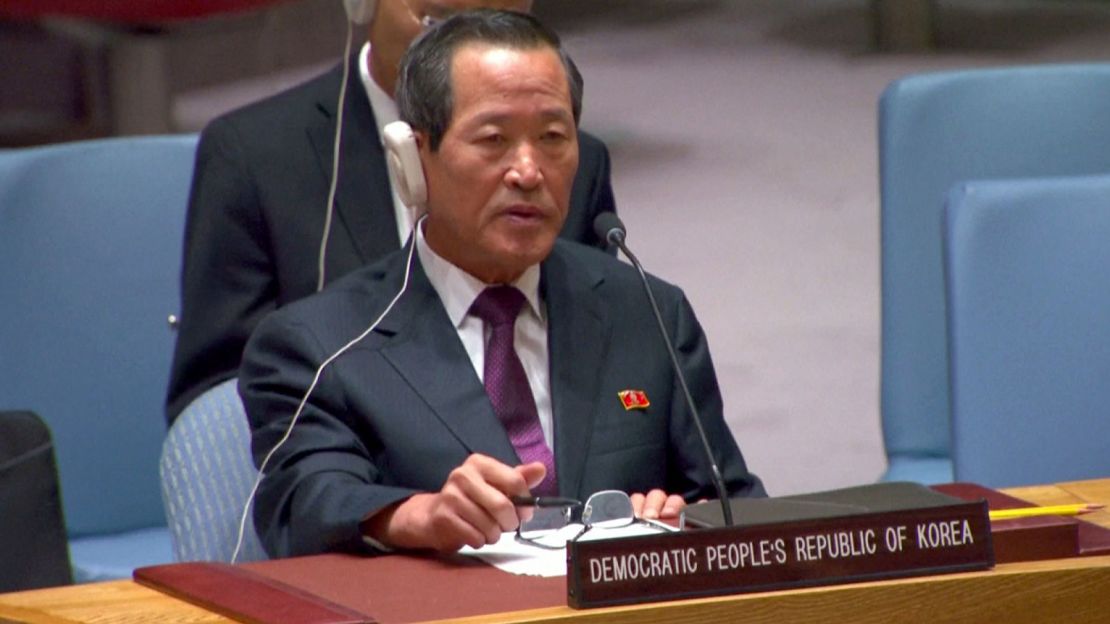 Ahead of Kim Song's UN address, US Ambassador to the UN Linda Thomas-Greenfield urged members to "return to an era when we used our collective voice to curb nuclear proliferation."
"We must unequivocally denounce the DPRK's unlawful behavior… and must call on the DPRK to fully and faithfully implement all relevant Security Council resolutions," she said.
"And we must address the DPRK's global revenue-generating activities, which fund its unlawful weapons program."