Editor's Note: Find the latest Burning Man festival coverage here.
Thousands of people remain trapped at the Burning Man festival in the Nevada desert after heavy rains inundated the area and created thick, ankle-deep mud which sticks to campers' shoes and vehicle tires.
Attendees were told to shelter in place in the Black Rock Desert and conserve food, water and fuel after a rainstorm swamped the area, forcing officials to halt any entering or leaving of the festival.
"A little over 70,000 people," remained stranded Saturday, Sgt. Nathan Carmichael, with the Pershing County Sheriff's Office, told CNN Sunday morning. Some people have left the site by walking out but "most of the RVs are stuck in place," he said.
On Sunday morning, event organizers said roads remained closed as they were "too wet and muddy" and more uncertain weather was likely on the way. While some vehicles were able to leave, others got stuck in the mud, organizers said on the event's website.
"Please do NOT drive at this time," they added. "We will update you on the driving ban after this weather front has left the area."
The remote area in northwest Nevada was hit with 2 to 3 months' worth of rain – up to 0.8 inches – in just 24 hours between Friday and Saturday morning. The heavy rainfall fell on dry desert grounds, whipping up thick, clay-like mud festivalgoers said was too difficult to walk or bike through.
A death at the festival that was confirmed by authorities on Saturday was "unrelated to the weather," Burning Man organizers said Sunday night.
Emergency personnel responded to a call for service regarding a 40-year-old man Friday but could not resuscitate him, organizers said, without providing further details.
The Pershing County Sheriff's Office earlier said it is investigating the death.
Playa is the term used to describe sunken dry lake beds in deserts where water evaporates rather than running off, and even a small amount of rain can quickly soak a large area.
The rainy conditions forecast over the area for Sunday afternoon had mostly passed to the east of the festival site, according to a social media post from organizers, though there is still a chance of showers and thunderstorms "for the rest of daylight hours" into the evening.
Event organizers announced earlier Sunday plans to burn the Man – the huge totem set on fire at the festival's culmination – on Sunday night if weather allowed.
However, the burn was rescheduled for Monday night "due to rain and muddy conditions Sunday, and an inability to move heavy equipment and fire safety onsite," organizers said.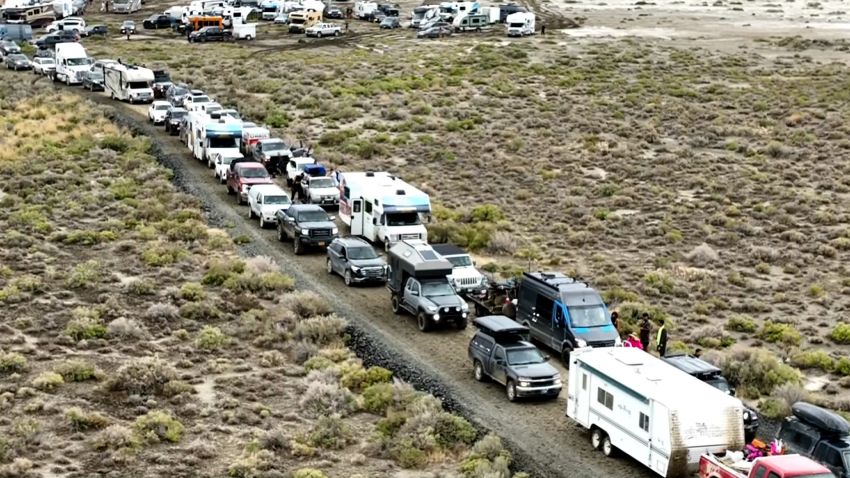 Drone video shows vehicles stranded and stuck at Burning Man
How long this could last
Authorities have not provided information on when roads could reopen, but the sunshine is expected to return Monday.