Cuba says it has uncovered a human trafficking network operating from Russia that is recruiting Cubans to fight for their longstanding ally in Moscow's war in Ukraine.
Cubans living in Russia and "even some in Cuba" had been trafficked and "incorporated into the military forces taking part in the war in Ukraine," the Cuban foreign ministry said Monday in a statement.
The ministry gave few details about the alleged trafficking operations, but said that authorities were working to "neutralize and dismantle" the network.
There were no reports of any arrests of people allegedly involved in the trafficking operation. In September, reports surfaced on social media of Cubans who said they were serving in Russia's armed forces but that they had been tricked into joining the war effort and mistreated when they refused to fight. CNN was not able to independently verify those allegations, and it is not clear how many Cubans may be fighting for Russia.
Cuba stressed in its statement that it "is not part of the war in Ukraine." The Kremlin has not commented on the allegations.
The report comes amid efforts by Russia to boost its forces in Ukraine, which have suffered heavy losses on the battlefield, and with the future of the mercenary Wagner Group in doubt.
Moscow announced a plan earlier this year to increase the strength of the Russian armed forces by 30% to 1.5 million servicemen. In July, the Russian state Duma voted to extend the military draft age to include citizens from 18 to 30 years old, up from 27.
For much of the conflict, the official Russian army has been bolstered by mercenaries contracted to Wagner. But after the death of the group's chief Yevgeny Prigozhin, who led his troops in an aborted mutiny against Moscow in June, it is unclear whether Russia will rely on Wagner forces to wage its war in Ukraine.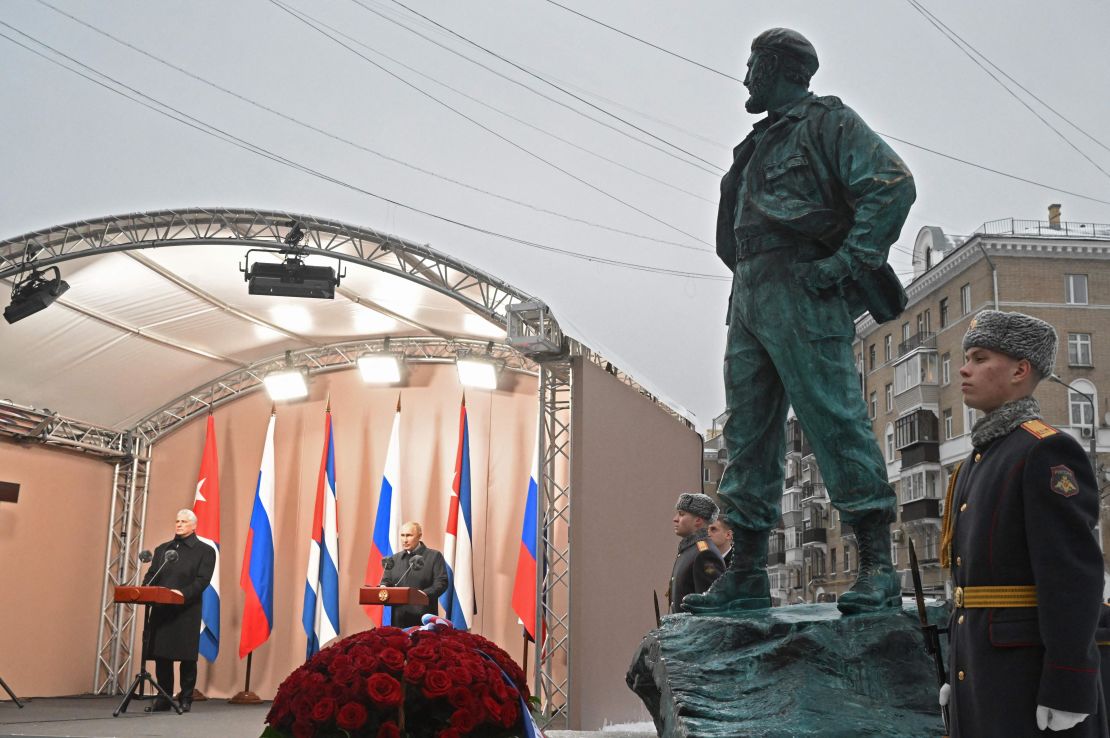 Cuba was a major ally of the Soviet Union during the Cold War, and relations between Havana and Moscow have remained cozy since Russia launched its full-scale invasion of Ukraine.
Cuba has been a staunch defender of Russia's war on the country, blaming the US and NATO for the conflict. As Cuba grapples with its worse economic crisis in decades, Russia has supplied the communist-run island with badly needed food and shipments of crude oil. Since the war began the two nations have signed a flurry of agreements promising increased Russian foreign investment in Cuba.
In a rare interview in May, Cuban President Miguel Diaz-Canel told Russian state-controlled network RT that Cuba condemned "the expansion of NATO towards Russia's borders," echoing one of the Kremlin's justifications for its brutal war.
Diaz-Canel visited Moscow in November last year to attend the unveiling of a statue of former Cuban leader Fidel Castro. Russian Foreign Minister Sergey Lavrov and Defense Minister Sergei Shoigu also traveled to Cuba on separate trips this year and hailed the relations between the two countries.
Russia exploiting 'desperate states'
There are historical precedents of Cubans fighting alongside and on behalf of Russia.
In several conflicts in Africa during the Cold War, "the deal was the Cubans would supply the soldiers, the Soviets would supply the weapons," Sergei Radchenko, a historian and professor at Johns Hopkins School of Advanced International Studies, told CNN.
Thousands of Cuban fighters intervened in support of communist forces in Angola in 1975, as well as in Ethiopia in 1977, alongside Soviet troops and using Soviet equipment.
"Having Cuban mercenaries – you might call them mercenaries, or at that time it was revolutionary fighters – is a longstanding precedent as far as Cuba and the Cuban-Russian relationship is concerned," said Radchenko. In Cuba, those military interventions – often fighting South African-trained mercenaries – are celebrated as having played a crucial role in ending apartheid in South Africa.
However, Radchenko said, the statement issued by Cuba's foreign ministry "sounds like something very different," due to the suggestion of coercion.
Christopher Sabatini, a senior fellow for Latin America at Chatham House, said he was not surprised that Russia is seeking Cuban mercenaries to wage its war.
"This is the typical Russian modus operandi of getting mercenaries to do their fighting for them – particularly in desperate states," Sabatini told CNN, adding that Cuba "is on the brink of a humanitarian disaster."
What was surprising, he said, was the reaction of the Cuban government, which suggests that Russia "touched a nerve."
"The Cuban government is fiercely loyal to its allies," Sabatini said. "That they would call this out is an indication that they truly feel humiliated and exploited by what is an ally taking advantage of their citizens – at a time of desperate need."
Russia has offered foreign fighters more than $2000 a month to fight in Ukraine, a fortune in Cuba where doctors do not earn that much in an entire year. Russia has also reportedly offered citizenship to foreigners willing to take up arms.
"It's particularly insulting, too, because the way you are rewarding these mercenaries is giving them a chance to flee their country," said Sabatini. "That hurts."
In May, the Russian regional newspaper Ryazan Vedomosti reported that Cuban immigrants living in Russia had joined the Russian army.
"Several citizens of the Republic of Cuba went to serve in the Russian army. According to them, the Cubans want to help our country carry out tasks in the zone of a special military operation, and some of them would like to become citizens of Russia in the future," said the article.
CNN's Alex Stambaugh contributed reporting.