The Biden administration has taken mixed positions on its policies involving Haiti – with one federal agency warning that the Caribbean country is too dangerous for US citizens, while another agency deports Haitians back to the violence-torn country.
Violence in Haiti during the second quarter of 2023 jumped almost 14% when compared to the previous quarter, according to a United Nations report released Thursday.
On August 30, the US Embassy in Haiti urged American citizens to leave the country due to the "current security situation." The next day, US Immigration and Customs Enforcement (ICE) deported an undisclosed number of individuals to Haiti.
With Haiti's capital Port-au-Prince largely controlled by gangs infamous for kidnapping and murder, experts warn that the deportations could amount to death sentences.
"This act puts lives in danger," Guerline Jozef, executive director of the Haitian Bridge Alliance, said in a statement. "We urgently call upon President Biden, Vice President Harris, Secretary Mayorkas, and the entire administration to cease all deportations to Haiti."
Waves of crime and unrest have hit Haiti since the assassination of former President Jovenel Moise in 2021. His successor, Prime Minister Ariel Henry, has struggled to staunch the violence. More than 1,860 victims of killings, injuries, and kidnappings were documented between April 24 and June 30, 2023, the UN report said.
Nevertheless, Haiti was among the top three destinations for charter flight deportations from the US during the 2022 fiscal year, with 125 flights conducted during that time, according to ICE's annual report.
In recent years, the US has deported more than 2,700 Haitians, with 895 deported in fiscal year 2020, 353 in fiscal year 2021 and 1,532 in fiscal year 2022, according to the same report.
Citing the Biden administration's expansion of legal pathways for Haitians, a White House National Security Council spokesperson told CNN in a statement that Haitians seeking to enter the United States are urged to do so legally.
The US Departments of State and of Homeland Security "monitor the situation on the ground and coordinate closely with international partners to ensure migrants can be safely returned to Haiti," the spokesperson also said.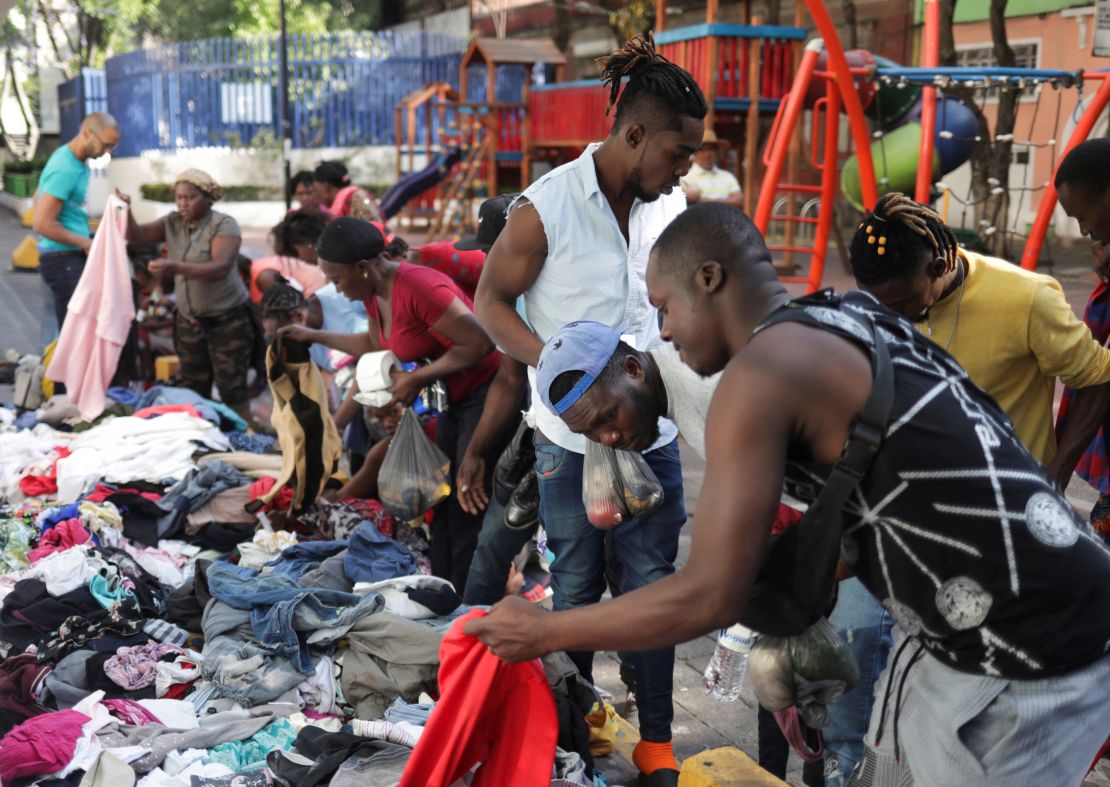 For months, Henry and the United Nations Secretary-General Antonio Guterres have called for a military intervention in the country. But Haiti's neighbors in the Western Hemisphere have quietly declined a leading role.
In late July, the government of Kenya offered to lead a "multi-national force" of 1,000 police officers to help train and assist Haitian police "restore normalcy" to the Caribbean nation – an idea that has been embraced by the US government.
"The United States commends the Government of Kenya for responding to Haiti's call and for considering to serve as the lead nation for a multinational force in Haiti to assist in addressing insecurity caused by gang violence," US Secretary of State Antony Blinken said in a statement in August.
Blinken added he looks forward to advancing the process of Kenya's involvement through a UN Security Council resolution authorizing a multinational force in Haiti.
During a White House news briefing Tuesday, national security adviser Jake Sullivan said he wouldn't go into the operational details but reiterated the US's commitment to "support a multinational force that is fundamentally a policing support mission, not a military mission, and one that is in support of the Haitian National Police, not taking over the sovereign policing capacities from the Haitian National Police."
Previous UN peacekeeping missions to Haiti have left a bitter legacy, and critics point out that Kenyan security forces' conduct has raised some rights concerns at home. In 2022, the US Department of State found Kenya had "significant human rights issues," including credible reports of "arbitrary killings," "extrajudicial killings," "forced disappearances," "torture," and cases of "cruel, inhuman or degrading treatment".
According to a White House National Security Council spokesperson, the US is "working closely with the Kenyan government to ensure that any prospective participants in this mission would be well prepared to bring greater security to the people of Haiti and would have a demonstrated commitment to respecting human rights."
"Additionally, we will work with partners including Kenya to monitor and investigate any allegations of human rights abuses once the mission is deployed," the spokesperson said.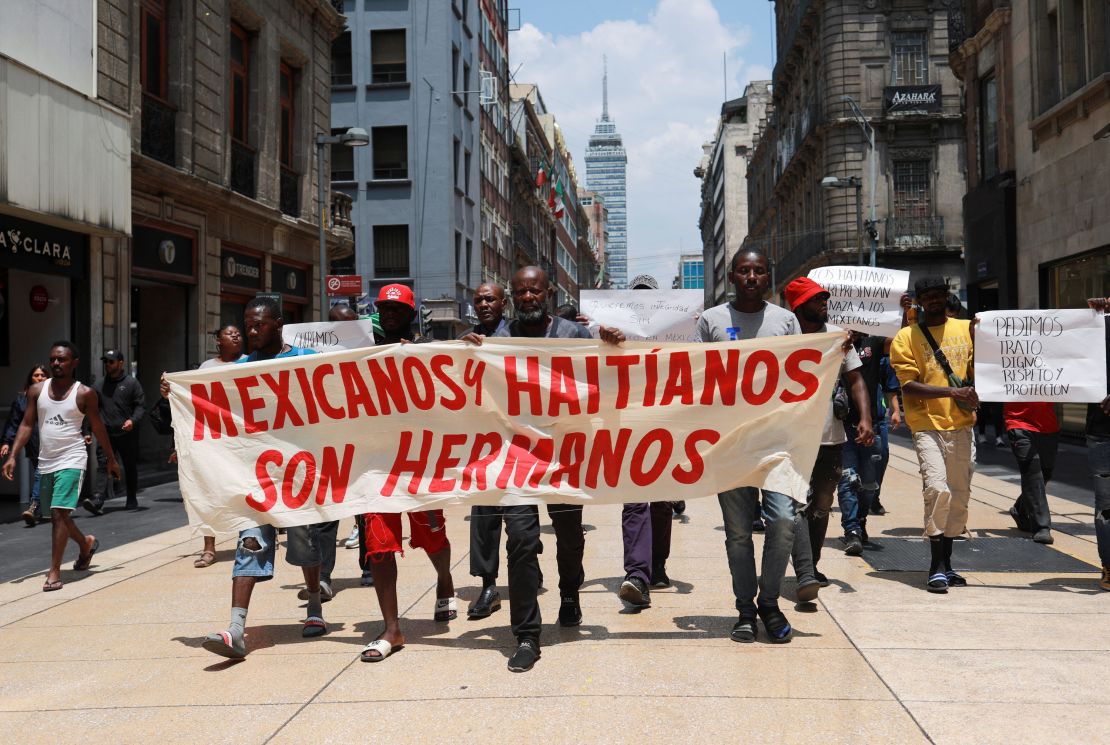 The UN Security Council is expected to consider the possibility of a Kenyan-led multinational deployment in the coming weeks.
In the meantime, as the United States creates new immigration programs and hardens its border enforcement policies – including increased deportations, among other tactics – Haitians fleeing the country appear to be looking for alternatives paths.
The Biden administration launched a parole program in January that allowed 30,000 people from Haiti, Venezuela, Nicaragua, and Cuba who pass vetting and had a US based financial supporter to enter the US legally every month. Haitians are the top nationality taking advantage of the program. Of the 181,000 people who have arrived legally from January to July, Haitians make up more than one third (over 60,000) of beneficiaries, CBP data shows.
Panamanian government data shows that since the beginning of the year, the number of Haitians transiting through the dangerous jungle between Panama and Colombia, known as the Darien Gap, has significantly dropped. This year Haitians have also become the top nationality seeking asylum in Mexico.
But many continue to take dangerous risks to reach US shores. From October 2022 to July 2023, more than 5,000 Haitians were interdicted at sea by the US Coast Guard.
Reporting contributed by CNN's Mohammed Tawfeeq and Caitlin Hu.