Three men on board an inflatable catamaran were pulled from the sea in the early hours of Wednesday after "several shark attacks" left their vessel partially sunken off the Australian northeastern coast.
Two Russians and one French national, ages 28 to 63, were on board the boat as it traveled from Vanuatu to the northeastern city of Cairns, the Australian Maritime Safety Authority (AMSA) said in a statement.
The 9-meter (30-foot) Russian-registered vessel appeared to run into trouble when sharks attacked its inflatable hulls.
"Both hulls of the vessel have been damaged following several shark attacks," AMSA said in the statement.
After receiving a distress call at 1:30 a.m. on Wednesday, AMSA requested the assistance of Panama-flagged vehicle carrier Dugong Ace, which carried out the rescue operation around 835 kilometers (520 miles) southeast of Cairns in the Coral Sea.
AMSA also deployed a rescue aircraft to the scene.
AMSA duty manager Joe Zeller said "a large section" of the vessel's hull was missing when it was found.
"There's many reasons that vessels are attacked by sharks. However, the motivations of these sharks is unclear," he said.
Zeller said the trip from Vanuatu to Cairns, a distance of more than 2,200 kilometers (1,400 miles), would normally take about two to three weeks, depending on weather conditions.
"The three males were very happy to be rescued and they are all healthy and well," Zeller said.
Night vision images posted on the authority's website showed the rear of the vessel submerged in the water.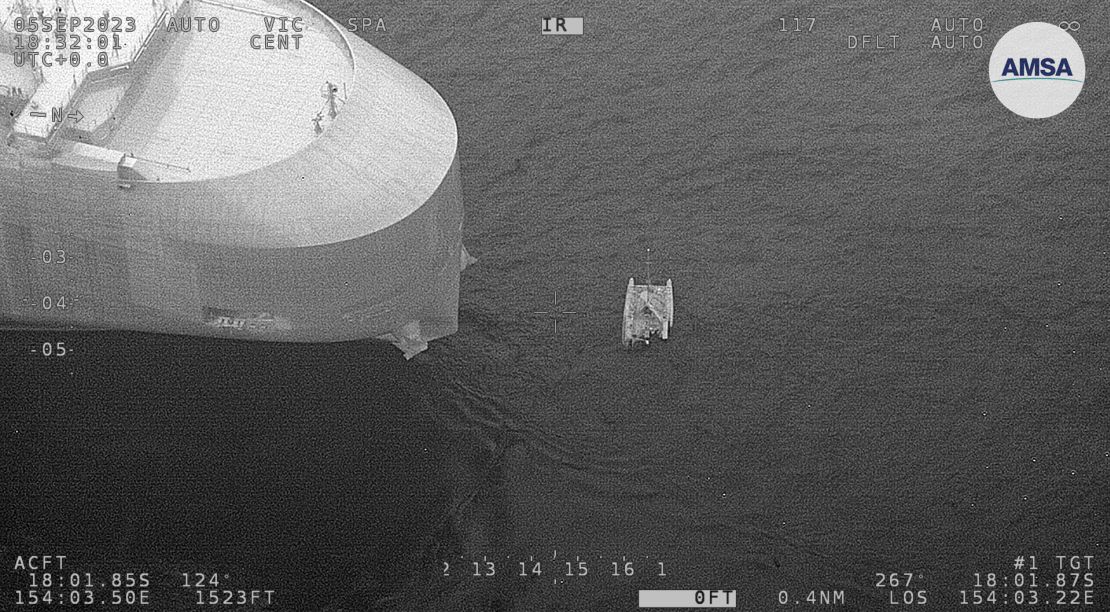 The men are expected to arrive in Brisbane on Thursday morning, AMSA said.