Rishi Sunak has just under a month to answer the most critical question he faces as British Prime Minister: why does his Conservative Party deserve another five years in power at the next election?
Next month, the governing Conservative Party's annual conference will take place in Manchester, England. It is in all likelihood the last such gathering before the next UK general election. Sunak could in theory hold out until after next year's conference before he calls a vote, but few think that is a good idea and most assume it will be held before next autumn.
The next few weeks, and his performance at the party conference, are critical to Sunak as they represent the last chance he has to set the agenda before the election, and his last chance to inspire party members to campaign for victory.
It's fair to say that the mood among Conservative Members of Parliament is currently pretty low. They trail the opposition Labour Party in the polls and there is a distinct stench of a party nearing the end of its time in office lingering in the air.
On a national level, whether it's a fair analysis or not, it often feels like very little is going right in the United Kingdom at moment.
Some students were told to stay home instead of heading back to school after the summer holidays because of safety fears over crumbling concrete used in some schools' walls and ceilings.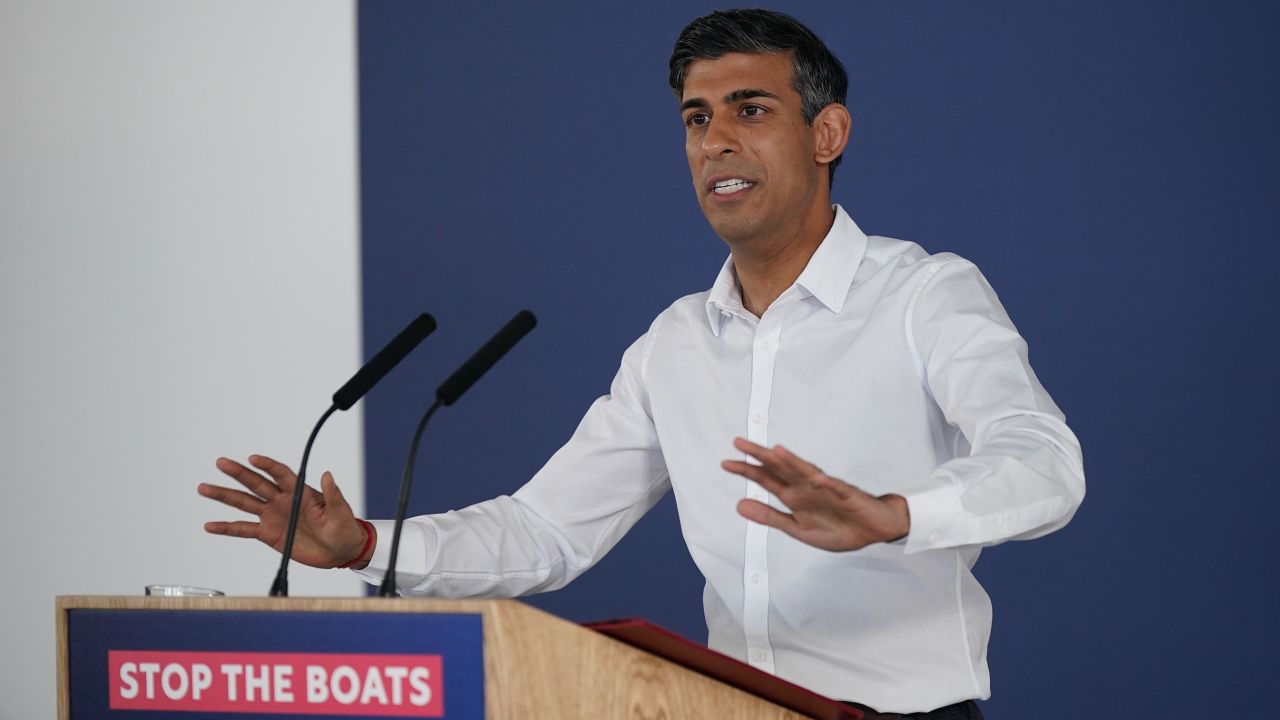 Police are continuing to hunt for an escaped terror suspect, prompting serious questions over the state of Britain's prison system.
Over a particularly rainy summer, there were numerous stories of sewage being dumped into rivers and the sea, and in some cases of people catching diseases from swimming in polluted water.
Then the council running Britain's second largest city, Birmingham, declared itself effectively bankrupt this week after it had to pay compensation to women who had historically been paid less than men for doing similar jobs.
The story highlighted how a number of local councils are seriously struggling with their finances. Fairly or not, many are blaming central government for not funding local governments sufficiently.
These are just some of the most recent examples of the problems facing the UK.
The government's flagship policy to curb illegal immigration has also failed so badly that, amid pressure on accommodation for those arriving, asylum seekers were moved to a retrofitted barge this summer. Days later, in a major embarrassment for the government, they had to be taken off again following the detection of Legionella bacteria in the water.
Meanwhile, inflation has made more or less everything in the UK more expensive. The government's refusal to award pay rises in line with inflation has led public sector workers, including doctors, to strike. The cost of mortgages and rents are skyrocketing for millions.
All of this comes at the end of a torrid few years for the country, which has stumbled from botched Brexit negotiations to a global pandemic to scandals felling two prime ministers in quick succession, wrecking the Conservative Party's reputation with many voters.
Sunak undoubtedly inherited a total mess when he took the helm last October.
How do Sunak and his party make the argument that it's not time for a change after 13 years in power? Unfortunately for the prime minister, his own MPs are divided on even that question.
The moderates in the party who support Sunak say that he needs to point to his own record, particularly during the pandemic. As the UK's finance minister, Sunak won praise for the financial support he offered people who could not work during lockdowns. He offered businesses financial support that stopped many from closing.
"He needs to make the positive case that when the worst crisis hit this country, he was able to guide the country through it," says one supportive MP. "There are national and international forces making things tough for people, but he has a track record of making them better."
While there are many across the political spectrum who might disagree with that statement, and some of Sunak's policies as chancellor have been heavily criticized, electoral politics are often about putting forward a case rather than getting bogged down in details.
Some older Conservatives on the right of the party say that Sunak is not doing enough to attack his opposite number, the Labour Party's Keir Starmer.
"All the polls show is that people are sick of us, not excited by Labour," says one veteran Conservative, arguing that Starmer is winning by default at the moment, as Sunak is not forcing Labour to state its case on any touchstone issues.
"We need to define Labour before they define themselves… drag them onto the battlefield over things like net zero, make them take a strong position, then ask them how they will pay for it, just as an example. We have to show ordinary people that they (Labour) are a threat and the only way to do that is through the dynamic of a fight."
The veteran went on to identify migration and other culture war issues as areas in which the Conservatives could pick fights with Labour. "We are behind in the polls and we need to do something drastic to get our voters out because Labour is dangerous."
Another senior backbencher agrees that making Labour look dangerous and presenting traditional Conservatism as the only answer to the UK's long-term woes is the only path to victory.
"They still hit us over our austerity program from 2010. What they call austerity, we call balancing the books. Covid, unfairly, meant we have huge national debt again. Vote Labour, and kiss goodbye to ever balancing the books," the backbencher says.
Some fear that picking fights to define Labour or painting the party as dangerous isn't drastic enough and that the Conservatives should completely reimagine their worldview.
"We should have had a complete policy reset," says another veteran MP on the right of the party.
"We should just build houses for young people, even if it means state appropriation of land. We should cut tuition fees and offer grants for science subjects. And we should give doctors what they want, compete with the private sector," the MP adds.
When CNN suggested that some of these ideas might sound to some like traditional socialist ideas, the MP said: "Yes, well, first to the finish line wins. That's where we are."
Finally, there are some who think, absent of an economic miracle, the next election is a forgone conclusion. "The only message is you can't trust Labour or Starmer," a senior Conservative figure said, without much optimism.
Even for the few optimists who think Labour can still be attacked, there are counterpoints that cannot be ignored. However, the general sense of despair at the state of the country is the strongest argument for a change of government, says Rob Ford, professor of politics at the University of Manchester.
"If you're presiding over crumbling schools, sewage in rivers, (high-profile) prisoners walking free, it's hard to credibly claim the risks lie with the other guys," Ford said.
Sunak took control of the country at one of the worst times in history to become a new PM. Supporters can point to real victories in bringing stability to so many of the biggest areas in British politics.
But it might be the case that the mountain he must climb is simply too high. And for the Conservative Party, which has been in power since 2010, it might be the case that the public thinks it's time that someone else has a go. And there's not much any politician, however talented, can do to fight the seemingly inevitable.