On Sunday afternoon, North Korean leader Kim Jong Un stepped onto an old-fashioned green train that has by now become an enduring symbol of the hermit nation's isolation and secrecy.
Images released by North Korean state media KCNA show Kim boarding his private train as he prepared to travel to Russia for an expected meeting with his Russian counterpart Vladimir Putin, amid warnings by the United States that an arms deal could be on the table.
It's not clear when or where this expected meeting will take place. But Russian state media reported Tuesday that Kim's train had arrived in the country, and was currently traveling north through Russia's far east region.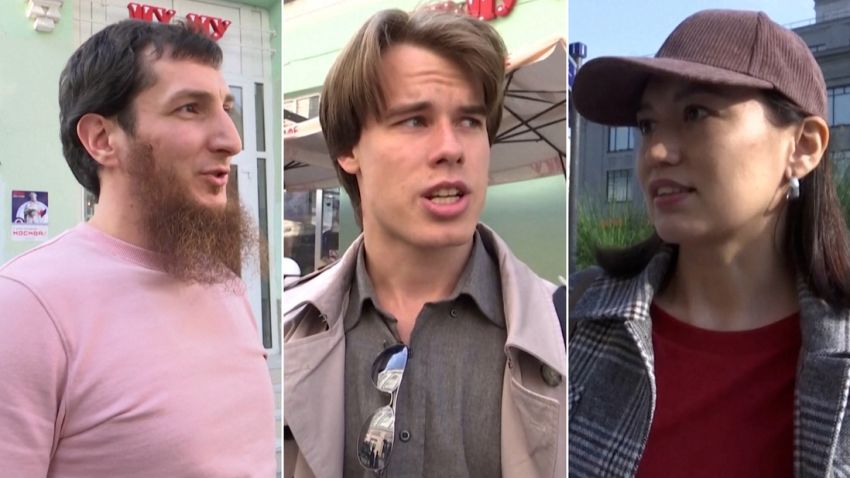 Hear what people in Russia think about Kim Jong Un's visit
Photos of Kim's departure from Pyongyang show a train station with a long red carpet rolled out for the leader, lined with uniformed officials and soldiers standing at attention. Several officials bow and shake Kim's hand. In the background, women in dresses and traditional clothing can be seen cheering and waving the North Korean flag.
Among the officials photographed appear to be North Korea's Foreign Minister Choe Sun Hui and Ri Pyong Chol, vice chairman of the Central Military Commission of the ruling Workers' Party.
At one point, Kim and his entourage stand at the train entrance, waving to the crowd – offering a glimpse into the heavily armored, slow-moving locomotive, with polished wooden floors and an ornately decorated white doorway.
The string of dark green carriages, with yellow stripes running down the side, match the look of the train used both by his grandfather, Kim Il Sung, and his father, Kim Jong Il, who reportedly threw lavish dinners aboard.
Armored train of luxury
The train has long been the subject of intrigue, carrying generations of the Kim family across the country and on rare overseas trips.
Kim Jong Il, who was reportedly averse to flying, relied heavily on the train, according to Reuters – in contrast to his son Kim Jong Un, who has previously traveled by luxurious private jet, and who studied in Switzerland in the 1990s.
The same train – green with yellow striping – was seen in footage from Russian state media when Kim Jong Il visited Russia in 2002. At the time, international sanctions on North Korea had relaxed, allowing a brief period of greater engagement with the outside world.
Memoirs by the former Russian official Konstantin Pulikovsky, drawing from a report by a Russian Foreign Ministry note-taker on board the train in 2001 during Kim Jong Il's one-month ride across Russia, paint a picture of luxury. Pulikovsky claimed the train was conducted by beautiful women and loaded with extravagant dishes and wine, according to a 2002 New York Times article.
"It was possible to order any dish of Russian, Chinese, Korean, Japanese and French cuisine," Pulikovsky wrote, according to the Times. Live lobsters were taken to train stations along the route, and cases of Bordeaux and Burgundy red wines were reportedly delivered, Pulikovsky wrote.
CNN could not independently verify The New York Times account.
Other reports over the years by South Korean media have highlighted the train's security features. According to a 2009 report in South Korean newspaper Chosun Ilbo, the train is so heavily armored that it travels at an average speed of 60 kilometers an hour (about 37 miles mph).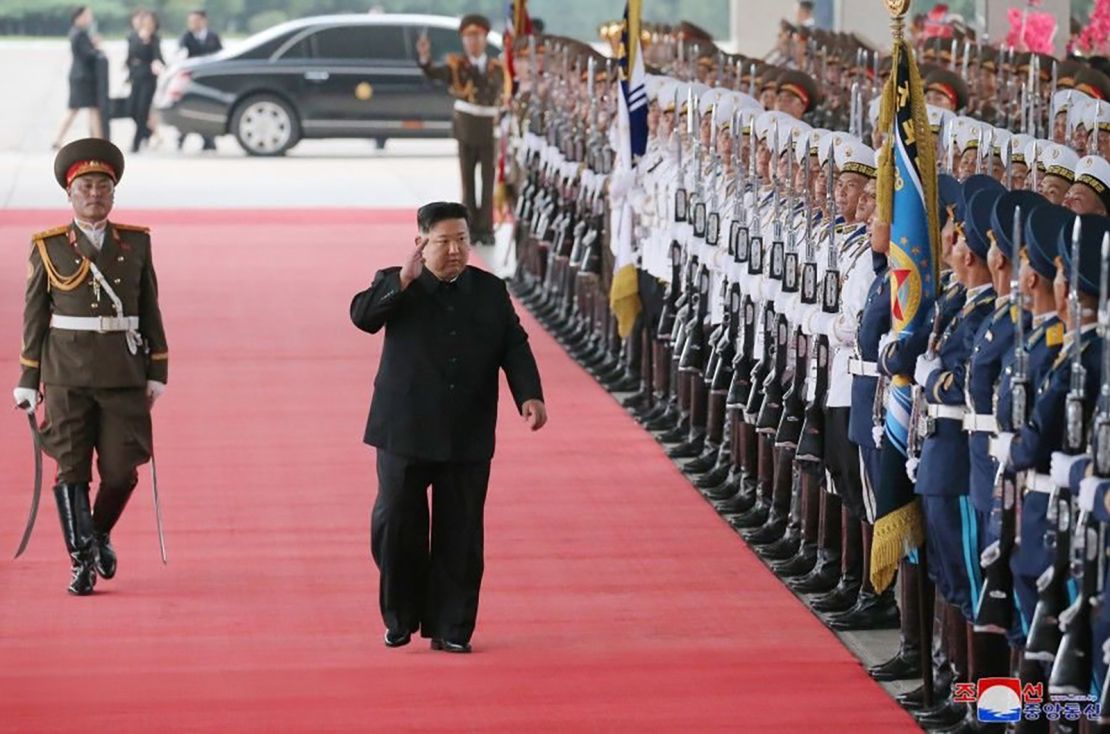 It contained conference rooms, an audience chamber and bedrooms and featured satellite phone connections and flat screen televisions, the paper reported at the time.
"Before Kim's train nears the station, the power on other tracks is shut off so that no other trains can move," the paper reported.
Kim Jong Un on board
The North Korea of today is a far cry from that era at the start of the millennium when Pulikovsky's reports of largesse and luxuries on board the train were made.
International sanctions clamped down again in 2003 after North Korea continued its nuclear weapons program and withdrew from the Nuclear Non-Proliferation Treaty. Information from inside the country slowed to a trickle, even more so in recent years under Kim Jong Un's rule.
An already reclusive and isolated state, North Korea shut its borders throughout the coronavirus pandemic and reports from earlier this year suggested the population who are not part of the political elite in Pyongyang were facing chronic food shortages.
Even before the Covid pandemic, nearly half of the North Korean population was undernourished, according to the UN Food and Agriculture Organization.
Still, the train has made several appearances since Kim took power in 2011, highlighting North Korea's relationships with Russia and China – the country's only real ally internationally.
Kim rode the train to Beijing in 2018, marking his first foreign trip since assuming power, where he met Chinese counterpart Xi Jinping and other high-level officials. Footage released by KCNA showed Kim and a number of Chinese officials on board the train, sitting in two rows of pink couches on either side of the carriage.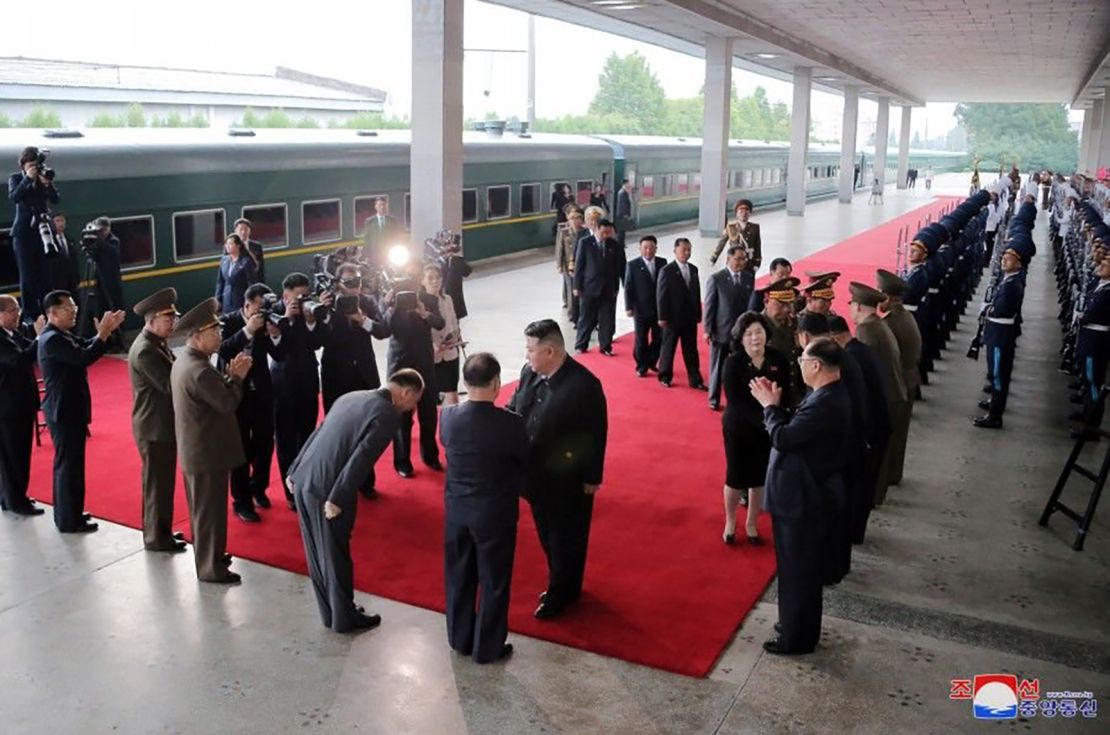 Kim made another train trip to Beijing in January 2019, then the following month, he took the train to Vietnam to meet then-US President Donald Trump in the capital Hanoi. But that summit fizzled out, with no deal struck or concrete progress in pushing for denuclearization.
In April 2019, Kim took the train to Vladivostok to meet Putin for the first time – where he accused the US of acting in "bad faith" at the Hanoi summit. Photos from the trip show North Korean workers at the Vladivostok station, wiping down the exterior of the train.
More recently in 2022, footage released by North Korean state media shows Kim working in his office on board the train, with blue curtains in the background and teal chairs surrounding a white table.
State media also aired a documentary showing rare glimpses of Kim in a more relaxed state – sitting in his office on the train in a short-sleeved white shirt, smoking a cigarette while talking to officials, according to South Korean news agency Yonhap. A laptop and computer monitor can be seen in the corner.