Nearly 3,000 people are dead, towns and villages are decimated and rescuers are trawling for survivors after a massive earthquake ripped through Morocco.
The quake is the worst the country has suffered in decades and the full scale of its damage is yet to be understood. It struck late on Friday night south of the bustling city of Marrakech, and was felt as far north as Casablanca, but its most devastating impact came in the isolated regions at the foothills of the Atlas Mountains.
Thousands are injured or unaccounted for, and rescuers have spent days desperately trying to reach more remote affected areas.
Morocco's rich treasury of centuries-old buildings, mosques and relics was also dealt a ruinous blow by the quake.
Friday's disaster is the deadliest quake to hit Morocco in more than 60 years, according to EM-DAT, an international disaster database. It is also the strongest in magnitude on its land territory in more than a century.
While casualties are still being updated, it has already become the second deadliest earthquake in North Africa since at least 1900, EM-DAT data shows.
In 1960, a 5.8 magnitude quake in Morocco with an epicenter in Adagir led to at least 12,000 deaths and 25,000 injuries. And in 1980, a 7.1 magnitude ground movement in Algeria followed by a tsunami caused more than 2,600 deaths and huge damage.
Countless historic sites were destroyed, damaged or threatened by the quake. Some dated back to the days of the North African Almohad Caliphate that made Marrakech its capital. Structures that had stood since then were among those lost or crippled by the earthquake.
Marrakech's crown jewel, the famous Kutubiyya Mosque, shook violently during the quake. But the 12th century structure and its 77-meter minaret remained standing through the weekend.
The Kharbouch Mosque, a small place of worship on a corner of the sprawling Jemaa el-Fna square, was almost entirely destroyed. Its minaret collapsed, leaving just a stump of bricks amid rubble.
The 900-year-old Walls of Marrakech were battered by the quake, leaving visible cracks and crumbling portions. The imposing, rose-colored fortifications stretch for several miles around the historic Medina district.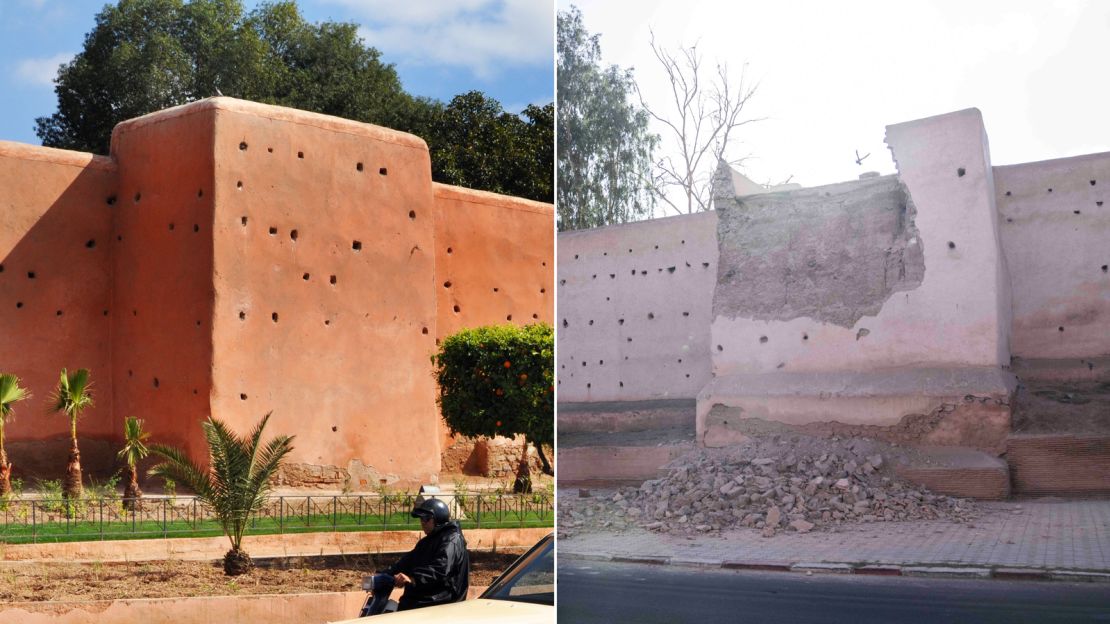 Perched above a village of the same name, the Tinmal Mosque is a leading example of 12th century Almohad architecture. It boasted intricate brickwork, archways and carved motifs. The building was severely damaged, its walls and edifice lying in ruins. More than 2,600 people have been killed and 2,500 injured, according to state media Monday. Authorities warn the death toll is still expected to rise.