China on Tuesday unveiled a plan to deepen integration between the coastal province of Fujian and self-governing Taiwan, touting the benefits of closer cross-strait cooperation while sending warships around the island in a show of military might.
The directive, issued jointly by the Chinese Communist Party's Central Committee and the State Council, vows to make Fujian a "demonstration zone" for integrated development with Taiwan, and the "first home" for Taiwanese residents and businesses to settle in China.
The document, hailed as a "blueprint" of Taiwan's future development by Chinese experts cited in state media, comes at a delicate moment in cross-strait relations as Taiwan gears up for its presidential election in January.
It also comes as China continues to ramp up military pressure on Taiwan, a vibrant democracy of 24 million people that Beijing's ruling Communist Party claims as its territory — despite never having controlled it.
Ahead of Beijing's release of its integration plan, a Chinese aircraft carrier and around two dozen Chinese warships were spotted gathering in waters near Taiwan this week, according to Taiwanese authorities.
China has long taken a carrot and stick approach to Taiwan, threatening it with the prospect of military invasion while offering opportunities for business and cultural exchanges to those it believes are more amenable to Beijing's point of view.
Given the extent to which cross-strait ties have frayed in recent years, it remains unclear how receptive those in Taiwan will be to China's sweeping proposal.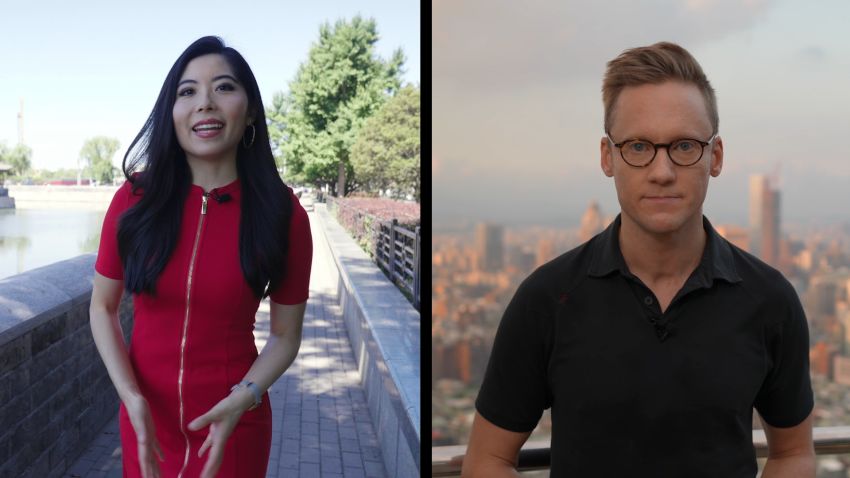 CNN reporters explain one of the most contentious issues of US-China relations (2022)
On Wednesday, Wang Ting-yu, a Taiwanese lawmaker from the ruling Democratic Progressive Party, said the integration plan was "ridiculous."
"China should think about how it can take care of its bad debts, but not how it can conduct united front work against Taiwan," Wang said in a video message, referring to government-affiliated efforts to advance Beijing's goals overseas.
Beijing touted the plan in a dedicated press conference Thursday, where officials noted that leader Xi Jinping and China's Communist Party leadership "attach great importance to the unique role of Fujian in the overall strategy on Taiwan."
"We will … support the construction of (the demonstration zone) as a major initiative to deepen cross-strait integrated development and consolidate the foundation for peaceful reunification," Vice Director of the State Council Taiwan Affairs Office Pan Xianzhang said.
The concept of turning Fujian into a zone for integrated development with Taiwan first appeared in China's official document in 2021, but it did not provide any details at the time.
In June, when a senior Chinese leader raised the integration plan at a forum, Taiwan's Mainland Affairs Council called the proposal "meaningless" and "futile," saying it was not in line with Taiwan's public expectations and "belittles" Taiwan.
CNN has reached out to Taiwan's Mainland Affairs Council for comment.
In the directive, Beijing vows to improve the environment for Taiwanese firms to do businesses in Fujian, deepen industrial and capital cooperation, and encourage Taiwanese companies to list on Chinese stock exchanges.
In a first, Taiwanese companies will be allowed to invest in and set up radio and television production companies in Fujian in a pilot program.
The directive also seeks to attract Taiwanese workers and families to settle in Fujian. It vows to enhance social welfare programs to make it easier for Taiwanese people to live and work in the province – including buying property, and promises equal treatment for Taiwan's students to enroll in public schools.
Chinese observers noted "the document is equivalent to outlining the future development blueprint of Taiwan island, which is expected to gain a broader driving force and development prospect by integrating with Fujian," the state-run Global Times said.
Fujian, a province of 40 million people on the western side of the Taiwan Strait, is the closest to Taiwan both geographically and culturally.
Many Taiwanese are descendants of Fujian immigrants who arrived in waves over the centuries, bringing with them the dialect, customs and religion that formed the backbone of the traditional culture among Taiwan's majority Han population.
China's ruling Communist Party has long attempted to use the geographic, historic and cultural proximity between Fujian and Taiwan as an argument for closer economic and social integration – and eventual unification – with the island.
A particular focus of Beijing's integration efforts falls on Taiwan's outlying islands of Kinmen and Matsu, which are located much closer to Fujian than Taiwan and have shared the strongest ties with the mainland historically.
In Tuesday's directive, Beijing pledges to further speed up integration between the city of Xiamen and Kinmen – which are only a few miles apart.
It vows to explore cooperation on infrastructure projects between the two cities, which will allow electricity and gas to be transported from Xiamen to Kinmen, and to connect the two cities with a bridge. Kinmen residents will also be able to enjoy the same treatment as local residents in Xiamen, according to the plan.
Similar integration measures are also laid out for the city of Fuzhou and Matsu.
To some residents of Kinmen, the plans to promote greater connectivity may be appealing. This year, a cross-party alliance of eight local councilors in Kinmen proposed to build a bridge to Xiamen to boost economic ties, as part of a wider proposal to turn Kinmen into a demilitarized zone, or so-called "peace island."
Sitting on the front line between Taiwan and China, Kinmen had faced numerous amphibious assaults and shelling by the Chinese military in the years following the Chinese civil war.
The councilors' proposal envisages removing all of Taiwan's troops and military installations from the islands and turning Kinmen into a setting for Beijing-Taipei talks aimed at "de-escalating tensions."
CNN's Wayne Chang and Mengchen Zhang contributed to this story.