Coming out of a three-hour Senate hearing on artificial intelligence, Elon Musk, the head of a handful of tech companies, summarized the grave risks of AI.
"There's some chance – above zero – that AI will kill us all. I think it's low but there's some chance," Musk told reporters. "The consequences of getting AI wrong are severe."
But he also said the meeting "may go down in history as being very important for the future of civilization."
The session organized by Senate Majority Leader Chuck Schumer brought high-profile tech CEOs, civil society leaders and more than 60 senators together. The first of nine sessions aims to develop consensus as the Senate prepares to draft legislation to regulate the fast-moving artificial intelligence industry. The group included CEOs of Meta, Google, OpenAI, Nvidia and IBM.
All the attendees raised their hands — indicating "yes" — when asked whether the federal government should oversee AI, Schumer told reporters Wednesday afternoon. But consensus on what that role should be and specifics on legislation remained elusive, according to attendees. 
Benefits and risks
Bill Gates spoke of AI's potential to feed the hungry and one unnamed attendee called for spending tens of billions on "transformational innovation" that could unlock AI's benefits, Schumer said.
The challenge for Congress is to promote those benefits while mitigating the societal risks of AI, which include the potential for technology-based discrimination, threats to national security and even, as X owner Musk said, "civilizational risk."
"You want to be able to maximize the benefits and minimize the harm," said Schumer, who organized the first of nine sessions. "And that will be our difficult job."
Senators emerging from the meeting said they heard a broad range of perspectives, with representatives from labor unions raising the issue of job displacement and civil rights leaders highlighting the need for an inclusive legislative process that provides the least powerful in society a voice.
Most agreed that AI could not be left to its own devices, said Washington Democratic Sen. Maria Cantwell.
"I thought Satya Nadella from Microsoft said it best: 'When it comes to AI, we shouldn't be thinking about autopilot. You need to have copilots.' So who's going to be watching this activity and making sure that it's done correctly?"
Other areas of agreement reflected traditional tech industry priorities, such as increasing federal investment in research and development as well as promoting skilled immigration and education, Cantwell added.
But there was a noticeable lack of engagement on some of the harder questions, she said, particularly on whether a new federal agency is needed to regulate AI.
"There was no discussion of that," she said, though several in the meeting raised the possibility of assigning some greater oversight responsibilities to the National Institute of Standards and Technology, a Commerce Department agency.
Musk told journalists after the event that he thinks a standalone agency to regulate AI is likely at some point.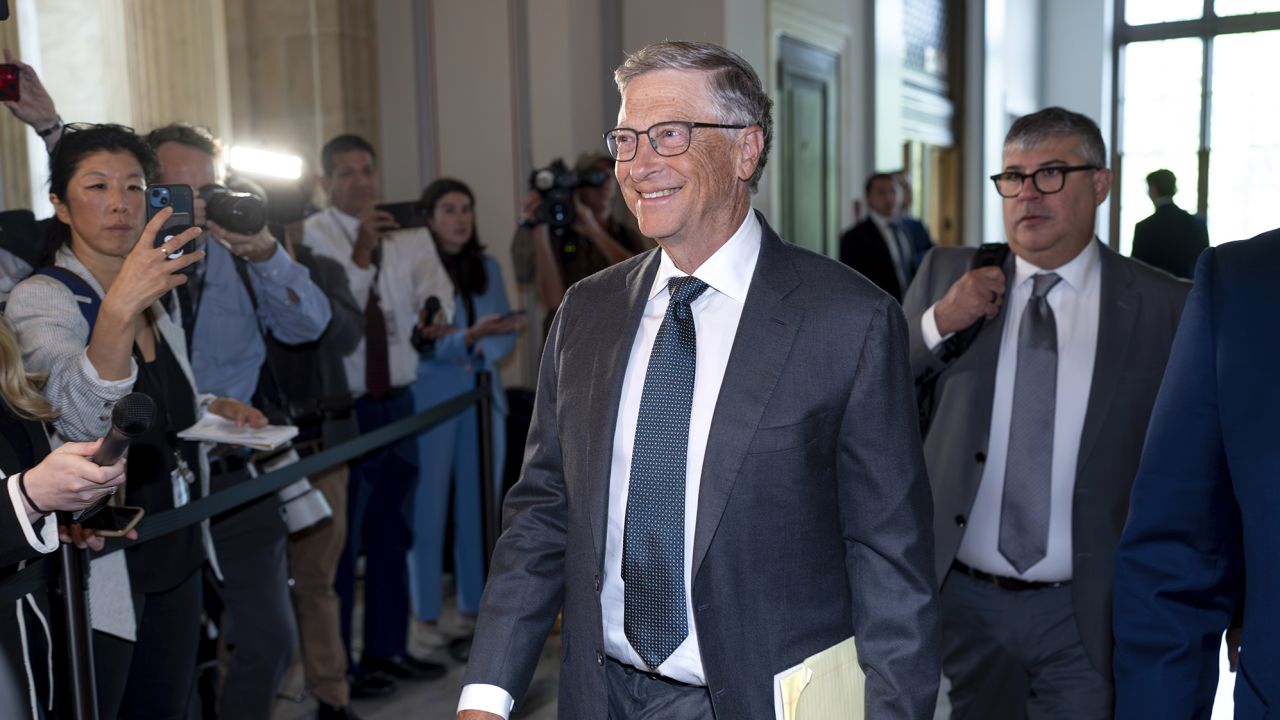 A meeting of minds?
"With AI we can't be like ostriches sticking our heads in the sand," Schumer said, according to prepared remarks acquired by CNN. He also noted this is "a conversation never before seen in Congress."
The push reflects policymakers' growing awareness of how artificial intelligence, and particularly the type of generative AI popularized by tools such as ChatGPT, could potentially disrupt business and everyday life in numerous ways — ranging from increasing commercial productivity to threatening jobs, national security and intellectual property.
The high-profile guests trickled in shortly before 10 a.m., with Meta CEO Mark Zuckerberg pausing to chat with Nvidia CEO Jensen Huang outside the Senate Russell office building's Kennedy Caucus Room. Google CEO Sundar Pichai was seen huddling with Delaware Democratic Sen. Chris Coons, while X owner Musk quickly swept by a mass of cameras with a quick wave to the crowd. Inside, Musk was seated at the opposite end of the room from Zuckerberg, in what is likely the first time that the two men have shared a room since they began challenging each other to a cage fight months ago.
The session at the US Capitol in Washington also gave the tech industry its most significant opportunity yet to influence how lawmakers design the rules that could govern AI.
Some companies, including Google, IBM, Microsoft and OpenAI, have already offered their own in-depth proposals in white papers and blog posts that describe layers of oversight, testing and transparency.
IBM's CEO, Arvind Krishna, argued in the meeting that US policy should regulate risky uses of AI, as opposed to just the algorithms themselves.
"Regulation must account for the context in which AI is deployed," he said, according to his prepared remarks.
Call for regulation
Executives such as OpenAI CEO Sam Altman previously wowed some senators by publicly calling for new rules early in the industry's lifecycle, which some lawmakers see as a welcome contrast to the social media industry that has resisted regulation.