Ukraine has ramped up missile and drone strikes on occupied Crimea in recent weeks, as it attempts to land both strategic and symbolic blows against Russian forces that annexed the peninsula in 2014.
Kyiv launched an extensive assault on a Russian naval base in Sevastopol early Wednesday morning – damaging a ship and a submarine, and injuring 24 people – in what was its most ambitious strike on the port since the Moscow's full-scale invasion started in February 2022.
The next night, Russian air defenses shot down 11 Ukrainian drones over Crimea, according to the Russian Ministry of Defense. The ministry also said five Ukrainian underwater drones, or "uncrewed boats," were destroyed in an attempted attack in the Black Sea on Thursday.
Local officials were also forced to close the Kerch Bridge, which links the peninsula to the Russian mainland.
While Kyiv's leaders have long insisted they remain intent on reclaiming all territories occupied by Russia – including Crimea – the sharply increased focus on the peninsula has been met with some skepticism from its allies, as Ukraine's counteroffensive struggles to build momentum on the frontlines.
Strategic blows
Ukraine insists that the strikes on Crimea, which have targeted Russian naval bases and vessels, are an integral part of their counteroffensive strategy, intended to try to isolate the peninsula and make it more difficult for Russia to sustain its military operations on the Ukrainian mainland, a Ukrainian source familiar with the strategy told CNN.
The shift in focus to Crimea occurred after Russia allowed the Black Sea Grain Initiative to lapse in July. Russia's Black Sea Fleet has since resumed its blockade of Ukraine's ports, preventing vital grain exports and threatening global food security.
The fleet has also been used to strike Ukrainian territory from the sea – particularly in its heavy and prolonged bombardment of Ukrainian grain storage facilities and port infrastructure in Odesa.
By launching its own strikes on Russia's warships in the Black Sea and naval bases in Sevastopol, Ukraine has sought to limit the Russian navy's operational potential.
Symbolic value
Yet the strikes on Crimea also have huge symbolic value and are intended to damage Russian President Vladimir Putin's prestige. The Kremlin leader has made it clear that he intends to "reunite" Russia and Ukraine, which he sees as one country.
The Kerch Bridge is a physical expression of this objective. Putin ordered the construction of the 12-mile crossing – the longest in Europe – at a cost of around $3.7 billion. The day it opened in 2018, Putin led a convoy over the bridge in a triumphant display of Russian patriotism.
Many Ukrainians have long reviled the bridge, which it has twice successfully targeted since Russia launched its full-scale invasion. On October 8 last year, the day after Putin turned 70, the bridge was attacked when a fuel tanker exploded and damaged a large section of the road.
Ukrainian officials responded to the attack by posting a video of the burning bridge alongside a video of Marilyn Monroe singing "Happy Birthday, Mr. President."
The crossing was successfully struck for a second time this July. CNN obtained exclusive footage from Ukrainian security services showing the moment they used an experimental sea drone to damage the bridge. The head of the Ukrainian security service, Vasyl Maliuk, told CNN the drone used, called a "Sea Baby," was the brainchild of months of development that began just after the invasion.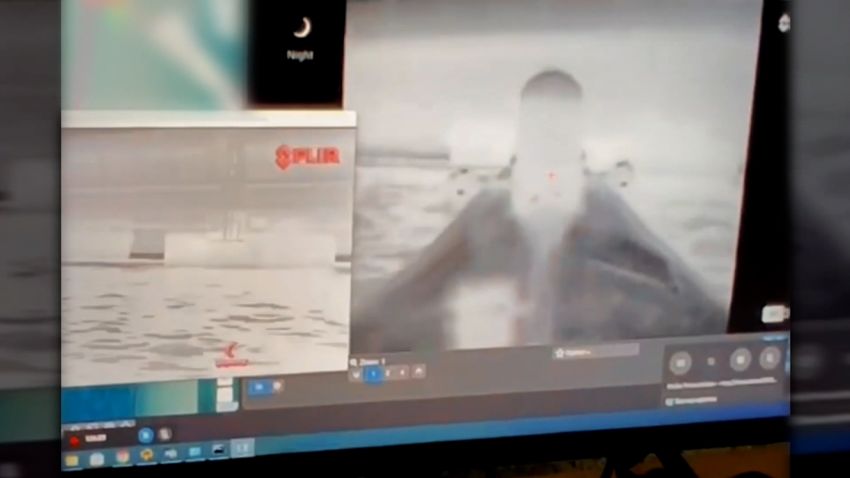 Exclusive: See Ukraine use experimental drone to attack Russian bridge
"Sea surface drones are a unique invention of the Security Service of Ukraine," he said. "None of the private companies are involved. Using these drones we have recently conducted a successful hit of the Crimean bridge," he said, as well as a Russian warship that was struck in the Black Sea off the coast of Novorossiysk, one of Russia's largest ports.
As well as developing its own weapons, Ukraine reportedly made use of those provided by its allies to launch its strike on the Sevastopol shipyard Wednesday.
A prominent Russia military blogger, Rybar, claimed that Ukraine's Air Force launched 10 Storm Shadow missiles at the facility. The Storm Shadow, jointly developed by the United Kingdom and France, is a cruise missile with stealth capabilities, and among the longest-range weapons in Kyiv's arsenal. Ukraine does not confirm the type of weapons it uses.
Previous reporting from CNN's Nick Paton Walsh, Victoria Butenko, Florence Davey-Attlee, Tim Lister, Katie Bo Lillis, Natasha Bertrand and Ivana Kottasová.