Like it or not, the soccer transfer window has become the busiest, most hectic moment in the sport's calendar.
With infinite twists and turns, unlimited updates on social media and more money being spent than ever, it's hard not to be engulfed by the endless stream of rumors. Yet, unusually, there is one transfer story that has consistently dominated global headlines for years.
This, of course, is Kylian Mbappé's much discussed, potential move from Paris Saint-Germain (PSG) to Real Madrid. And once again, when a transfer was seemingly likely, French football managed to keep hold of its crown jewel – for at least one more year anyway.
The history of a Madrid dalliance
Ever since Mbappé made the move from his first club AS Monaco to PSG, speculation has mounted about the path his career would take, with one club continually circling around the phenom.
The forward has constantly added fuel to this fire, flirting with Los Blancos year after year.
The first time Real Madrid came calling for the boy from Bondy was when the forward was just 13 years old. Word had gotten around to French football icon, Real Madrid legend and, at the time, Los Merengues sporting director Zinedine Zidane about the talented teenager and he was keen to take a closer look.
"My father received a call from someone at Real Madrid, inviting me to come to Spain for a training session over the holiday break," Mbappé told The Players' Tribune. "It was a shock because they actually told my father, 'Zidane would like to see your son.'"
In his comic book, 'Je m'appelle Kylian,' Mbappé references this meeting and his dreams of one day playing in the famed white shirt of Real Madrid.
Following this meeting, Mbappé's relationship with the 14-time European Cup winner was put on hold until talk of a mega money move came into play years later – Mbappé even admitted to asking for a move from PSG to the Spanish capital in 2021.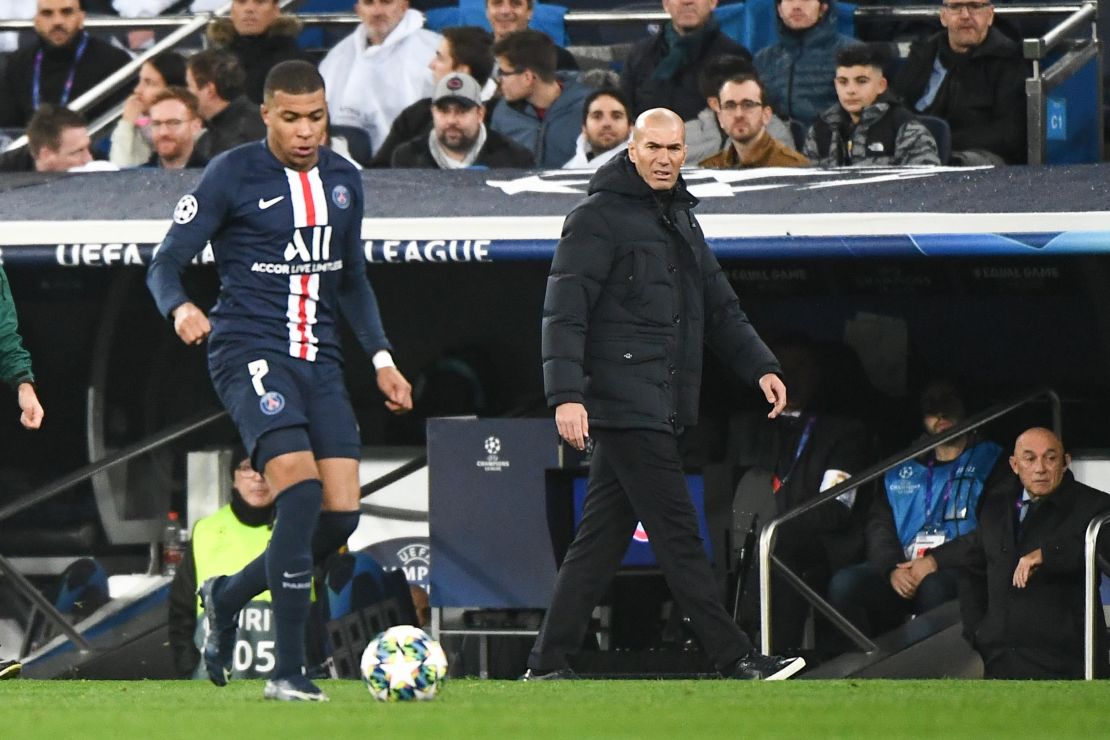 'He symbolizes excellence'
The electric attacker's performances for the French national team and in Paris have only helped to make the interest from Madrid stronger. Despite his tender age, Mbappé is PSG's all-time record goalscorer with a staggering 219 goals and counting.
While in the French capital, Mbappé has also won five league titles in six years, as well as countless other domestic trophies. Yet after falling at the final hurdle in 2020, a Champions League trophy still eludes the PSG No. 7, a competition Los Blancos have won numerous times in recent years.
More importantly for French fans, his dynamic, dominant play helped lead the national team its second World Cup, starring as France's standout player at the 2018 World Cup despite being just 19 years old.
While any potential move the 24-year-old makes to Madrid would impact both teams off the pitch, such is the star's status that discussions even spread to the Élysée Palace and the President of France, Emmanuel Macron.
The France forward was heavily rumored to be setting off to Spain in the summer of 2022 and, seemingly as a last resort, Macron urged France's biggest star to stay put.
"I never imagined I'm gonna talk with the president about my future in my career, so it's something crazy, really something crazy," Mbappé said in an interview with The New York Times. "He told me: 'I want you to stay. I don't want you to leave now. You are so important for the country.'"
When asked if Macron's persuasive pitch had any influence, the PSG star said: "Of course. When the president says that to you, that counts."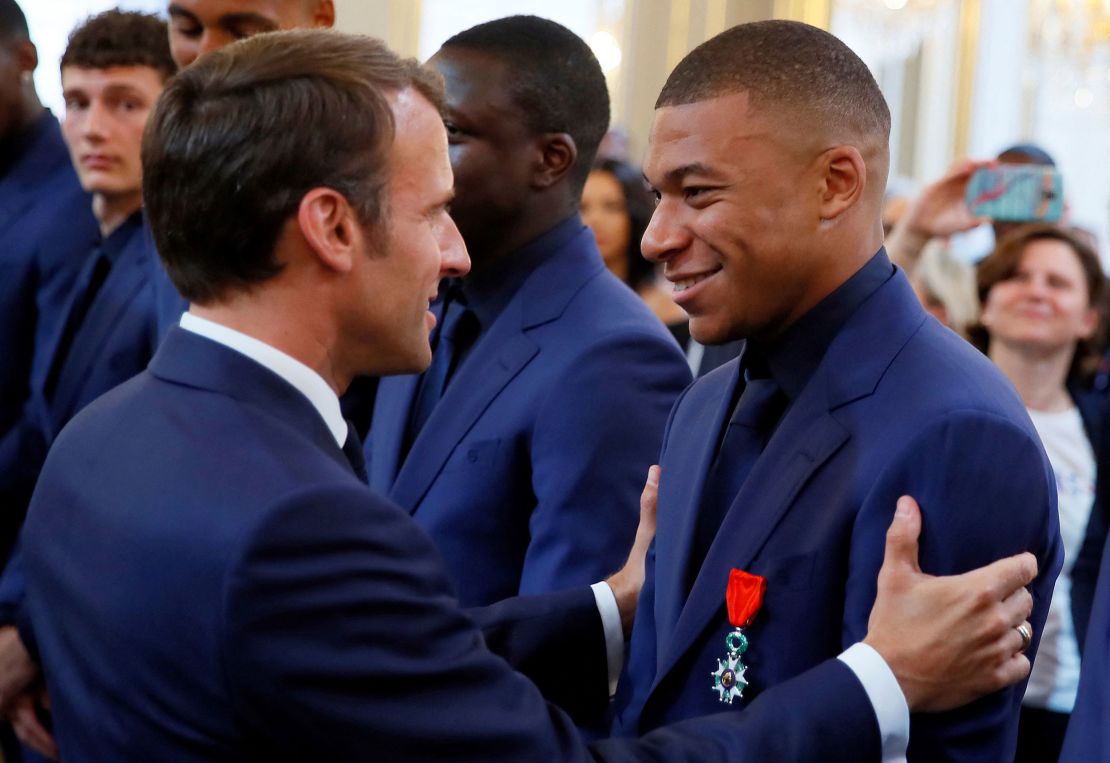 The cultural importance of France's poster boy can't be understated.
"I think he's so significant for two or three key reasons," explains historian and author Lindsay Sarah Krasnoff to CNN Sport.
"I think, certainly, his on-pitch abilities are peerless and speak for themselves, and that is significant. But it's also off the pitch in terms of how Mbappé is so significant and symbolic. He symbolizes excellence, right?"
Krasnoff has studied sport in France extensively and her book, "The Making of Les Bleus," looks at various generations of sport in the country. Her most recent book, "Basketball Empire," analyzes similar themes on the hardwood.
"Mbappé represents the best ideals and valor of the Fifth Republic and how it likes to see itself as successful, as excelling globally," Krasnoff explains. "So I think that's important to understand, right? He embodies the myths of the Republic, even though we know reality can be vastly different."
She adds that the superstar striker is also the best of France's sporting ideals – a product of the country's sporting system and a role model for members of the public.
Aware of his status, Mbappé uses his platform for good and realizes the potential someone in his position has at their disposal – a contrast to French footballers of years gone by like Zinedine Zidane, according to Krasnoff.
The striker even donated his World Cup winnings – reportedly as much as $500,000 – to Premiers de Cordée, a charity that offers sporting opportunities to children who are hospitalized or have disabilities, which is based at the Stade de France.
"The media in France refers to the langue de bois, the wooden tongue of footballers, in press conferences or whatnot. That they'll say things because they know they're obligated to, but not necessarily anything of substance – Mbappé breaks that mold," Krasnoff adds.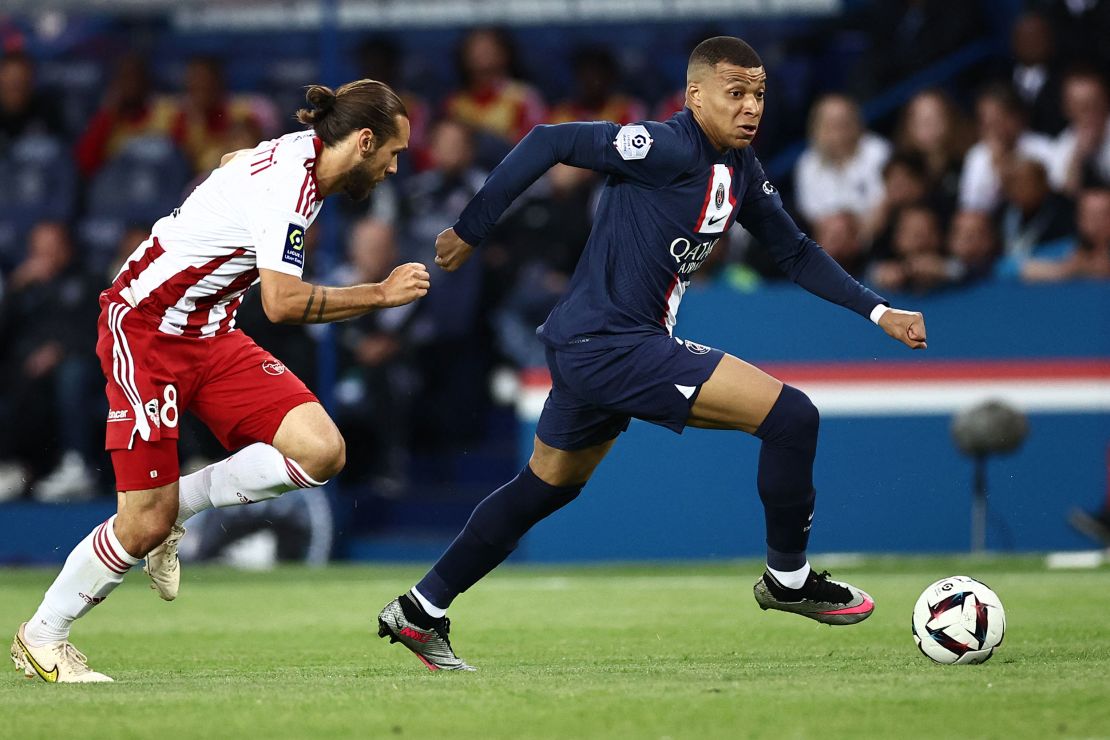 The boy from Bondy
The culmination of all these traits means that Mbappé is a beacon of hope for those who hail from the Greater Paris area – a place known for its diverse, sprawling suburbs.
Bondy is one such area and is just over 10 kilometers from the Stade France in Paris, where the French national team plays its home games. It is also the birthplace of Mbappé.
"Mbappé is a pure product of Bondy," Nabil Larbi told CNN in 2018. "Mbappé is from a mixed family; his father is from Cameroon, his mother is from Algeria and he is a mix of that. This is the image of Bondy and the image of the French team."
Larbi is a municipal councilor at Bondy's town hall, but he was also neighbors with Mbappé when the pair were growing up in the commune.
Krasnoff also adds that seeing Mbappé shine is vitally important for the next generation and touched on tennis great Billie Jean King's famous adage: "You have to see it to be it."
"For the kids throughout the larger Parisian region, it's an example – here is one of them who has gone so far," she says. "It kind of helps to make it a little bit more tangible that you too could do it, even though we know the odds are so, so stacked against your average young footballer."
Being a part of and starring in France's World Cup win in 2018 would have boosted this status even further, along with his incredible World Cup final hat trick in 2022.
However, PSG fans would have been nervous when it came to their star's summer plans. Mbappé has so far refused to sign a new contract beyond this season and, as a result, was left out of the team's Japan tour and was stuck training with the PSG 'undesirables' after the team reportedly put him on sale.
A late reconciliation with PSG President Nasser Al-Khelaifi though brought Mbappé back into the squad in late August and, despite further noise about a potential move to Madrid, the transfer window quietly closed without the young superstar leaving the City of Light.
Staying in the French capital, for another year at least, now allows Mbappé to continue to be a shining light for the next generation in France and reinforces that there is a feasible pathway to success.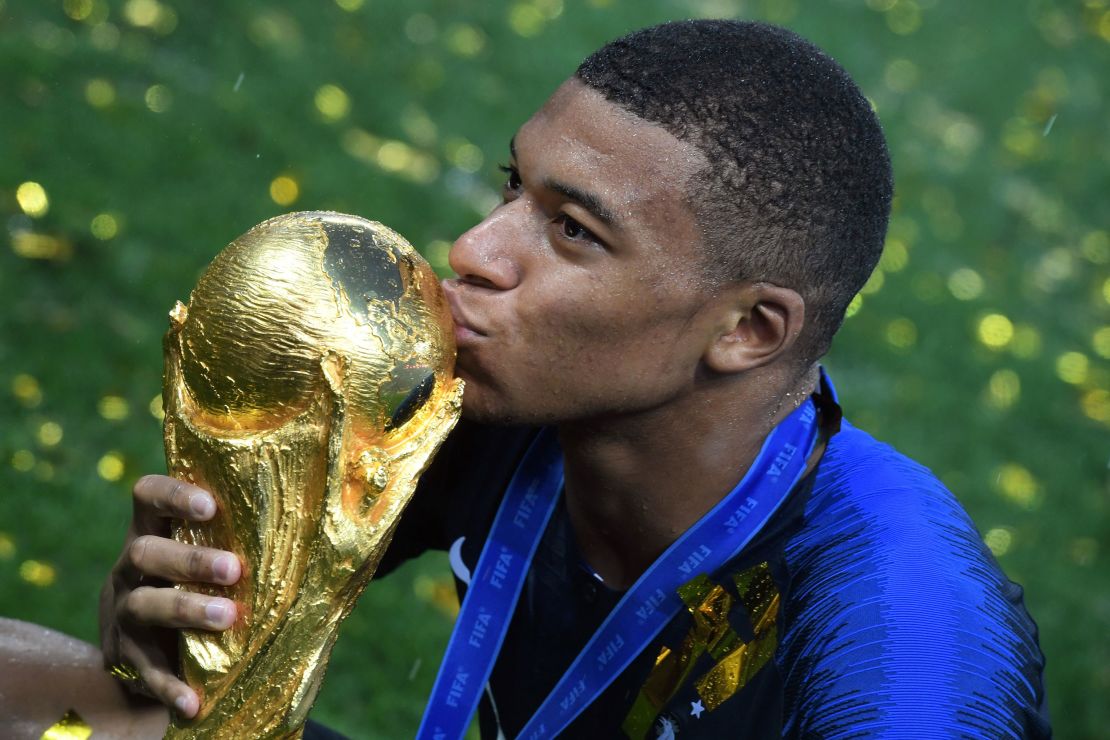 Imagining Mbappé in Spain
Real Madrid has long had a history of having some of soccer's biggest superstars in its ranks.
The 2005/06 Galácticos squad boasted the likes of David Beckham, Ronaldo Nazário and Zidane, among countless other megastars. Fast-forward five years and record-breaking signings Cristiano Ronaldo and Kaká were also plying their trade for Los Blancos.
"This has been the model of [club president] Florentino Pérez for over 23 years now, basically signing the best possible players," Spanish football journalist Álvaro Romeo tells CNN Sport.
Real Madrid in 2023 is a very different outfit and, with a young, new-look squad – led by emerging stars Vinícius Jr. and Jude Bellingham – being developed, Mbappé has long been touted as the obvious potential talisman of the side.
Real Madrid captain Dani Carvajal said players at the club even spoke about the signing.
"Well, I'm not going to be a liar with you and say we didn't talk about [Mbappé coming], but there were all types of opinions on it in the preseason chats," Carvajal told Spanish outlet Relevo while on international duty with Spain.
"I thought he was coming from the moment he was left out of the Japan tour. I think Real Madrid is his choice when he leaves."
Romeo believes that, despite being just 24, Mbappé would have been ready to be at the forefront of Real's new look team and to be the leader of their next generation of stars.
"I think that he is definitely ready to be the leader of Real Madrid," said Romeo. "On the pitch, he's been a leader and he scored three goals in a World Cup final. I mean, that tells you the story through that."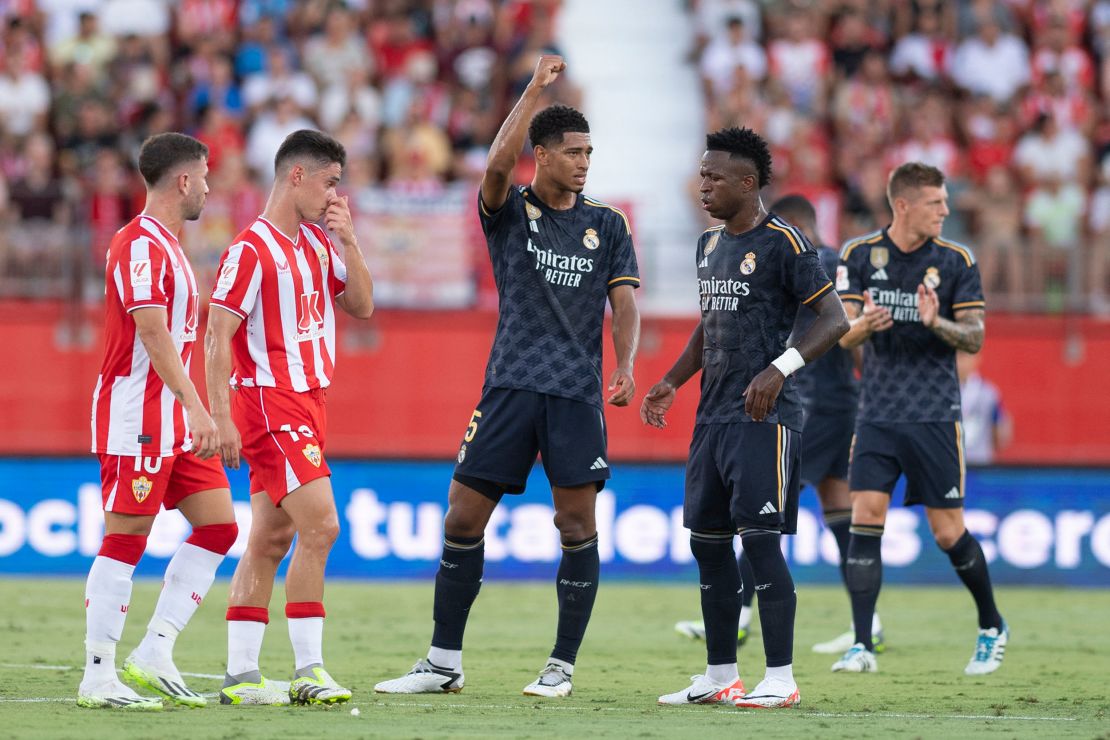 By not securing its main target this summer, Romeo believes Los Merengues have been dealt a major blow, missing out on the chance to make a statement in the transfer market, like the club did when signing Cristiano Ronaldo in 2009.
Another mistake Real Madrid made, Romeo says, was not having a back-up plan in Mbappé's absence, currently leaving it with few attacking options up front.
"The biggest failure for me would be that Real Madrid didn't have a plan B if the Mbappé signing didn't happen," he adds.
"I think that every good football club with a good scouting system and a good network, normally they've got a plan A, a plan B, a plan C, and if someone misses, then the replacement is kind of the same quality or maybe a little bit worse."
However, with Karim Benzema moving to Saudi Arabian team Al-Ittihad and summer signing Joselu, Real Madrid's only recognized No. 9, it won't be long before the side dips back into the market – and Mbappé will surely remain the prime target, particularly with club president Florentino Pérez reportedly enamored with the forward.
With transfer rumors set to heat up again in January as the forward's contract reaches its last six months, Real Madrid could still land its man sooner rather later.
"It will put Real Madrid in a very promising position looking at the future because their horizon is going to be definitely very bright," Romeo says.
CNN's Matias Grez contributed to reporting.