Kyiv, Ukraine and N'Djamena, Chad
CNN
—
Ukrainian special services were likely behind a series of drone strikes and a ground operation directed against a Wagner-backed militia near Sudan's capital, a CNN investigation has found, raising the prospect that the fallout from Russia's invasion of Ukraine has spread far from the frontlines.
Speaking to CNN, a Ukrainian military source described the operation as the work of a "non-Sudanese military." Pressed on whether Kyiv was behind the attacks, the source would only say that "Ukrainian special services were likely responsible."
The operation involved a series of attacks on the paramilitary group Rapid Support Forces (RSF), which is believed to be receiving assistance from Wagner, the Russian mercenary group, in its fight against the Sudanese army for control of the country.
CNN was unable to independently confirm Ukraine's involvement in the series of strikes. But video footage obtained by CNN revealed the hallmarks of Ukrainian-style drone attacks.
Two commercially available drones widely used by Ukrainians were involved in at least eight of the strikes, with Ukrainian text seen on the drone controller. Experts also said the tactics used – namely the pattern of drones swooping directly into their target – were highly unusual in Sudan and the wider African region.
Covert strikes by Ukraine in Sudan would mark a dramatic and provocative expansion of Kyiv's theater of war against Moscow. Aside from a string of Ukrainian drone attacks that hit deep inside Russian territory, Ukraine's ongoing counter-offensive has been focused on the country's occupied east and south.
Ukraine has not officially claimed responsibility for the attacks, which were captured in the drone footage. After this report was published, Andrii Yusov, representative of the Defence Intelligence of Ukraine, told CNN: "We can neither confirm nor deny this."
Portions of those videos have been circulating on social media since Thursday. Footage of the ground operation has not previously been published.
A high-level Sudanese military source said he had "no knowledge of a Ukrainian operation in Sudan" and did not believe it was true.
Multiple US officials appeared unaware of the alleged incident and expressed surprise at the suggestion that the strikes and ground operation may have been conducted by Ukrainian forces.
The videos, which alternate between the pilot's view, the viewpoint of a drone observing from overhead and the controller itself, show a succession of drone strikes in and around Omdurman, a city across the Nile River from the capital Khartoum which has become a focal point of fighting between the two rival factions.
First-person view (FPV) drones allow pilots to view the operation from the drone's point of view, wearing a pair of goggles or using a monitor to watch the live transmission. What appears to be a DJI MAVIC 3 drone can be seen in the videos filming the drone strikes. Both drone types are commercially available and widely used by Ukrainian forces.
The DJI MAVIC 3 drone has a maximum flight distance of 30 kilometers (around 18 miles), a video transmission range of 15 kilometers (9.3 miles) and 46 minutes of flying time, which would indicate that the pilot would have been operating the drone inside, or very close to, the city.
In video showing the monitor of the drone controller, text in English and Ukrainian is visible, including "Зупинити," or "Stop." The drone operator, who appears to be foreign, can also be seen in the reflection of the controller, but the operator is wearing a balaclava and is not identifiable.
A British researcher who runs Calibre Obscura, a website that identifies weapons, analyzed the footage for CNN and said the device tallies with those used by Ukrainian forces to control DJI MAVIC drones.
CNN has geolocated the sites of the small-scale attacks and the ground operation seen in the drone videos but could not independently verify the date the videos were filmed. Several strikes on Shambat bridge, which connects Omdurman and Khartoum, appeared to tally with local reports on social media of an attack on September 8.
The strikes came just two days after Wagner facilitated a large arms convoy to Sudan via an RSF garrison in al-Zurug, in the country's southwest near the border with Chad, according to another high-level Sudanese source. The official told CNN that a large number of vehicles, including several trucks carrying weapons from Wagner arrived at Zurug on September 6. CNN has obtained satellite images that showed over 100 vehicles, including scores of trucks, at the garrison on the same day high-level Sudanese sources reported the arms convoy.
Two Chadian military whistleblowers told CNN that the convoy traveled through Chad to Zurug, which would signal an expansion of Russia and Wagner's sphere of influence in Africa, which is widely known to comprise Mali, Sudan, the Central African Republic and Libya.
The powerful Russian mercenary group has played a public and pivotal role in Moscow's foreign military campaigns, namely in Ukraine, and has repeatedly been accused of committing atrocities. In Africa, it has helped to prop up Moscow's growing influence and seizing of resources.
Six drone strikes targeted pickup trucks driving on Shambat bridge. Eight other attacks hit parked vehicles, buildings and armed men in Omdurman and the western suburb of Ombada, where the Sudanese military has conducted a series of air raids in recent weeks targeting RSF positions that have reportedly claimed scores of civilian lives.
One of the videos showed at least three foreign fighters appearing to conduct a raid on a building. In a clip apparently recorded on a body camera, troops were wearing night goggles, and one of the soldiers appeared to be carrying a rocket launcher. An aerial shot showing the troops advancing on the building was geolocated by CNN to a neighborhood in Omdurman near where the drone strikes took place.
CNN has previously reported that, according to sources, Wagner has been supplying the RSF with surface-to-air missiles buttressing RSF paramilitary fighters and their leader Mohamed Hamdan Dagalo – widely known as Hemedti – as he battles for power with Gen. Abdel Fattah al-Burhan, Sudan's military ruler and the head of its armed forces.
Wim Zwijnenburg, project leader for humanitarian disarmament at PAX, a Dutch peace organization, said it was the first time the drones identified by CNN had been observed in Africa.
"Such (FPV) loitering drones are being seen in the African continent for the first time ever," Zwijnenburg, who specializes in emerging military technologies, including drones, said. "However, we have seen the rise in use of such drones in Ukraine over the last year."
Since Russia's full-scale invasion of Ukraine, Zwijnenburg said that both Ukrainian and Russian forces have been experimenting with FPV drones, equipping them with rocket-propelled grenades. The highly maneuverable, precise munitions can carry a payload large enough to take out a vehicle. While drones have previously been used to drop bombs in Ethiopia, Nigeria and Libya, the use of weaponized commercial drones that explode on impact is new in Africa, he added.
Some of the individuals seen targeted in the footage were wearing local attire and pale fatigues, matching that worn by RSF soldiers and allied militia. In one video, fighters can be seen fleeing the scene of the raid while wielding AK-47s.
The RSF, which has a large presence in the capital Khartoum and Omdurman, has been under frequent aerial attack by the Sudanese military since fighting broke out between the two groups in April. In a speech on Thursday, RSF head Hemedti said his forces had all but dominated Khartoum state, which includes Omdurman, and spoke of recent indiscriminate aerial attacks in Omdurman and other cities.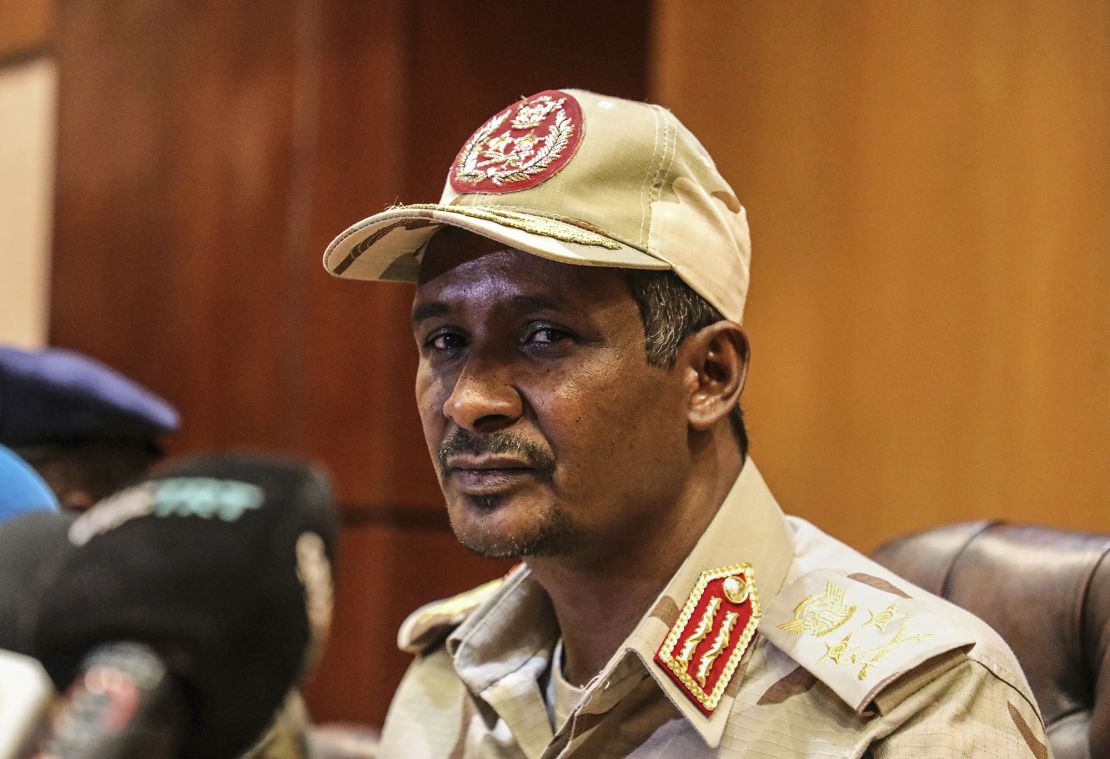 Prior to the outbreak of violence this spring, Burhan and Hemedti were allies in a military junta that overthrew an internationally recognized transitional government in 2021. Sudan's military government had received Wagner's support in the past, but Hemedti emerged over the years as Wagner's preferred ally in the country.
Wagner dropped Sudan's army wholesale when fighting broke out, backing Hemedti and his fighters in the conflict.
CNN has exposed arms supply routes that helped sustain this conflict, running through key Wagner transit points: Russia's air and naval base in the Syrian coastal region of Latakia, Wagner bases in Libya, and Bangui airport in the Central African Republic.
Wagner has a significant presence in the CAR as well as large parts of eastern Libya, which borders Sudan, and where the renegade General Khalifa Haftar controls vast swathes of territory.
"Around 90% of the RSF's weapons have come from Wagner," the high-level Sudanese source told CNN, adding that Wagner's supply of arms to the RSF has continued unabated despite the death of the mercenary group's leader Yevgeny Prigozhin and his deputy Dmitry Utkin in a plane crash on August 23.
Prigozhin's demise has raised questions about the future of Wagner's operations in Africa, where the mercenary group has used brutal tactics to prop up militant groups and authoritarian regimes in exchange for mineral riches. Those resources — including huge concessions in Sudan's gold mining industry — are believed to have aided Moscow's war effort in Ukraine, and helped it circumvent wide-ranging Western sanctions.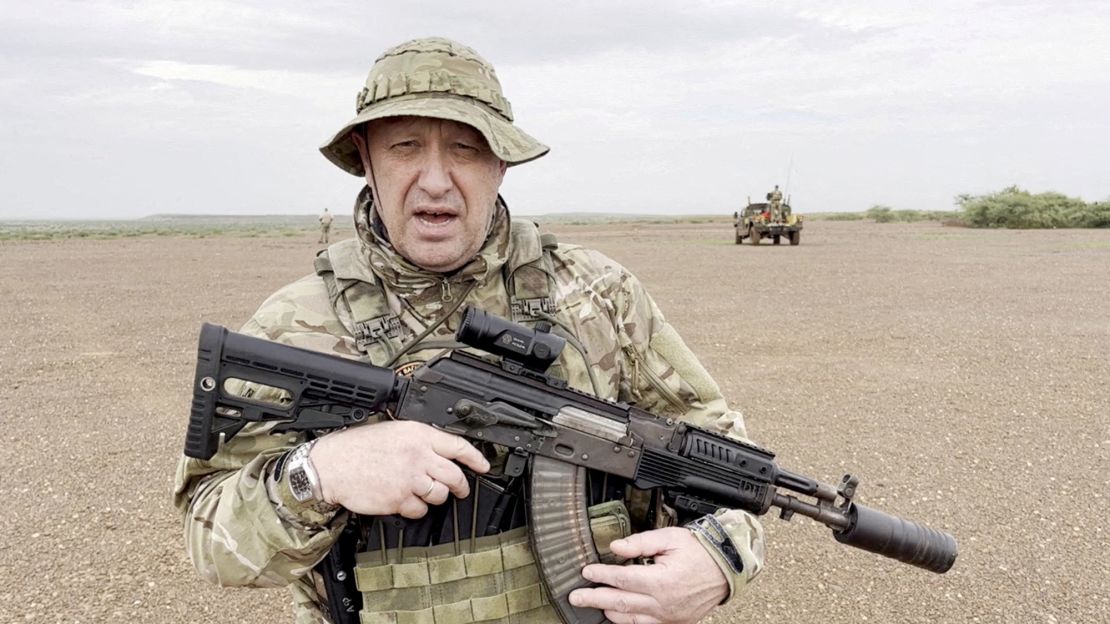 Analysts and researchers have speculated that the Kremlin has consolidated control over the mercenary group's activities in Africa as part of a larger effort to absorb the group into Russia's defense ministry in the wake of Prigozhin's failed mutiny in June.
Prigozhin had recently flown back to Russia from Africa when his jet crashed outside Moscow killing everyone on board. Two days after Prigozhin's death, Russian Deputy Defense Minister Yunus-Bek Yevkurov embarked on a five-country tour of old Wagner stomping grounds: Libya, Syria, Mali, Burkina Faso and the CAR.
During the Russia-Africa summit in St. Petersburg in late July — less than a month before Prigozhin's death — the head of covert offensive operations at Russia's military intelligence service (the GRU) General Andrey Averyanov attended meetings with the heads of Mali, the CAR, Eritrea and Burkina Faso.
"We have repeatedly asked the Kremlin about Wagner's support for the RSF, and they have told us that they have no information about this," the high-level Sudanese source told CNN. "For us the Kremlin and Wagner have become one and the same."
As it battles Russia, Kyiv has placed strategic importance on deepening ties overseas, including among African countries. Ukrainian Foreign Minister Dmytro Kuleba has made three trips to the continent in the last year, visiting more than 10 countries.
"Russia is trying very hard to keep countries in its orbit through coercion, bribery and fear… Russia has two tools for its work in Africa, the most powerful ones are propaganda and Wagner," Kuleba said in a recent interview with Agence France-Presse.
"Our strategy is not to replace Russia but to free Africa from Russia's grip," he added.
This story has been updated with additional response from Ukraine.
Victoria Butenko and Andrew Carey in Kyiv, and Nima Elbagir, Barbara Arvanitidis and Alex Platt in N'Djamena reported. Tamara Qiblawi wrote and reported from London. Gianluca Mezzofiore, Allegra Goodwin and Pallabi Munsi reported from London.

CNN's Lewis Whyld, Natasha Bertrand and Katie Bo Lillis contributed reporting.