A plan to build a multi-billion dollar Chinese glass factory in Indonesia's Riau Islands Archipelago has sparked fierce protests from indigenous islanders who are opposed to their villages being torn down.
Land disputes and forced evictions have often been a source of conflict in Indonesia and the protests on Rempang island are the latest in a long line of confrontations between indigenous people and the Indonesian authorities.
Indonesia, the world's fourth largest country and Southeast Asia's largest economy, has been actively courting Chinese investment and the protests this month have centered around plans for a factory announced during a high profile meeting in July between Indonesian President Joko Widodo and Chinese leader Xi Jinping.
On September 11, indigenous groups faced off with riot police outside government compounds in the city of Batam, part of multiple islands that lie just across the water from Singapore and have been earmarked for major development.
Crowds of "up to 1,000 people" began gathering as early as 9 a.m outside the Badan Pengusahaan (BP) office, a local body in charge of urban management and development, a BP statement said.
While initially peaceful, the situation soon deteriorated, BP said. Protesters, many of whom were indigenous people residing on neighboring Rempang island where the factory will be built, "broke down fences and forced their way into the compound."
The crowd became "increasingly uncontrolled" despite an intervention from BP chief Muhammad Rudi and began to throw "bottles, rocks and other objects" at security officers," BP said.
"The attacks soon spread to surrounding areas like the government canteens. Molotov cocktails were also thrown… and security officials were attacked and beaten," according to the statement.
Riot police were deployed to the scene and fired tear gas and water cannons at protesters, CNN affiliate CNN Indonesia reported. Dozens were arrested soon after.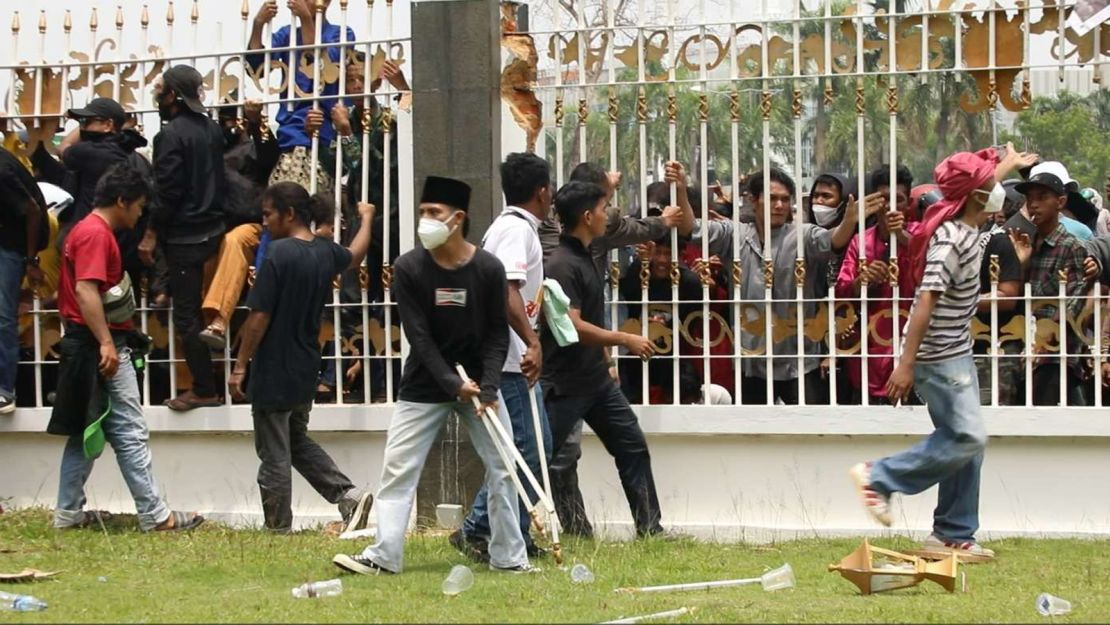 It was the second violent protest in less than a week. On Rempang island, chaos broke out on September 7 when local authorities and developers showed up to conduct land surveys and take measurements.
In an attempt to obstruct their work, residents used felled trees and burning tires as makeshift barricades, preventing officials from entering the forests surrounding their villages.
One local resident, a man in his 60s who has lived on the island for more than two decades, told CNN that the community was doing "all it could" to stop officials from destroying their homes and "would not go down without a fight." He is not being named as he fears further persecution by Indonesian authorities.
"We either have the option of (being paid to move) or risk being relocated elsewhere. It has caused a lot of us stress and grief," he said.
In statements issued by BP and local police, tear gas was used to disperse crowds. Children from nearby schools were also hit by tear gas, eyewitnesses told CNN, as many schools were in the vicinity.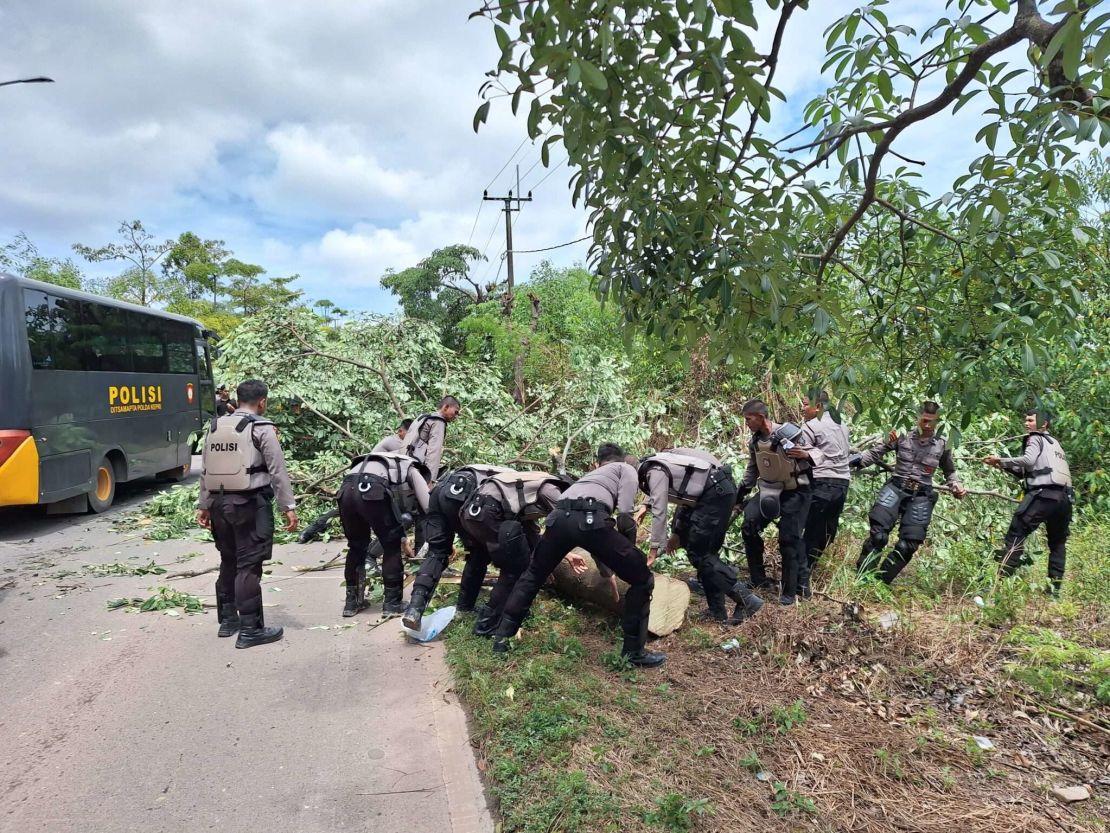 In a bid to soothe tensions, Indonesian government officials have promised improved relocation packages for residents on Rempang.
"We must employ a soft and civilized approach to resolve this issue while respecting the islanders who have lived there for generations," Minister of Investment Bahlil Lahadalia said in a statement issued on Monday.
"We will seek the best solution for local residents… (but) if we let the project slip, potential revenue for local governments and the creation of jobs will be lost."
Families affected by the construction will receive 500 square meters (5,381 square feet) of land or houses elsewhere and compensation packages of $78 (1.2 million Indonesian Rupiah), according to authorities.
But critics have argued that it isn't enough.
"Communities are being threatened with losing their homes, culture as well as livelihood. Relocation and compensation only have economic value and cannot replace the villagers' collective memory and identity as local indigenous people," said Arifin Jaynal Ylbhi, spokesperson for the Indonesian Legal Aid Foundation (YLBHI).
"At least 52 residents have been arrested and criminalized. We have deployed several lawyers since to provide legal assistance," he added.
"The (relevant ministries) are obliged to recognize and respect the rights of people on Rempang who have lived on the island for generations … and this is proven by the existence of historical villages and sites and through documents and scientific research."
CNN reached out to the Chinese company Xinyi Glass which Indonesia's government says plans to invest $11.5 billion to build the factory. Representatives did not respond to requests for comment and calls to their headquarters in Hong Kong went unanswered.
Communities at stake
Rempang is one of three main islands that make up Indonesia's Riau province and is home to least 7,500 residents, many of Malay Indigenous heritage.
The island is also rich in quartz sand, which is needed to construct materials like glass.
Xinyi Glass is among the world's largest glass and solar panel makers, and counts several international automobile corporations like Ford, General Motors and Volkswagen clients.
According to Indonesian government officials, its new factory will create some 35,000 jobs.
"The project also has the potential to bring great benefits, boost economic growth and improve the welfare of the people in the Riau Islands and throughout Indonesia," Riau government Ansar Ahmad said in a statement.
Activists and community groups say the investment comes at the expense of the local environment and indigenous coastal communities, many of whom who make a living from the sea by catching and selling fresh seafood.
Greenpeace Indonesia slammed the project as well as what it said was "excessive force" being used on indigenous protesters.
"Our position is with the people of Rempang who have lived on the island for hundreds of years," campaigner Didit Wicaksono told CNN.
"It has become increasingly clear that saving the environment has never been a priority for Joko Widodo and his government," he added. "For them, investment is everything, whatever the price … And the case of violence by security forces in Rempang articulates this policy."
Economist Achmad Nur Hidayat, a public policy expert from the Veteran National Development University of Jakarta, said the situation in Rempang was an "unfortunate reflection" of similar cases playing out across Indonesia.
Indigenous tribes have "become victims of business and political interests," he said. "I understand the importance of investment and development for economic growth but without paying attention to human rights, the growth achieved is flawed."
"We need to question policy makers and ask where their interests lie."
One area of Indonesia which has experienced sustained resistance from indigenous communities is West Papua, the country's resource rich but impoverished easternmost province where a decade long separatist movement has fueled animosity towards both the government and international mining conglomerates.
Indonesia's huge palm oil plantations have also seen widespread deforestation and indigenous communities moved off their land, according to rights groups.
Survival International, a global non governmental organization that campaigns for indigenous rights, told CNN that the people of Rempang island had "rights under international law to their lands" and "should not be expected to sacrifice their homes and way of life for the economic benefit of others."
"They are the best guardians and have rights to their territories to decide their own futures," senior researcher Sophie Grig said.
"The protests have made clear that they have not given their consent and do not want to be evicted from their island. No 'Eco City', no matter many jobs it creates, is worth inflicting that amount of pain."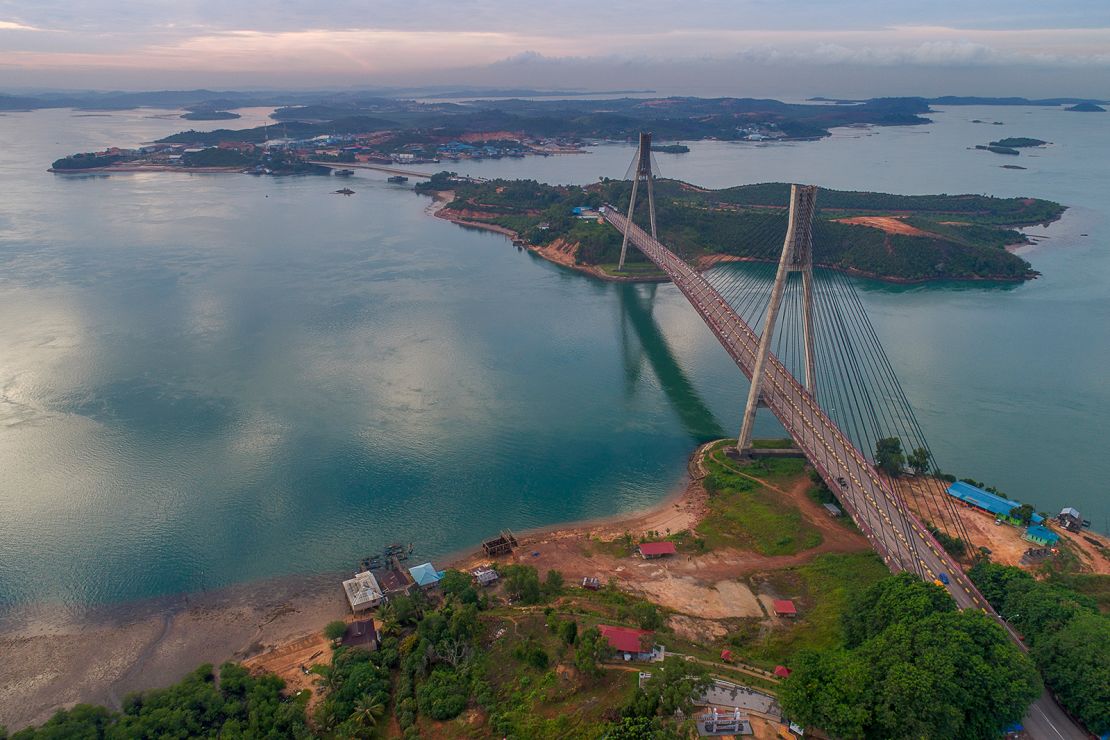 Plans to develop Riau have been in the works as early as 2004 as the region has seen rapid development. The Indonesian government has said that plans to invest in Rempang would continue.
Several cabinet members and high ranking police officers from Jakarta visited the island over the weekend and held closed door meetings, reported CNN Indonesia.
Investment Minister Bahlil on Monday said that authorities had identified around 700 families that would be affected by construction plans.
But to some residents, leaving their villages was still not an option.
"The government has made up their mind," said a woman in her 70s who has been living in a village house by the sea with her son and grandchildren that was built by her grandparents.
"Money and investment are more important. It's as if our rights don't matter."
Additional reporting by Carina Cheng in Hong Kong.