The Prince of Wales has revealed the shortlist of 15 innovators in the running to win one of five £1 million (about $1.2 million) grants from his prestigious eco-prize later this year.
Prince William flew to New York on Monday for a two-day visit during which he attended the second Earthshot Prize Innovation Summit, an event which coincides with both Climate Week NYC and the 78th session of the UN General Assembly, and where the finalists were unveiled.
The 41-year-old prince and his Royal Foundation launched the Earthshot Prize, an ambitious £50 million ($62 million) project, back in 2020 with the goal of finding "trailblazing climate solutions to repair our planet by 2030."
This year's 15 hopefuls represent six continents and were selected from more than 1,100 nominees following a rigorous screening and vetting process by a global panel of scientific and academic experts.
The winners of the award – now in its third year – will be revealed at a ceremony in Singapore on November 7, with the prize money going towards helping the changemakers scale their green solutions.
All finalists will also have access to mentorship resources and support through a year-long Earthshot Prize Fellowship Programme "to accelerate the growth of their groundbreaking solutions."
The heir to the British throne was inspired to launch his environmental scheme by President John F. Kennedy's "moonshot" speech in 1962 when he tasked the United States to push forward with space exploration.
The competition is based around five "Earthshots" or environmental goals: "Protect and Restore Nature," "Clean Our Air," "Revive Our Oceans," "Build a Waste Free World," and "Fix Our Climate." Three finalists are attached to each Earthshot, with one winner per category.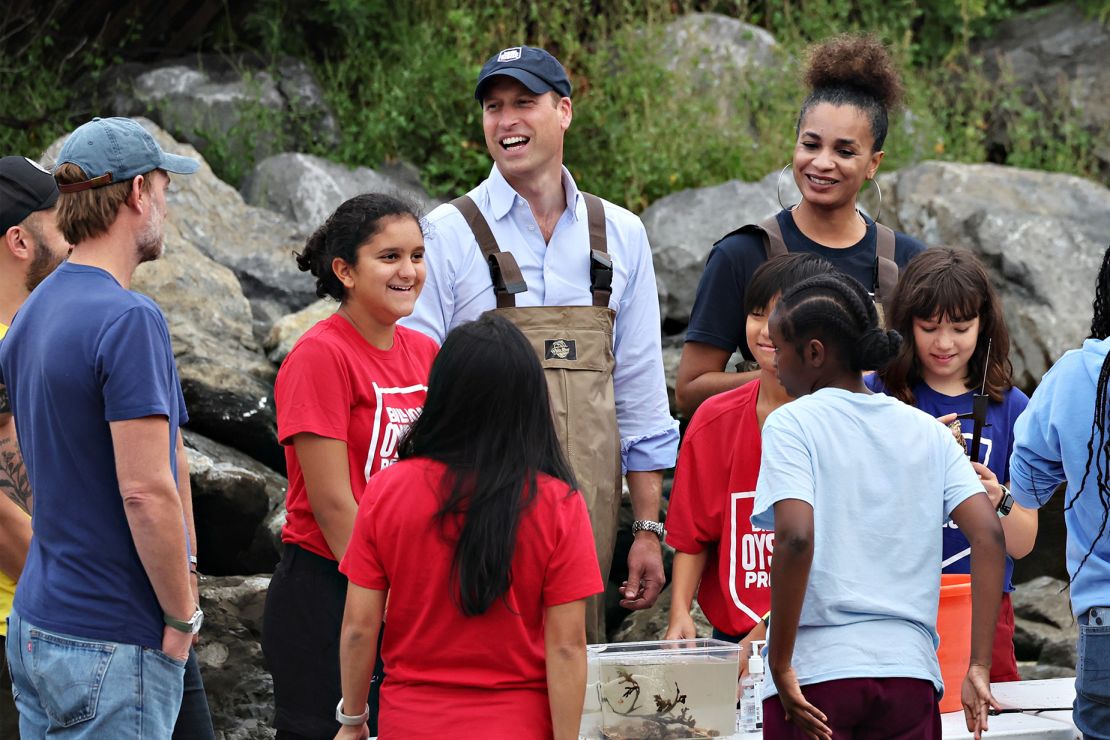 Upon touching down at Newark Airport on Monday, the Prince of Wales said it was good to be back in the US.
"No one does optimism and ingenuity like the American people, so it's only right we unveil this year's Earthshot finalists in New York City," William said.
"(Eighty) years ago, the world came together in this great city to find a new way, through the UN, to solve our shared challenges," the prince continued.
"I know our generation can take the bold action we need to make changes towards a healthy and sustainable world. The challenge may feel huge, but as John F. Kennedy taught us, we rise to the challenge not because it is easy, but because it is hard. And vital."
The five Earthshot categories and finalists are:
Protect and Restore Nature
Accion Andina - Peru: A grassroots project working across South America to protect native forest ecosystems across the Andes.
Freetown the Tree Town - Sierra Leone: An initiative from the Freetown City Council for tree preservation in the Sierra Leone capital.
Belterra - Brazil: A start-up that partners with small and medium-sized farmers to transform forests and degraded land through regenerative agricultural practices.
Clean Our Air
Polish Smog Alert - Poland: A campaigning group working to encourage policy change and improve the air quality across Poland.
Enso - United Kingdom: A company that has designed a more sustainable tire for electric vehicles in the hopes of reducing tire pollution and reducing air pollution.
GRST - Hong Kong: A start-up that has developed a new process for making and recycling lithium-ion batteries, paving the way "to make the electric cars of the future even cleaner."
Revive Our Oceans
Abalobi - South Africa: A social enterprise organization taking a data-driven approach to supporting small fishing communities by helping them become more resilient and sustainable.
Coastal 500 - Global with US-based headquarters: An international network of mayors and other local leaders committed to restoring ocean habitats and pushing for coastal protections around the world.
WildAid Marine Program - Global with US-based headquarters: A non-profit combining "partnership building and knowledge sharing" to support the planet's ocean conservation needs.
Build a Waste-Free World
S4S Technologies - India: An agritech start-up using its solar-powered dehydration equipment to cut food waste and help farmers process excess crops into products with a longer shelf life.
Circ Inc. - US: A company that has developed a way of recycling polycotton back to its raw materials so that it can be reused and reduce textile waste.
Colorifix - UK: This company seeks to reduce the fashion industry's use of water and chemicals by finding colors created by an organism in nature and using online DNA sequencing to create sustainable pigments and dyes.
Fix Our Climate
Sea Forest - Australia: A Tasmanian biotech company that has created a seaweed-based livestock feed that reduces the production of planet-warming methane pollution from cattle and sheep while supporting "sustainable farming and healthy marine ecosystems."
Aquacycl - US: The team at Aquacycl use microbial technology to make treating industrial wastewater more cost-effective and accessible, more efficient and less polluting.
Boomitra - Global with US-based headquarters: The company is "removing emissions and boosting farmer profits by incentivizing land restoration" through the creation of its soil carbon marketplace.
Sign up to CNN's Royal News, a weekly dispatch bringing you the inside track on the royal family, what they are up to in public and what's happening behind palace walls.