Saturday's 3-1 drubbing at the hands of Brighton at Old Trafford must surely be the low point of Erik ten Hag's time in charge of Manchester United – and there have been a few of them.
Roberto De Zerbi's side is everything this United team is not at the moment: exciting, slick, cohesive, fast-paced and inventive. There was nothing fortunate about Brighton's victory, with the Seagulls unquestionably the better side for the majority of the match and, if anything, the scoreline ended up flattering Ten Hag and his players.
But perhaps the worst part of the defeat for United fans is that it wasn't all that surprising.
Boos rang out around Old Trafford at the end of the match – even when new signing Rasmus Højlund was substituted for Anthony Martial after 64 minutes.
Now with three losses in five Premier League games to start the season – United's worst start to a campaign in nearly a decade – the team, both collectively and as individuals, looks as dysfunctional as it ever has since Ten Hag was appointed in April 2022.
The attack is clunky and disjointed, while the defense is porous and, at times, bordering on the comical. United fans have every reason to be concerned that the squad currently appears to be going backwards under the Dutchman, with many of the players appearing well off the pace to begin the season.
After losing 2-1 to Brighton at Old Trafford just over a year ago in his first game in charge, the former Ajax boss must surely be experiencing a painful sense of déjà vu, even though he insisted after Saturday's loss that the club isn't in crisis.
"We have to be very disappointed and annoyed at ourselves," ten Hag told reporters. "We will turn this around, but there is a demand on us to win games. Definitely that [our form] is something that bothers me, but I also have to see the way we play.
"It's about character. We have to see how strong we are and how the team sticks together. Players standing up and showing character because in all the games, especially the game today and against Arsenal and Forest, we have seen we can play well and create chances."
'Not an easy job'
Despite the team's poor start to the season, United fan and The Athletic journalist Andy Mitten doesn't believe "there's any prospect of Erik ten Hag losing his job at the moment."
"I think United fans have been very supportive of Erik ten Hag," Mitten told Sky Sports. "He did a very good job last year. From the team that he took over to finishing third to winning the League Cup, reaching an FA Cup final.
"There were some disappointments, but Old Trafford became a fortress again. I think fans can question Erik ten Hag, absolutely, they can question his decisions, but I think fans remain very supportive of him. They know he's not got an easy job."
Saturday's defeat was United's first at home in the Premier League since that loss to Brighton in 2022 and, after finishing third last season and winning the League Cup, there was increasing optimism that this United team could take another step forward, even if it would still be some distance short of challenging for the Premier League and Champions League.
Following United's display on Saturday, Ten Hag insisted the result was partly because his opponents "spend money."
"I think all the teams are spending a lot of money," he told reporters. "I think also Brighton, they spend money as everyone is doing and when Man United is coming, it inflates the price and that is also the truth."
Ten Hag is correct in the sense that Brighton does pay transfer fees for some of its players, but the Seagulls' entire starting XI at Old Trafford cost around a mere £17 million ($21 million).
To put that figure into context, under Ten Hag, Manchester United paid nearly five times as much for Antony – a player with four goals in 29 Premier League appearances – and more than four times as much for Jadon Sancho, who has underperformed since arriving in 2021 and is now involved in a very public spat with his manager.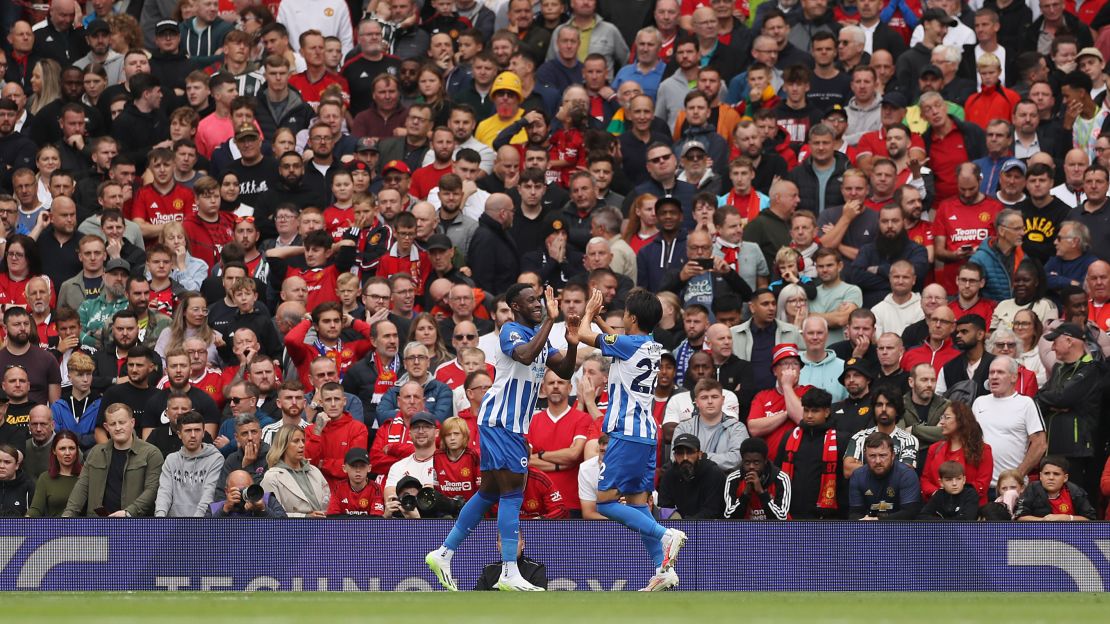 Tactical headache
United has now spent around $500 million on player transfers since Ten Hag has been in charge, but at the moment, the club's player recruitment process continues to look somewhat haphazard.
Arguably the one saving grace for ten Hag this season is that Chelsea's recruitment policy under Todd Boehly is looking even more chaotic.
The current standoff between ten Hag and Sancho is symptomatic of the wider disarray the club currently finds itself in.
Ten Hag told reporters ahead of its 3-1 defeat to Arsenal earlier this month that the England international was missing from the squad due to poor performances in training.
Sancho responded by issuing a statement on social media – since deleted – insisting that there was no truth to the Dutchman's comments and has since been told to train away from the first team squad.
On Friday, Ten Hag then told reporters he didn't know if Sancho would play for United again. It is extremely rare for managers to publicly criticize players for their performances, with individual criticism usually taking place behind closed doors.
However, Sancho's enforced absence has given ten Hag a tactical headache.
After Mason Greenwood's exit to Getafe following charges of attempted rape and assault – charges that he denies and were later dropped – and Antony's absence from the squad due to allegations of domestic assault, which he also denies, United is now without a right winger.
"Players who have not participated in international matches are due back in training on Monday. However, it has been agreed with Antony that he will delay his return until further notice in order to address the allegations," the club said in a statement on September 10.
"As a club we condemn acts of violence and abuse. We recognise the importance of safeguarding all those involved in this situation, and acknowledge the impact these allegations have on survivors of abuse."
Ten Hag attempted to work around this on Saturday, but ended up getting his new tactics horribly wrong.
All of these issues are being played out in the shadow of uncertainty surrounding the club's ownership under the Glazer family, with fans in the dark about the process of a sale to either British billionaire Jim Ratcliffe or Qatari Sheikh Jassim Bin Hamad Al Thani.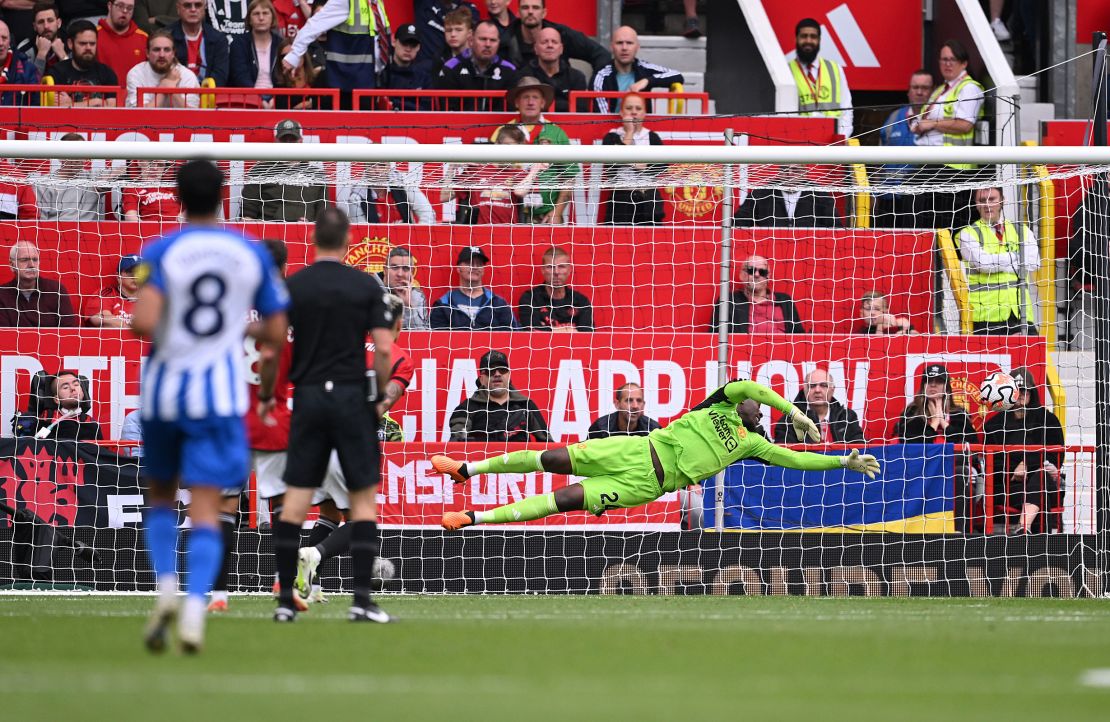 Manchester United great Gary Neville believes "the Glazers are responsible" for the position the club finds itself in.
"It's how it works," Neville wrote on X, formerly Twitter. "You own a business and everything good and bad sits with you! They inherited the best in all areas. They've overseen 10 years of mediocrity off the pitch and on the pitch.
"It would be best if they sold the club with some speed and efficiency and allowed at least the off the pitch items to be corrected properly that re-set the tone and culture."
However, former Liverpool defender Jamie Carrager disagreed with Neville, joking: "All this time I thought Alex Ferguson stopped us winning the PL, but it was actually [former chairman] Martin Edwards."
The Premier League's all-time top scorer Alan Shearer, who managed Newcastle during Mike Ashley's tumultuous regime, said that uncertainty at the top eventually takes a toll on the team's performances.
"Of course, as we know, everything eventually filters down onto the pitch from the top," Shearer said on BBC's Match of the Day. "It is for sale? Is it not for sale? It's leadership – where is that coming from?
"So I do have a little bit of sympathy [with ten Hag], but they just need to know. The fans need to know, he needs to know what on earth is going on at the football club because, as I said, it all comes down onto the football pitch and it's starting to happen now."
There is absolutely no respite for ten Hag and his players, who travel to Bayern Munich in the Champions League on Wednesday after a year-long absence from European football's top competition.
Harry Kane, already firing on all cylinders since his transfer to Bayern from Tottenham Hotspur in the summer, will surely be licking his lips at the prospect of facing a United side which seems to be floundering both on and off the pitch.