Nigerian singer and songwriter Asake is creating a new Afrobeats sound that is deeply African and completely global.
Originally a dancer, he began recording music in 2018. By 2020, Asake had a hit single with "Mr. Money," a banger he performed at nightclubs across Lagos and Port Harcourt, Nigeria.
2022 was his breakout year. He signed a record deal with YBNL Nation and landed the highest-charting Nigerian debut album in Billboard history with "Mr. Money with the Vibe." Since then, he has been selling out tour dates internationally, including a show at the Barclays Center in New York earlier this month, a first for an African act at that venue.
The singer sat down for an interview with Larry Madowo, host of CNN's African Voices Changemakers, following Asake's Afro Nation performance in Miami earlier this summer. The two discussed his meteoric rise to fame and what influenced his signature style.
This conversation has been edited and condensed for clarity.
Madowo: Do you feel that the fame just came all of a sudden?
Asake: I didn't know it would come at this time. Everything just changed for me. All of a sudden, in Dubai people that don't even understand it are singing it — like from there to London, everybody just shouting it without even knowing what they are saying. I'm so happy that God gave me the knowledge and the confidence to be where I am today because I don't know where I will be tomorrow.
Madowo: What do you think makes Afrobeats music so great? Why has it blown up around the world?
Asake: For me, I think it's the spirit, and for people that are coming from Nigeria and from Africa to actually want to be involved in something and take it from where someone like Fela [Kuti] actually dropped it, and still make it bigger, because we love to actually make something bigger in Nigeria.
Madowo: You infuse a lot of Fuji sound in your music; how would you describe your sound?
Asake: I grew up listening to Fuji [a music genre that began with Nigeria's Yoruba people]. But to me, I think I do a lot of things because, you know, I love to come with the vibe. It's just like a bit of Amapiano, a bit of Afrobeat, a bit of Fuji, a bit of R&B, a bit of hip hop, just to make Asake.
Madowo: What is your earliest memory of thinking, 'I think I want to be a performer. I think I'm going to be somebody who puts on a show'?
Asake: I just fell in love with it. My father used to be a singer, and my mother danced a lot, too. So, I feel like it's like a family thing that has been in the blood … but they didn't do it professionally. They were just doing it for the fun of culture and for the fun of what they are seeing around them.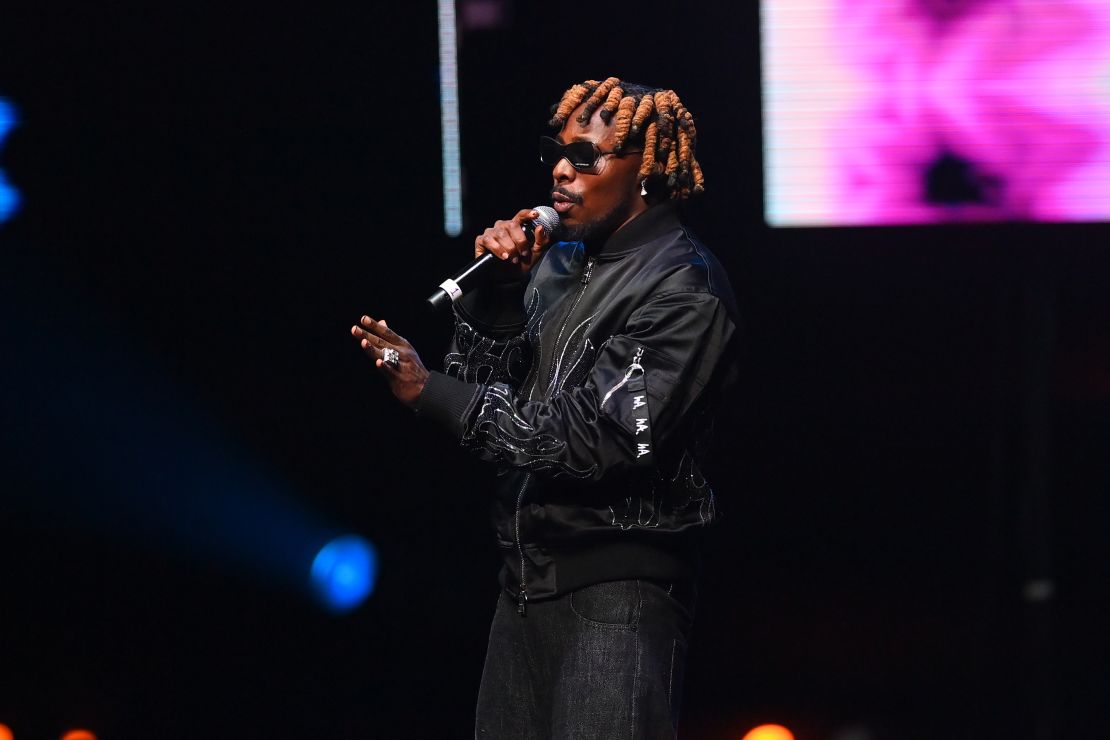 Madowo:  Why did you adopt your mother's name as your stage name?
Asake: I just like the feeling that comes with this, with the fact that I love my mother, and they are using my mother's name to call me. I know the kind of mother I have and she's very powerful. I'm Ahmed Ololade, but I have a strong name now.
Madowo: Before you were a professional singer, you were a dancer; how did you move from dance to full-on musician?
Asake: The main reason why I left dance is for the love of money. I know I want to be very honest. Dance is something that I love. I can't even do without moving, but I feel like the kind of money I want, I'm not sure dance can give me. I think both music and dance work together because in a video without a dancer, it's like this song is boring. Even if you want to make it so gangster-like, oh, there are so many people bumping, you still need to use the dancers. So, as they work together, I think for the love of money, I'd rather be singing (laughs).
Madowo:  So, if the dance had a bit more money that you could be commercially successful as a dancer, that's what you would be doing?
Asake: No, I would join music and dance together. So, I will have more money (laughs).
Madowo: You met Olamide, and that changed the trajectory of your career; what's been the influence of Olamide on Asake?
Asake: How can I explain this? You know when you are trying to go downstairs, and there's no lift, and there's no stairs? How can you get there? So, I think the best way I can explain it is Olamide is like the lift and the stairs for me to get to the top.
Madowo:  How do you prepare for a performance? How do you get into the frame of mind to present a show for thousands of people?
Asake: I see art. I want to see another Asake entirely. Performance for me is like a movie. Every song needs to have its own mood and its own interpretation to it on stage. Everything just works together, like the audio, me in person, and the video interpretation itself.
Madowo: What are the dreams you still have?
Asake: I want the songs everybody in the world will be singing. I don't know how I'm going to do it, but the most important thing for me is to keep going.