Parents across the US are beginning to face the struggles of a second winter without enough amoxicillin, the most prescribed antibiotic in the country.
Liquid formulations of the drug — first-line treatments for children with strep throat, chest and sinus infections, and earaches — are still in short supply, according to the US Food and Drug Administration's drug shortage database. And there's no relief in sight.
"It is a problem. Respiratory illness season is coming up, and that's going to be a huge issue," said David Margraf, a pharmaceutical research scientist with the University of Minnesota's Resilient Drug Supply Project.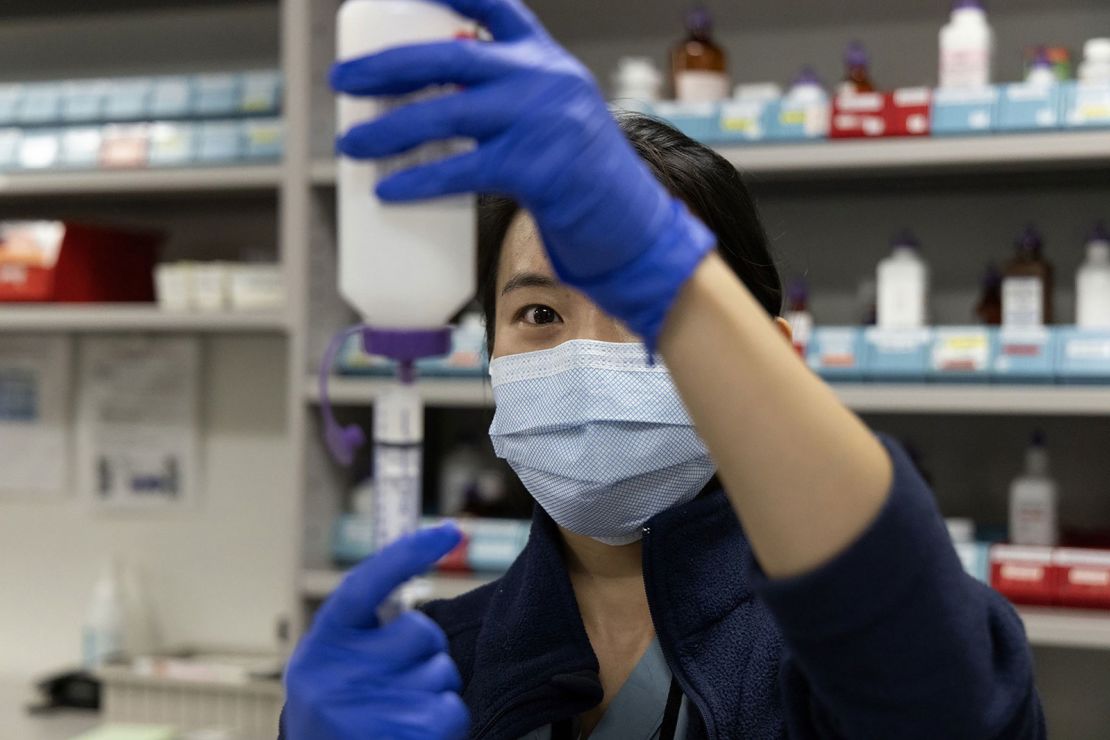 Amoxicillin capsules and tablets have not been affected by the shortage, according to the FDA, but young children often can't swallow pills and instead rely on liquids.
Not all of the manufacturers of amoxicillin powder, which is mixed to make the liquid form, have provided reasons for the shortfalls. Most are still producing the antibiotic but have it on allocation, which means their customers can order only a limited amount.
During a drug shortage, allocation helps ensure that no single buyer can claim all the available supply. But it also means pharmacies may run out quickly, creating a frustrating situation for parents and pediatricians who have been left searching for any available stock or who must then get a prescription switched to a different antibiotic.
"When there are these big surges in respiratory viral illness, in ear infections and all the things that come with the winter months of the last year or two, the demand has really outweighed what our supply chains can produce. And as a result, the shortages are cropping up all over the country and affecting our patients," said Dr. Rohan Khazanchi, a pediatrician and medical resident at Brigham & Women's Hospital in Boston.
Khazanchi and his colleague Dr. Ryan Brewster recently studied the clinical effects of last winter's amoxicillin shortage. They found that after the FDA declared amoxicillin to be in shortage in October, prescriptions for it dropped more than 90% as doctors pivoted to sometimes stronger antibiotics like augmentin and cefdinir. These substitutions can result in harsher side effects for patients and can contribute to antibiotic resistance. They can also create a domino effect if the sudden shift in demand wipes out supplies of substitutes.
Amoxicillin isn't the worst-case scenario for drug shortages; at least doctors have other antibiotics they can prescribe.
"What worries us is sort of the generalizability of this issue," Khazanchi said. "It's not about the amoxicillin; it's about the fact that we have drug shortages for reasonably essential medications that are generic and should be widely available."
Some manufacturers, like Teva Pharmaceuticals, blamed the shortfall on an increase in demand rather than other typical factors like manufacturing delays or trouble sourcing raw materials.
Sandoz, a division of Novartis that makes generic medications, said low prices were driving manufacturers out of the market, creating more pressure. A course of treatment retails for about $10 per bottle.
"Drug shortages will likely continue to increase if the pricing dynamics in the marketplace are not addressed," Sandoz said in a statement.
Other companies reporting shortages have declined to reveal the reasons for the supply squeeze.
"The companies refuse to tell us what's going on," said Erin Fox, who tracks drug shortages at the University of Utah. "We are absolutely heading into the season without good supplies of oral liquid."
The amoxicillin shortage has lingered under the radar, says Laura Bray, who runs the nonprofit Angels for Change, which works to solve drug shortages.
"From a medical standpoint, it doesn't have the same sense of urgency to fix because there are alternatives," she said. "And so that's why people are really not talking about it as much as, say, the chemotherapy drugs where there are no alternatives, but the root cause is the same."
Antibiotics like amoxicillin are 42% more likely to be in shortage than other types of drugs, according to a 2022 report from US Pharmacopeia.
And as with many other drugs that are vulnerable to shortages, amoxicillin's undoing is that it is cheap.
"They're just not profitable for these companies, so they focus our efforts on other areas. And we're kind of stuck with, they can make whatever they want, based on a bottom-line number," Margraf said.
Though the FDA monitors and reports drug shortages, it has limited authority to fix them.
The FDA said in a statement that it sympathizes with people who are affected by shortages and is doing what it can to help. "While the agency does not manufacture drugs and cannot require a pharmaceutical company to make a drug, make more of a drug, or change the distribution of a drug, the public should rest assured the FDA is working closely with numerous manufacturers, agencies, and others in the supply chain to understand, mitigate and prevent or reduce the impact of intermittent or increased demand of certain products."
Bray and other experts said what the US really needs is a person or office in government keeping an eye on drug supplies, ensuring that the US will have adequate supplies of basic medicines when the nation needs them the most.
Take the US Department of Agriculture. "If it's their job to know usage of grain and corn globally, and the yield of corn and grain, and how much we should have on hand so that bread can be made so we can have sandwiches, why don't we have something like that for drugs?" Bray asked.
Other experts agree.
"There's no single organization, party, government entity or otherwise that's individually responsible for monitoring the entire supply chain. And that lack of visibility causes issues because there's no coordination," said Matt Christian, director of supply chain insights with US Pharmacopeia's Medicines Supply Map project.
Another proposed solution involves giving drug companies some kind of subsidy or financial incentives — perhaps guaranteed large volume contracts — to make inexpensive, necessary medications.
"We do it for farmers. We give them plenty of subsidies. And we don't want food shortages," Margraf said. "Now, we need to do the same with drugs."