The biggest-ever drug seizure in the history of Ireland was intercepted off the coast of Cork in the southeast of the country on Tuesday, Irish police said.
Cocaine weighing 2,253 kg, worth an estimated 157 million euros ($165 million), was seized from the vessel "MV Matthew" traveling from South America, Director General of Revenue and Customs Gerry Harrahill said at a news conference in Dublin Wednesday.
"It is the largest drug seizure in the history of the State," Justin Kelly, Assistant Commissioner of An Garda Síochána, Ireland's police force, said at the same conference.
"This is a hugely significant operation and it shows our unrelenting determination to disrupt and dismantle networks which are determined to bring drugs into our country," Kelly added.
Three men, aged 31, 50 and 60, have been arrested on suspicion of organized crime and are currently being questioned at Garda stations in County Wexford, according to a Garda press release.
Officers said the drugs originated from South America and were bound for crime groups in Ireland, the United Kingdom, and Europe.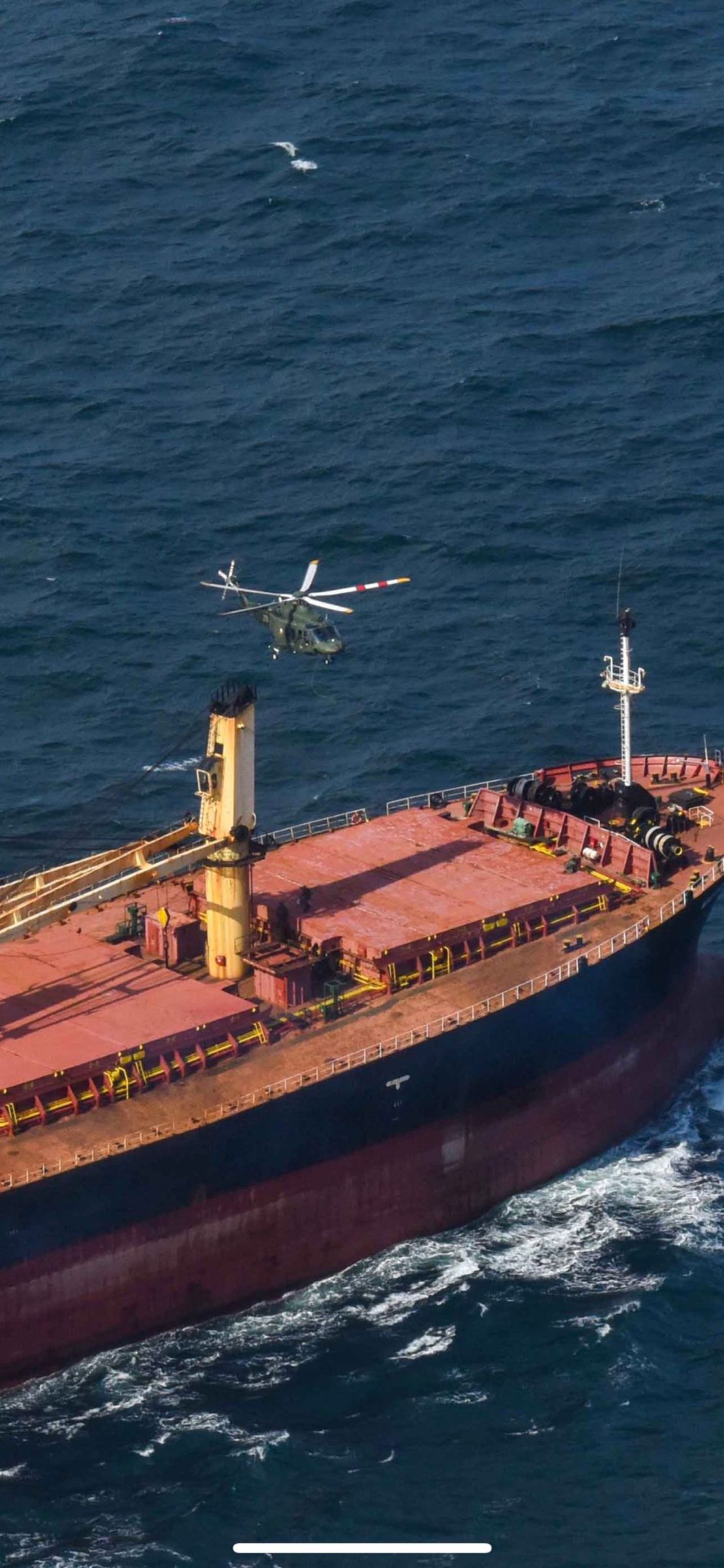 A task force made up of members of the Irish Revenue Customs Service, the navy, and An Garda Síochána coordinated to detain the Panamanian registered bulk cargo vessel in the early hours of Tuesday, according to the Garda press release.
Video shared by the Irish Defence Forces on X, formerly Twitter, shows the army fast-roping from a helicopter onto the deck amid challenging weather conditions as the vessel attempted to make its way back out of Irish waters.
After the army secured the vessel, members of the task force were transferred on board and escorted by a naval ship to Cork harbor, where it is currently being forensically examined.
"Yesterday was an extremely complex day from a military perspective and the defense forces ran an extremely complex military operation," Tony Geraghty, fleet commander of the Irish Naval Service, said at the Dublin press briefing.
"It was (made) even more complex by environments that we had no control over. The weather was extremely poor and also we were trying to predict the actions of a number of crime gangs and how that would impact on us. But it was very successful from a defense force point of view."
The intelligence-led operation was conducted in collaboration with the Maritime Analysis and Operations Centre - Narcotics (MAOC-N) based in Lisbon, according to a Garda press release. The MAOC-N is an initiative by seven EU member countries, including France, Ireland, Italy, Spain, Netherlands, Portugal, and the UK, with financial support from the European Union.