Greater Noida, Uttar Pradesh, India
CNN
—
Briefly in the early 2010s, the Buddh International Circuit on the outskirts of New Delhi was a fitting home for Formula One racing. A vast, purpose-built, state-of-the-art facility, it was a symbol of India's ambition, welcoming a truly global event – and the eyes of the world with it.
Then, in 2013, almost as abruptly as it had arrived, the F1 circus left town for good. The gates were locked, the paddock silenced.
After a decade, during which time the 110,000-capacity venue was used only by local motorsport enthusiasts, global competition finally returned last week in the form of MotoGP, F1's two wheeled equivalent.
The international series, which takes in 20 rounds spanning Europe, the Middle East, Asia, and both North and South America, landed in India with few in its traveling circus of over 1,000 people quite knowing what awaited them.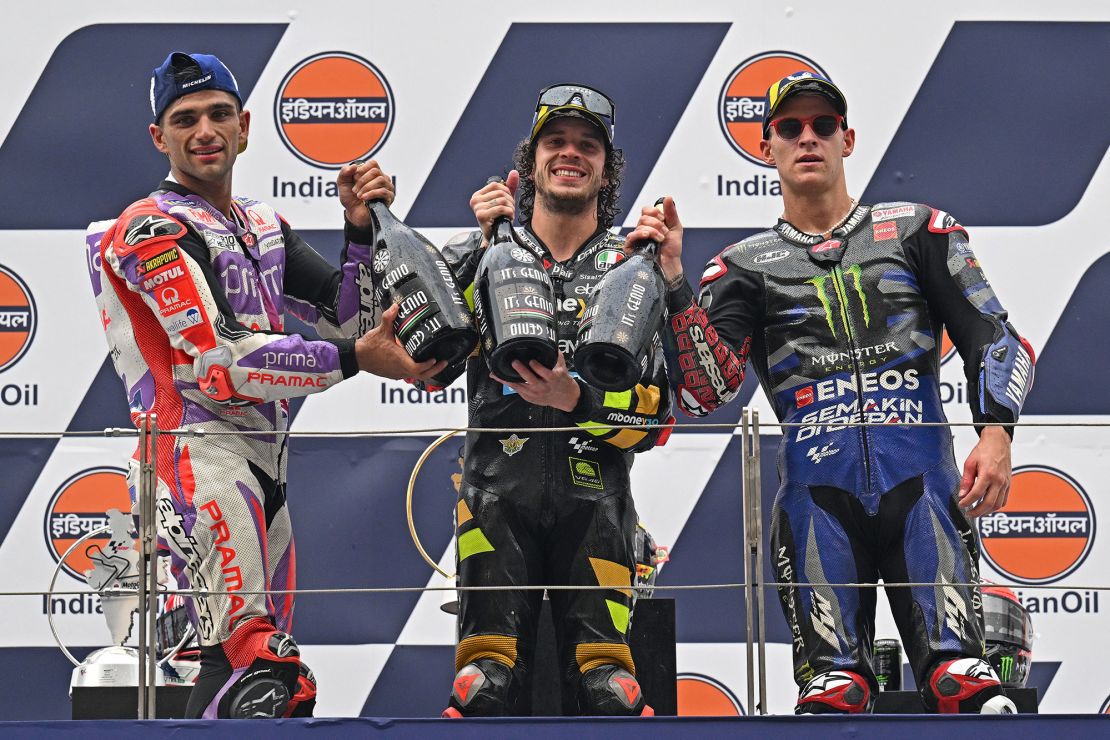 Travel worries
Guidance was issued to teams beforehand advising caution with certain foods and water.
"You know, this was a strange one, because everybody was thinking (about) the worst side of the situation,"
Jorge Martin, Pramac Ducati's title challenger, told CNN Sport, summarizing some of the riders' pre-travel concerns.
"Because we were all worried about, you know, the food, the water, also about how the track condition was. So, it was a bit complicated. But, finally we are here and, and I feel much better than what we expected."
Other worries revolved around the aggressive timetable set for what would be a completely new and complex event, according to Hervé Poncharal, the Team Principal of the GasGas Tech3 team, who helped found the IRTA (International Road Racing Teams Association) and plays a key role as a bridge between the teams and the sports administrator, Dorna.
Last year Poncharal says he bumped into Dorna CEO Carmelo Ezpeleta, who told him about the potential interest in an Indian MotoGP Grand Prix. Initially Poncharal thought the race would be in 2024 given the planning involved to stage the GP and when he heard it would be this year remarked: "Wow, 2023 is going to be a tough job."
Cars versus bikes
After the Indian MotoGP Grand Prix was announced there was even skepticism among fans and pundits alike that the event would actually happen, especially when another new round announced for 2023, in Kazakhstan, was postponed.
"It was unbelievable, because we've been on this track and we call it our playground, but it was just all of a sudden when we saw MotoGP on the calendar," Indian bike enthusiast and amateur race organizer, Ikjot Singh Bhasin, told CNN Sport. "And it was very exciting, but honestly it looked very challenging."
Paolo Ciabatti, Team Principal of the factory Ducati Lenovo team, had visited the Buddh Circuit before and saw its potential.
"I came here in 2018 for a promotional event. I could see this incredible structure. Obviously, it was kind of almost abandoned," Ciabatti explained.
"Like all Formula One circuits, it's impressive because of the size, because of the infrastructure. And on the other side, it's not necessarily suitable for motorcycle racing. You know, runoff areas for cars they like as much as possible to have asphalt, while for the bikes you want, as quick as possible, to have gravel traps so that you can slow down the bike and the rider."
When MotoGP finally got the keys to the paddock buildings, it was a little like opening up a time capsule. The F1 signage from a decade earlier was still up along the walls.
"I heard one story that in the hospitality, the kitchens, they found the food from 10 years ago, which was almost dust, you know," Poncharal told CNN.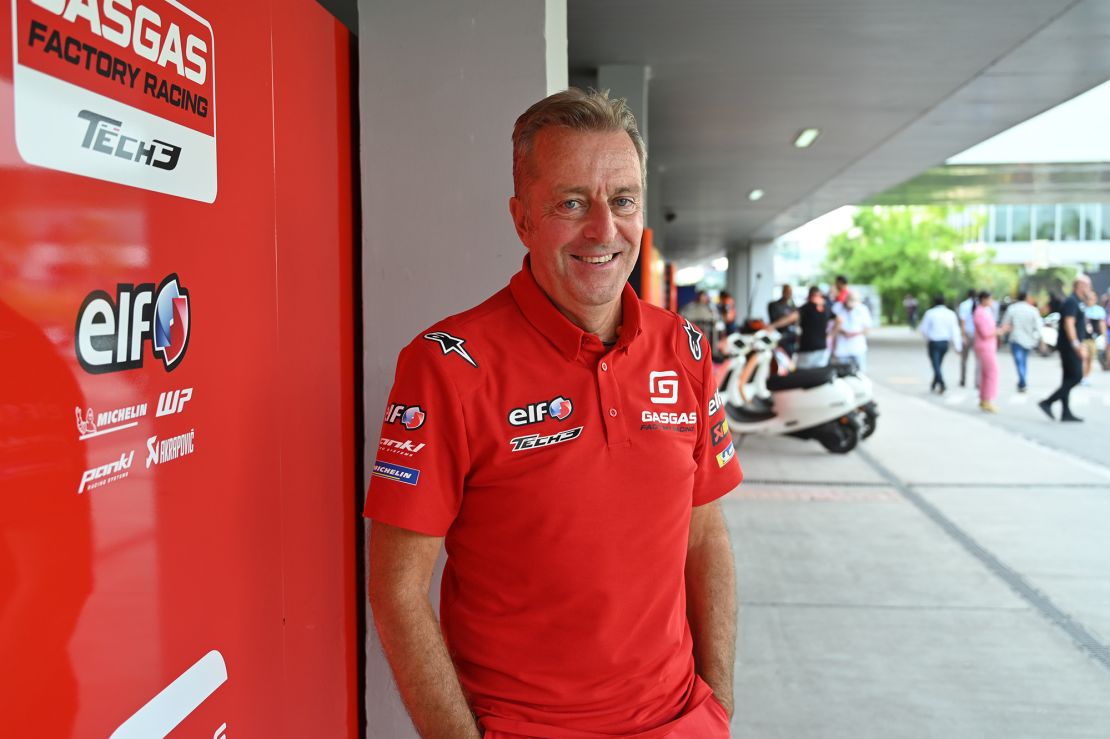 Preparing to race on Playstation
Last week when teams landed in Delhi they were greeted by a giant MotoGP and Tissot branded billboard outside the airport featuring a timer counting down the days to the race.
New Delhi itself was also fresh from its spring cleaning for the recent G20 meeting. As at the G20, the MotoGP race branding also featured the name 'Bharat,' rather than India.
All along the route to the Buddh Circuit, street lamps were bound in orange, white and green lights, in an effervescent display of Indian pride. Close to the circuit itself, however, a far redder hue adorned the poles, giving them a distinctly Italian, rather than Indian feel.
Given Ducati's MotoGP dominance, and the number of Italian riders competing for honors, this felt entirely appropriate, even if accidental.
Italy's Marco Bezzecchi, another dynamic Ducati rider vying for victories, told CNN Sport he had been preparing for the untried track on Playstation.
"I try to, to search the internet, in YouTube, much more videos, to try to understand how is the track, how to deal with the new corners, with the new braking points, try to get some reference, even if it's difficult to find a video where a rider goes very, very quick," he explained.
"I try to look at everything I can, play on the MotoGP video game to give me an idea. And also work with the team, with the tires and everything, with the gear … to see everything in detail."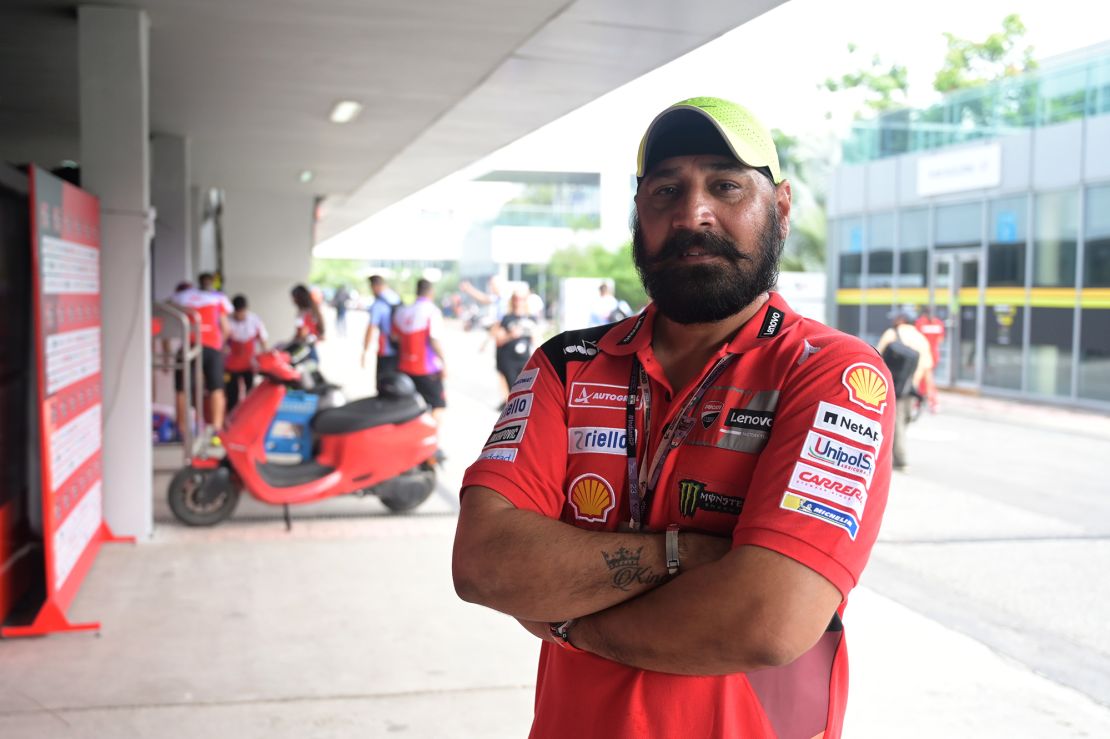 Visa issues
The build-up was also dogged by issues around travel for the entire MotoGP circus. Visas were slow to arrive, and in some cases that meant postponed or canceled trips. Even eight-time world champion Marc Marquez arrived a day late, missing a major event Honda had planned for 2,000 people at its India HQ.
Martin had a nerve racking wait for his dad's visa. "My father got the visa one hour before the flight," Martin told CNN.
"I was worried to come here on my own for sure. I mean, I used to do it in the past, but I'm used now to be always with my dad. So, it was strange waiting for his visa. But finally everything was okay."
Poncharal was sanguine: "Sure, we had to rebook some tickets. Sure, we maybe had one night more at an airport. But from day one, it was very clear that any extra expenses were going to be supported by the organizer. So, everybody stayed really calm and everybody was here on time, you know, a few hours, or maximum 12, 15 hours later than the original schedule."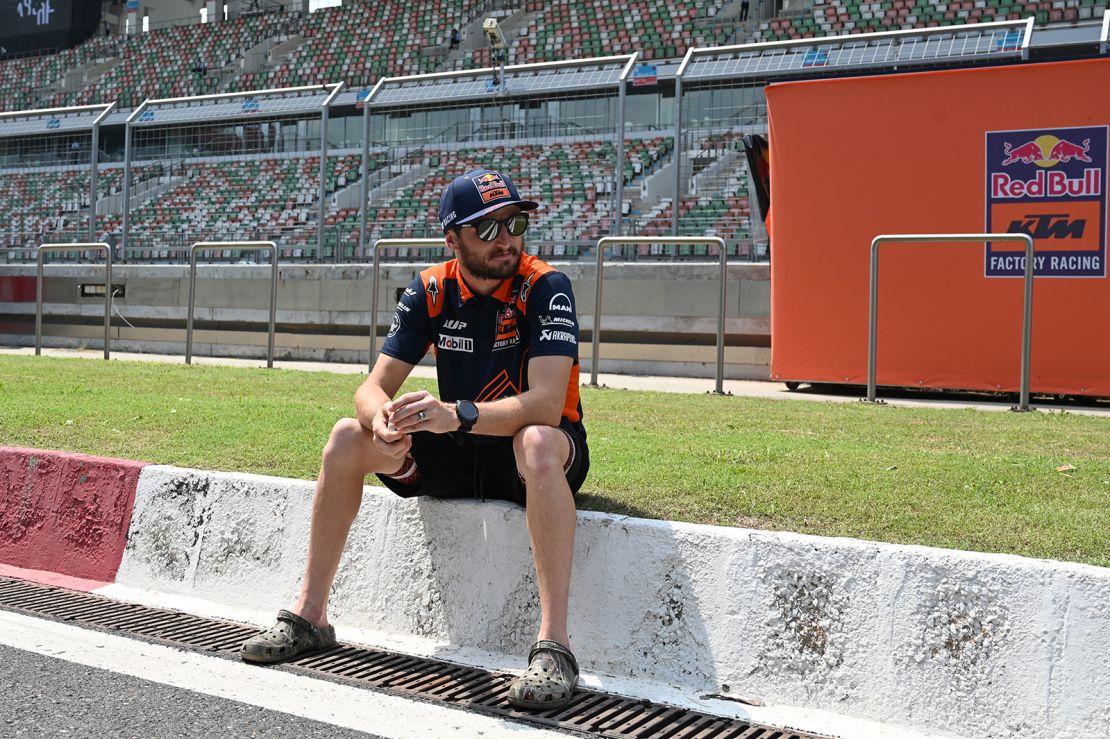 There were fresh surprises at the circuit itself: KTM's Australian rider, Jack Miller, found a monkey in the team's garage.
"It was not a small monkey, it was like, a big monkey," Miller told laughing reporters.
"I want to say almost like a baboon – I was waiting for the pink butt! I was like, 'boys, there's a monkey!' We threw some bananas up there, but he hasn't come back yet. I guess we'll find out tonight. But yeah, one of the boys had a coffee knocked over yesterday and they couldn't work out for the life of him what had happened … I think we might have found the culprit."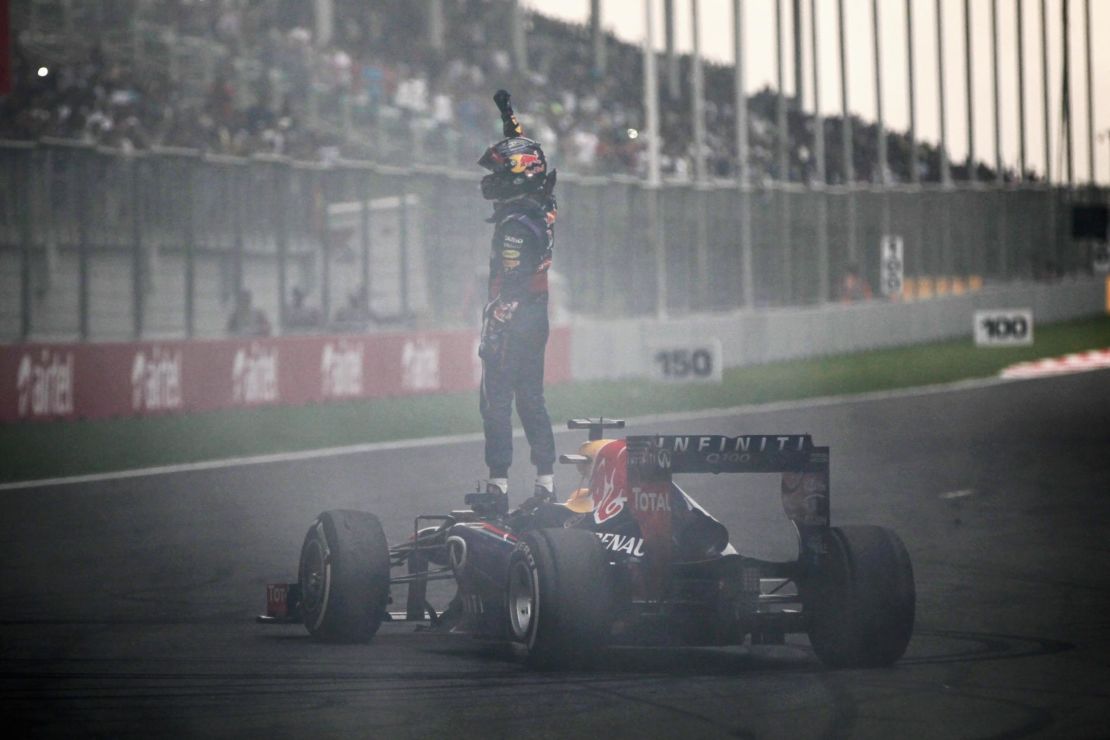 However, in the extreme heat and humidity of Delhi in September, once the paddock was assembled the atmosphere morphed to one of excited optimism.
"Some people are not, but I'm open-minded," said Ciabatti. "I'm not so worried about the food. I'm not so worried about anything. I think, it's a big country with a lot of differences you see, especially when you go outside the big city, but also inside the big cities. But it's okay. And personally I'm happy we're here."
Crucially, once the riders got a chance to try it, the track itself quickly got the seal of approval.
"On Wednesday, most of the riders did the track work, and they all said, wow, we've been hard to that track, because it's much better than what we were expecting. The layout is fantastic," Poncharal said.
India's bike culture
India is a biking mecca like no other. By some distance, the country is the world's largest motorcycle market, accounting for around 40% of all global sales with 17 million motorcycles and scooters sold in 2019, according to the Financial Times.
Manufacturers including Honda, Triumph and Pure Mobility, which owns the KTM, Husqvarna and GasGas brands, have large operations there.
The average salary for regular full-time workers in India is around $225 per month, according to the most recent government figures, So as a cheap mode of transport, motorcycles are hard to beat – even if newcomers to the country can be shocked by the occasional sight of entire families of four navigating the expressways on the saddle of a single machine.
Even the more select Ducati brand is eyeing the market's potential.
"India is a fast-developing country. There will be more and more people who are becoming affluent and might want to get some more exclusive bikes," said Ciabatti.
Of course, none of this would matter if the event could not deliver exciting racing, and the weekend's two MotoGP class races were laden with drama.
Holding the event at the end of monsoon season always carried the risk of rain, and sure enough Saturday's Sprint race was delayed after a torrential downpour soaked the circuit.
The intense heat had already led to the shortening of the races at the riders' request. There was even talk that the Sprint race might be canceled after riders expressed concern about taking to a wet track for the first time.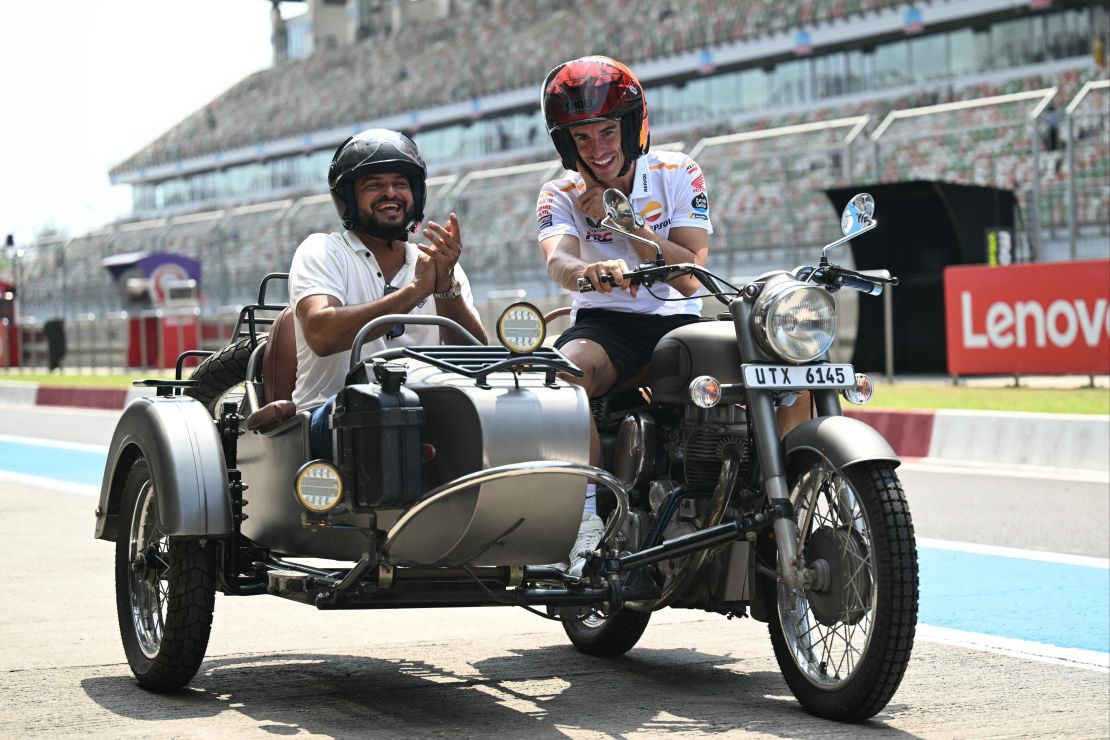 However, after a delay to let it dry out, fans were treated to a breathless contest. Martin clinched victory ahead of reigning world champion Pecco Bagnaia, with Marquez – whose Honda career may be drawing to a close after a miserable season – in a surprise third.
On Sunday over 60,000 fans packed in to see the main GP, and were joined by the likes of Bollywood superstar Ranveer Singh, who theatrically toured the pit lane while soaking up the squeals of delighted fans in the grandstand, as well as cricketers Yuvraj Singh and Shikhar Dhawan, who were mobbed by local journalists and fans alike in the paddock.
The orange robes and giant security detail Chief Minister of Uttar Pradesh, Yogi Adityanath, also drew intrigued glances from MotoGP pit crews as he arrived to attend a business roundtable at the circuit with Ezpeleta.
Back on the track, Bezzecchi stormed into an early lead, leaving Martin and Bagnaia to juke it out for second.
The crowd roared appreciatively as the bikes screamed past them, and gasped when Bagnaia, pulling away from his rival, suddenly lost the front of his bike, sending it cartwheeling into the gravel. Martin held on for second place, pipping another unexpected challenge, this time from Yamaha's Frenchman, Fabio Quartararo.
After the race a jubilant Bezzecchi climbed a TV camera position and Quartararo vaulted the paddock wall to salute a by now delirious Delhi crowd, Martin required medical attention after collapsing with exhaustion. "You don't get this with Formula One," a fan in the pit lane remarked with a broad smile.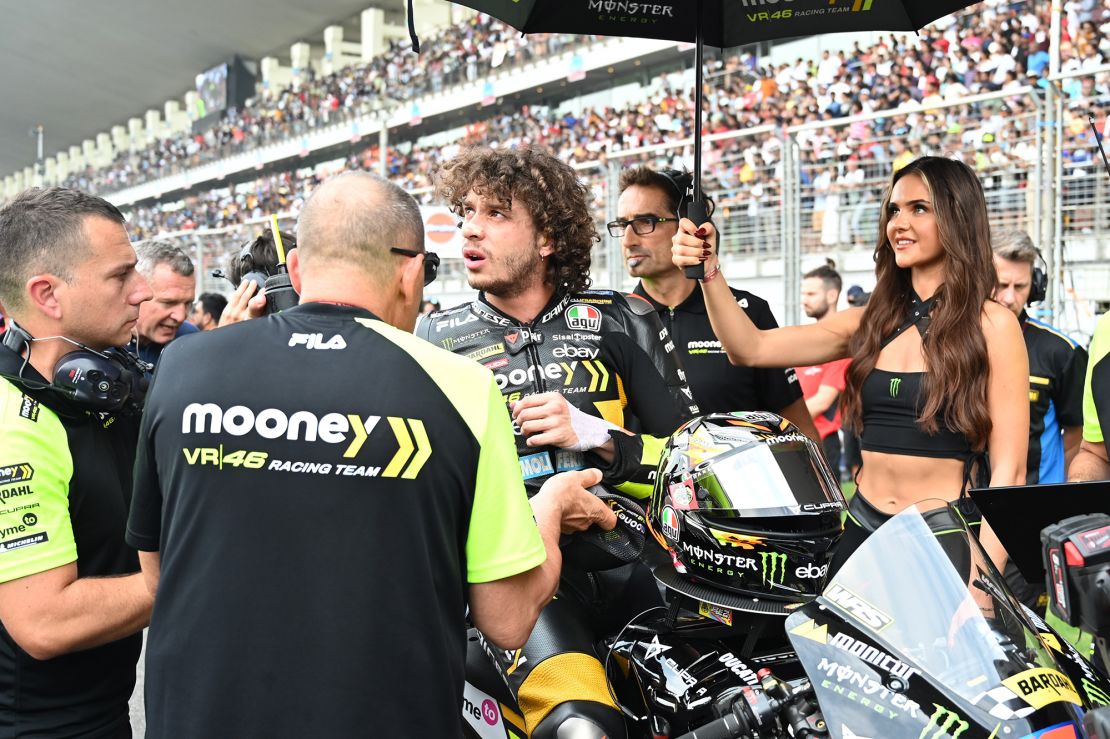 More to come
After the first ever MotoGP in India, the Buddh International Circuit will be welcoming the series back again next year.
"It has been an incredible experience and success for MotoGP to be in India for the first time," said Ezpeleta. "New circuits are always challenging, but India as a whole and specifically Uttar Pradesh have a huge potential for us. The racing has been great and so have the fans."
Ikjot Singh Bhasin summed up the mood among the local enthusiasts: "Here we stand today and proudly say that we have hosted the MotoGP, the India MotoGP Bharat, and it's been a great event.
"Yes, there could be a lot of issues or hurdles, but you learn from all these issues and hurdles. So, I guess in the near future it'll be better and better. People don't know much about this sport in India, but what we've got and how we've made it happen in such a small span of time is incredible."