Taiwan unveiled its first-ever domestically built submarine on Thursday, an accomplishment the island democracy's leader hailed as a significant milestone as Taipei works to boost its military deterrence in the face of a growing threat from Beijing.
President Tsai Ing-wen presided over a ceremony at the submarine's shipyard in southern Kaohsiung city where the diesel-electric vessel was officially named "Narwhal" in English and "Hai Kun" in Mandarin – which can be loosely translated as "sea monster".
"The submarine is an important realization of our concrete commitment in defending our country," Tsai said. "It is also important equipment for our naval forces in developing asymmetric warfare strategies."
"In the past, many people thought building an indigenous submarine would be an impossible task. But we have made it," she added.
The ceremony was a significant personal moment for Tsai, who launched a flagship defense policy to build the first domestic submarine shortly after taking office in 2016.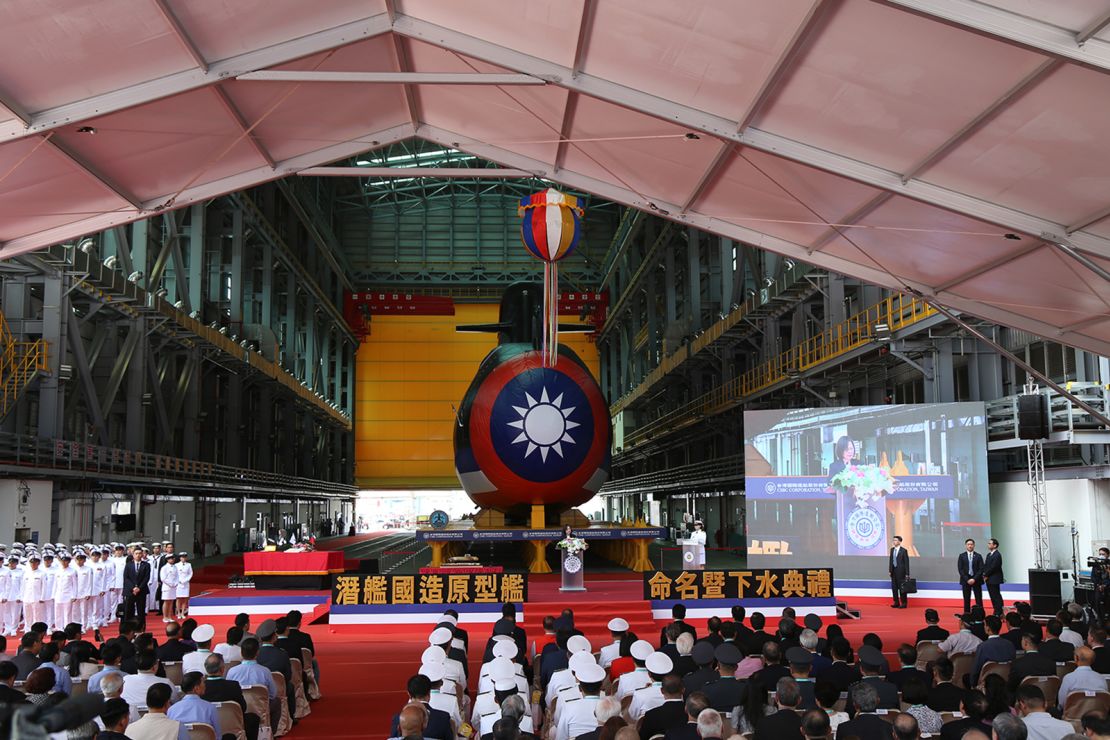 Taiwanese defense chiefs hope the submarines would help to make it far harder for a potential invasion by China, which claims the island as its territory and has ramped up its saber-rattling in recent years.
Journalists were given a tour inside the submarine's shipyard but were not allowed to take close-up photos for security reasons.
Details about the ship's size or capability were also not disclosed during the ceremony, which was also attended by Sandra Oudkirk, Washington's de facto ambassador to Taiwan, as well as the representatives from the Japanese and South Korean missions in Taipei.
Tsai said the indigenous submarine project was "a top priority" of her administration.
With the addition of "Narwhal", Taiwan will have a total of three submarines by 2025 – it already has two Dutch-made submarines that were first commissioned in the 1980s.
Taiwan previously has said it plans to build a total of eight indigenous submarines.
Asked about the new submarine at a monthly press briefing on Thursday, China's Defense Ministry likened the vessel to "a mantis trying to stop a chariot", invoking a common Chinese idiom.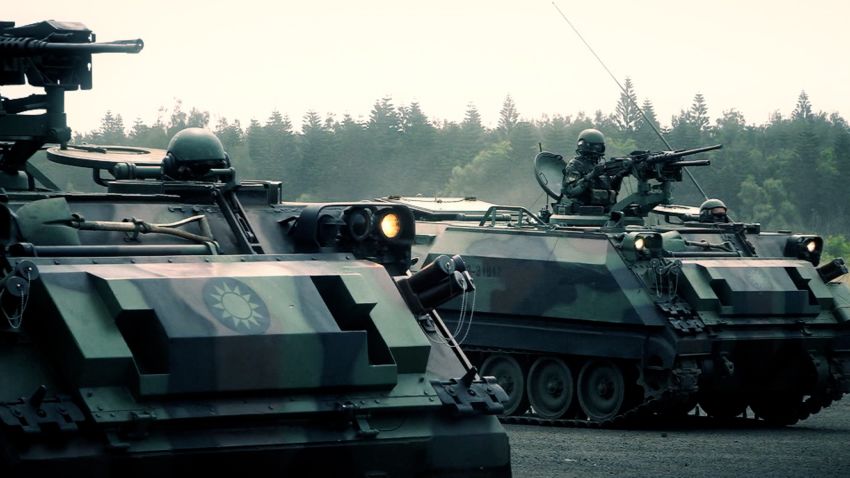 Taiwan's military is preparing in case China attacks. See how
Defending the first island chain
In an internal briefing attended by CNN last week, Admiral Huang Shu-kuang, an adviser of Taiwan's National Security Council and a leader of the indigenous submarine project, said the new fleet will play a key role in preventing Beijing from conducting a naval blockade of the island.
While the Taiwan Strait might be too shallow for submarines to operate in, the vessels could be most useful when deployed to target Chinese warships in the Bashi channel – which separates Taiwan from the Philippines – and the waters between Taiwan and Japan's westernmost islands, he said.
Because China's access to the Pacific Ocean is limited by the first island chain – which includes Japan, Taiwan and the Philippines – its naval forces would need to pass through these two strategic points to gain access to the wider ocean.
Therefore, Huang said, Taiwan can help limit China's projection of military power by deploying its submarines there.
In the event of a military conflict, the Chinese navy "will definitely want to enter the area to the east of Taiwan so as to surround us and limit the US' ability to intervene," Huang told the briefing.
"Because submarines can operate deep under water and are hard to detect, they have a better chance of getting close to (Chinese) aircraft carriers" and launching attacks.
That assessment was shared by Collin Koh, senior fellow at the S. Rajaratnam School of International Studies in Singapore, who said the new submarine fleet would help Taiwan build a "more credible second-strike capability."
"China has a lot of focus on countering what they see as potential US military intervention, and it has planned for a major naval engagement with the US outside the first island chain, around the Philippine Sea," he said.
"If the Taiwanese want to contribute to that, then one way to do that is to bottle up the PLA Navy within the first island chain, don't allow it come out and help the US military intervention become successful," he added.
Admiral Huang also said the submarines are designed with the capability of carrying US-made MK-48 torpedoes, which can be used to target surface ships.
A challenging journey
Taiwan has increasingly emphasized a policy of defense self-sufficiency, which has seen the island ramp up its domestic weapons development to modernize its armed forces and be less reliant on overseas procurement.
Tsai took office at a time when Taiwan had been struggling to persuade the United States and European nations to sell the island big ticket military hardware items.
That has become less of an issue in recent years as Beijing ramps up diplomatic, economic and military pressure on Taipei and the United States in particular has signed off on a slew of large military sales under President Joe Biden and his predecessor Donald Trump.
But Taiwan's indigenous military procurement program remains a lynchpin of its defense strategy, particularly when it comes to systems like anti-ship missiles that could defend against a potential invasion.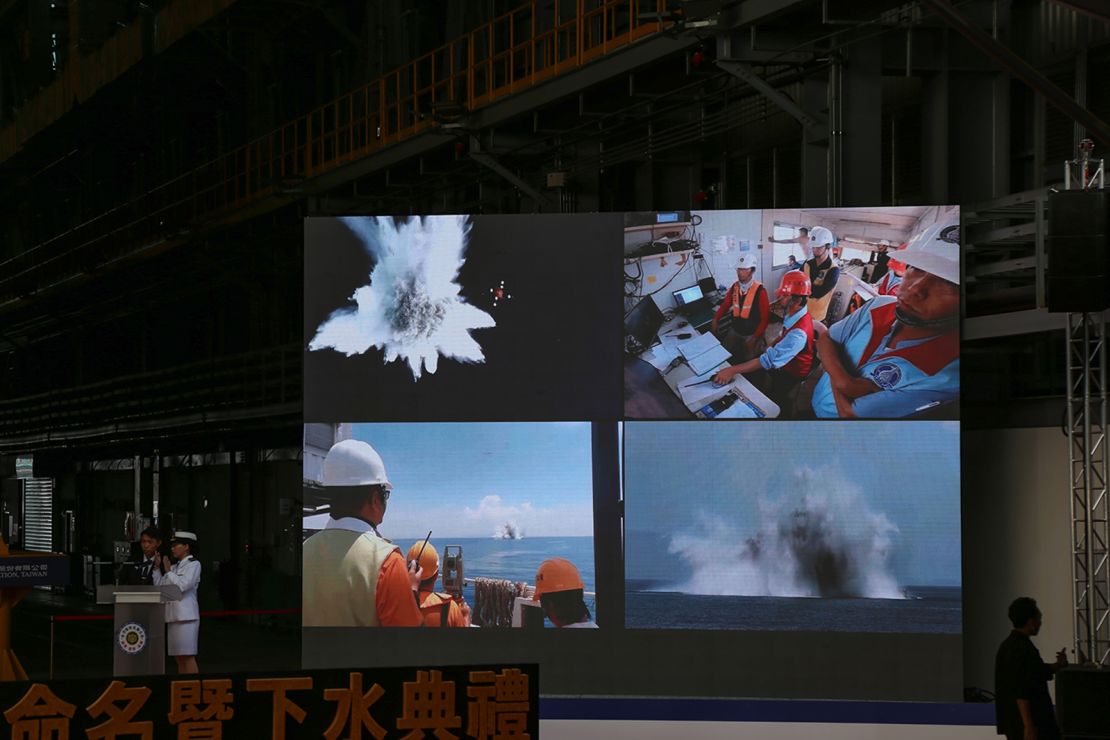 In March, CNN visited a Taiwanese state-owned military weapons developer, as it unveiled five new types of indigenous military drones that are capable of surveillance and launching aerial attacks.
Taiwan's success in building its first submarine could help alleviate some concerns over its military preparedness as Beijing increasingly asserts its territorial claims over the island democracy of 23.5 million.
China's ruling Communist Party views Taiwan as part of its territory, despite having never controlled it. Beijing has long vowed that the island must be "unified" with the Chinese mainland, by force if necessary, while the Taiwanese authorities strongly reject China's territorial claims over it.
Beijing has ramped pressure on Taiwan under Xi Jinping, China's most assertive leader in a generation.
In recent years Chinese fighter jets, bombers and surveillance aircraft have conducted an ever growing number of sorties around the island, while Chinese warships have crossed the unofficial Median Line that runs down the Taiwan Strait with growing frequency.
Last summer China's military launched massive drills to protest a visit to Taiwan by then House Speaker Nancy Pelosi.
At the internal briefing, Admiral Huang said Taiwan first attempted to build a new submarine fleet when former president Lee Teng-hui founded a task force in 1995, but faced difficulties as the US was reluctant to sell its submarines to the island.
The project formally began in 2016, after Tsai took office.
He said the process of building Taiwan's first submarine had been very challenging due to budget limitations, delays resulting from a global chip shortage, and concerns over possible Chinese espionage.