Storm Elias dumped several months-worth of rain in less than a day as it swept across Greece on Wednesday, just weeks after Storm Daniel killed 17 people in the southern European nation.
Villages were flooded, roads inundated and schools forced to close in several municipalities as Greek Prime Minister Kyriakos Mitsotakis mobilized state emergency services and military personnel to boost defenses in areas including the northern Thessaly region.
The Greek fire service said it had moved more than 3,000 people to safer locations since Tuesday as the weather deteriorated.
On Wednesday night, the European Severe Weather Database (ESWD) announced that months-worth of rain had fallen within the preceding 24 hours – and more is on the way, with the storm expected to continue at least through Thursday with heavy rain, hail, and thunder, according to Greece's meteorological service.
The storm is mainly affecting central Greece, a region still reeling from the aftermath of Daniel, which hit the country in early September, tearing down critical infrastructure, turning villages into lakes, and killing at least 17 people.
The port city of Volos in Thessaly is among those to have been hit hard by both storms. During Daniel, Volos experienced more than 10 times its average September rainfall, while Elias has flooded roads near the port and Greek police have banned traffic circulation in the city as a precaution.
According to ESWD and the World Meteorological Organization, Volos saw 298 mm (11.7 inches) of rainfall in a 14-hour period from Elias, more than eight times the city's September average.
Other cities across Greece also saw heavy rainfall. Limni saw 216 mm (8.5 inches) in 7 hours, while Istiaia saw 140 mm (5.5 inches) in 3.5 hours. Greek public broadcaster ERT reported that villages had flooded and roads collapsed on the island of Evia, which was ravaged by wildfires in 2021.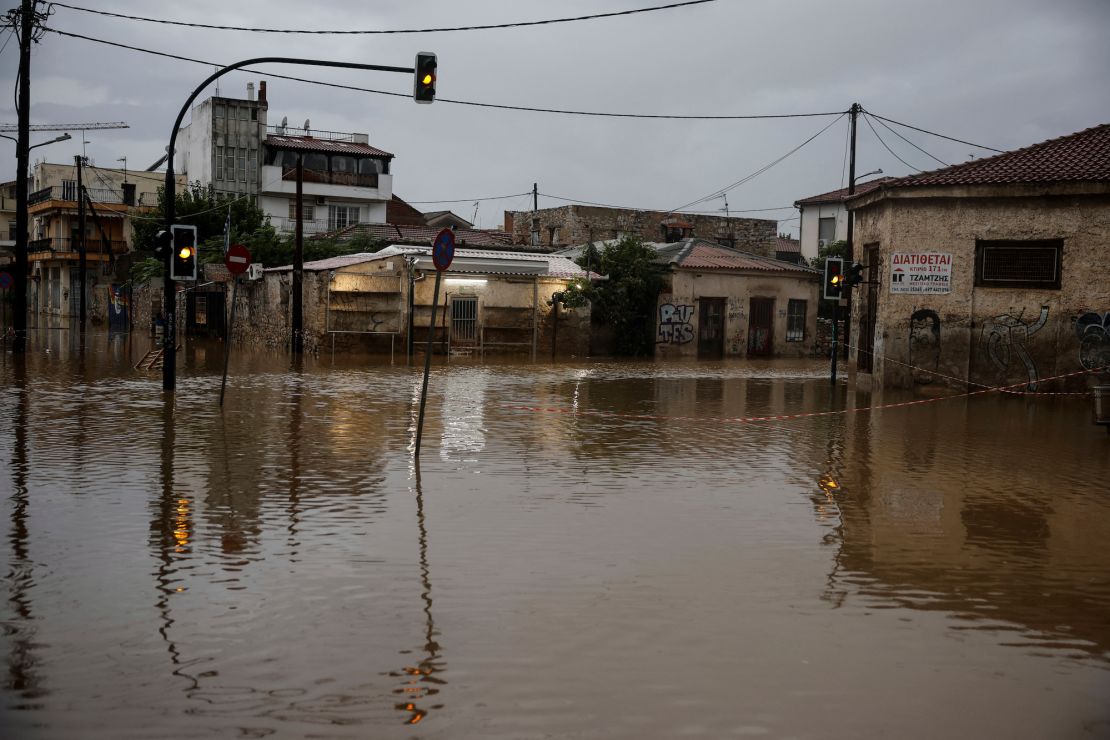 Greece is one of at least 10 countries and territories to have been hit by severe flooding this month. Scientists warn that these types of extreme weather events, affecting countries all over the world, may become increasingly common as the climate crisis accelerates, putting pressure on governments to prepare.
The floods caused by Storm Daniel, which followed devastating wildfires in the country, "have the fingerprints of climate change," Greek environment minister Theodoros Skylakakis told CNN on September 12.
"We have had the warmest summer on record. The sea was very warm, which lead to this unique meteorological event," he said.
CNN's Jessie Yeung contributed reporting.