Editor's Note: A version of this story appears in CNN's Meanwhile in the Middle East newsletter, a three-times-a-week look inside the region's biggest stories. Sign up here.
A Saudi soccer team made a last-minute withdrawal from an Asian Champions League match in Iran due to controversy over a divisive Iranian general who was assassinated by the United States in 2020.
The Saudi team, Al-Ittihad, which was due to play Sepahan FC at Naghsh-e Jahan stadium in Isfahan, Iran, on Monday, protested the presence of a bust of Qasem Soleimani, the late commander of the Iranian Revolutionary Guards' Quds Force, at the entrance of the pitch.
Soleimani is revered as a martyr by Iranian hardliners but seen in Saudi Arabia as a terrorist for having empowered Iran-backed militias in the Arab world and despised for sowing instability across the region.
The incident shows that profound differences remain between the two formerly adversarial nations despite a China-brokered agreement in March that saw Tehran and Riyadh reconcile after more than seven years of hostilities.
The Quds Force is an elite unit that handles Iran's overseas operations – and one designated as a terrorist organization by the US and Saudi Arabia. Over the years, Soleimani rose to prominence to become a key player in the unit and in Iran's operations across the Middle East, which Saudi Arabia spent years fighting off. He was killed in 2020 by a US drone strike ordered by President Donald Trump.
Al-Ittihad was scheduled to play against Sepahan on Monday in a match that was part of the Asian Champions League, an annual competition organized by the Asian Football Confederation (AFC).
Before the game was set to kick off, Al-Ittihad's players refused to take to the field after a request to remove the bust was rejected by Sepahan officials, state-run Saudi Press Agency said, adding that referees had given Iranian authorities 30 minutes to remove it.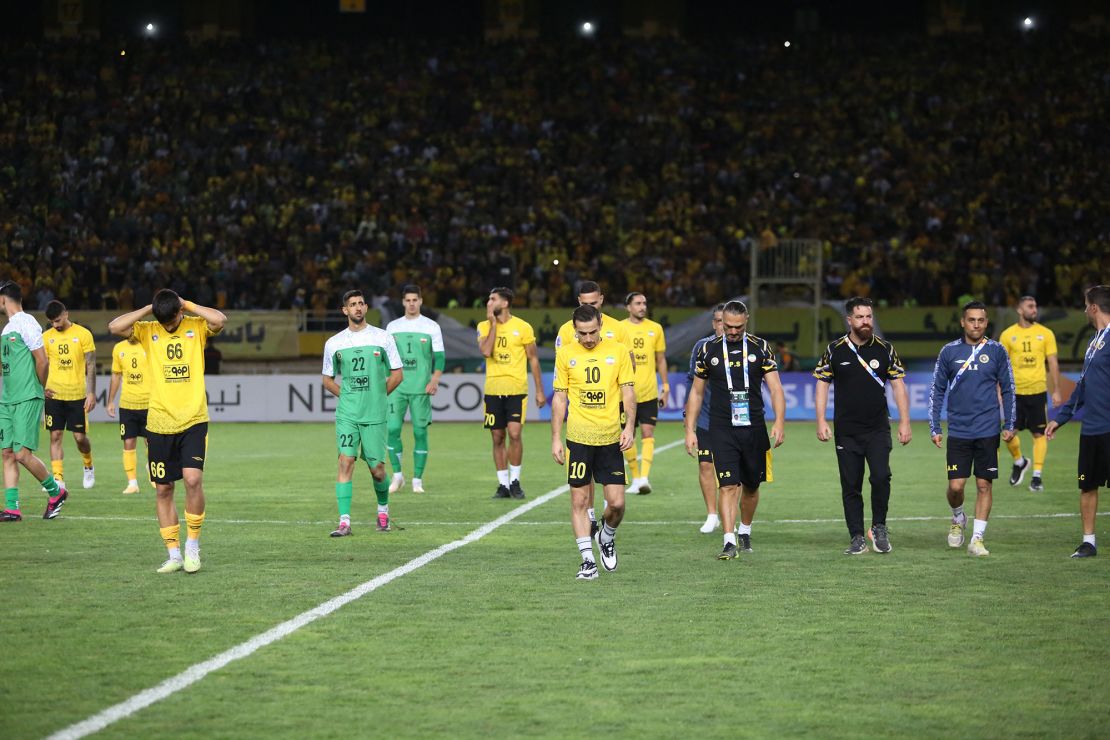 Mohammad Reza Saket, the head of Sepahan, told Iranian state media that "the request was unexpected, unacceptable and surprising," adding that the bust of the slain commander had been on display in the stadium for two years and that Al-Ittihad knew that and had trained on the same pitch the night before.
Sepahan said that the AFC had approved stadium conditions in a meeting on Sunday.
The AFC said the match was cancelled due to "unanticipated and unforeseen circumstances."
Videos circulating on social media, and reposted by Saudi state media, showed Iranian fans – who had gathered in their thousands to watch the game – chanting to "remove politics from sports." CNN was not able to verify the videos.
Riyadh severed ties with Tehran in 2016 after Iranian protesters stormed the Saudi embassy in the capital following the execution of a Shiite Muslim cleric in Saudi Arabia. Iran is a majority Shiite nation.
Both countries were embroiled in proxy wars that pulled in a number of neighboring countries. The recent détente however brought hopes of long-lasting peace as Saudi Arabia redirects its resources toward economic development.
Soccer has proven to be an effective bridge builder between the former foes. Iranian and Saudi teams competed last month for the first time in seven years in Iran, where billboards in the streets welcomed the Saudi teams in English, Arabic and Farsi. Iranian soccer fans have also been seen wearing Saudi team jerseys after the kingdom's clubs made high-profile purchases of international soccer stars.
Saudi Arabia's Crown Prince Mohammed bin Salman (known as MBS) last month said that Tehran had been taking the issue of mending ties with his country "very seriously."
"They are doing their best, so we are investing in that," MBS said, adding that the kingdom wanted to see Iran progress.